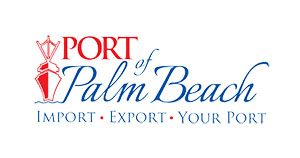 Four Democrats seeking the Group 2 seat on the Port of Palm Beach Commission are facing off in the Tuesday, Aug. 30 primary election. The winner will advance to the general election against only write-in opposition.
The Port of Palm Beach is governed by a five-member commission elected by residents in the Port of Palm Beach Taxing District, which includes most of the northern half of Palm Beach County, including most of the western communities.
Created as a special taxing district, the port has authority to levy taxes but has not done so since the 1970s.
Three seats are up for election this year. However, the Group 2 seat is the only one with a primary race.
Port Commission Chairman Wayne Richards, who's serving his fourth term, was unopposed in his bid for re-election to the Group 1 seat. Group 3 incumbent Dr. Jean Enright, now serving her third term, is on the general election ballot facing independent candidate Mayur "Sonny" Maken and write-in candidate Ruby Landfair.
In the Group 2 race, incumbent George Mastics, who has held the seat since 1996, is being challenged by Joseph Anderson of Riviera Beach, Henry Taylor of West Palm Beach and Katherine Waldron of West Palm Beach. The winner of the Democratic primary will face token opposition in November from write-in candidates Joseph Anderson (grandfather of the other Joseph Anderson) and Pamela Michele Williams.
Joseph Anderson — Anderson ran unsuccessfully against Richards in 2012. He is seeking the seat this time to advocate for local participation in jobs created by the port. He also wants to promote environmental protection, increase positive relationships with neighboring municipalities, and maintain port competitiveness and financial responsibility.
A native of Palm Beach County, he graduated from Suncoast High School and earned a bachelor's degree in accounting at Bethune-Cookman University. He is a state-certified contractor and owner of J.D. Anderson Construction. He is married to Riviera Beach Councilwoman KaShamba Miller-Anderson.
Anderson has been involved in numerous organizations over the years, including the Together We Stand Democratic Club, of which he's president; the League of Women Voters; the Voters League of the Palm Beaches; the Palm Beach County Democratic Party; the Democratic Black Caucus of Palm Beach County; the Office of Small Business Assistance-Palm Beach County; and the West Palm Beach Affordable Housing Advisory Committee. He served on the Port of Palm Beach Audit Committee in 2014. He has also umpired and coached Little League baseball.
For more information, visit www.electjoeanderson.com.
George Mastics — Mastics, of Palm Beach, is seeking his sixth term on the commission. A trial attorney for 56 years, he served four terms in the Ohio House of Representatives, where he successfully sponsored more than 100 bills that became law. He was also chief assistant attorney general for Northeast Ohio.
In Florida, Mastics was a partner, shareholder and director of Searcy, Denney, Scarola, Barnhart & Shipley P.A., where he tried more than 200 jury cases to verdict and won several court verdicts in excess of $13 million. He has been admitted to practice law in the Florida and Ohio state and federal courts, including the United States Supreme Court.
Mastics received his bachelor's and law degrees from Case Western Reserve University, with a legislative leadership diploma from Bethany College. His civic involvement includes the Business Development Board, the Metropolitan Planning Organization, the Economic Council of Palm Beach County, Floridians for Better Transportation, Save Lake Worth Lagoon and more.
Mastics has been married for more than 55 years to Carole Mastics. They have five children, 11 grandchildren and one great-grandchild.
Henry Taylor — Taylor, a native of Riviera Beach, graduated from Roosevelt High School and was the first African-American building inspector for the City of West Palm Beach and the State of Florida. He became the first Riviera Beach native to be elected to its city council, where he served for more than eight years and assisted in securing a municipal complex at no cost to the city. He was also involved in establishing the Riviera Beach Housing Authority, the Community Redevelopment Agency and the Martin Luther King Jr. holiday for the city.
Taylor wants to re-prioritize policies of the port commission and prioritize spending by increasing local participation. He also wants to foster a positive relationship with the communities of Palm Beach County, increase environmental protection programs and ensure informed public input.
Taylor believes that decisions made by a port commissioner affect all the people of Palm Beach County, regardless of whether they use port facilities, reflecting the diverse tasks given to port authorities in Florida, including economic development, public recreation, transportation of people and goods by air and water, and the promotion of trade and tourism. He retired as a building inspector in 2008 and is widowed.
For more information, visit www.electtaylorforport.com.
Katherine Waldron — Waldron, of West Palm Beach, has more than 30 years of business experience in the private sector. She has served in executive-level positions with Sprint and several start-up companies focused on technology and healthcare. With Sprint, she directed wholesale services, increasing the group's sales from $50 million to $500 million within four years. She is a Realtor currently working for the Valore Group, a subsidiary of the Keyes Company.
Waldron's civic activity includes several nonprofit boards and organizations where she oversaw fundraising initiatives and outreach programs. She is involved in her neighborhood association and is an appointed advisory board member in West Palm Beach. In 2010, she was appointed by then-Mayor Lois Frankel to lead the volunteer community development efforts for the multimillion-dollar Coleman Park revitalization effort.
Waldron is a Democratic precinct committeewoman and a member of the Realtors Association of the Palm Beaches and the National Organization for Women of Palm Beach County.
Waldron has a bachelor's degree in economics with a minor in psychology from the University of Virginia and a master's of business administration degree from Palm Beach Atlantic University. She has three adult children.
For more information, visit www.votekatherinewaldron.com.