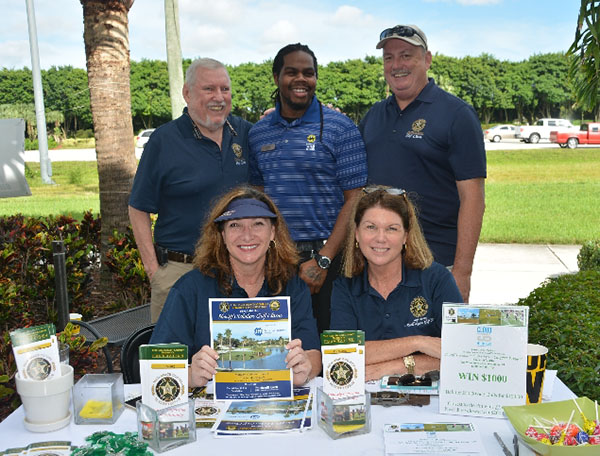 The Palm Beach County Sheriff's Foundation will hold its fifth annual Sheriff's Scholars Golf Classic on Columbus Day, Monday, Oct. 10, at the Wanderers Club in Wellington.
The tournament will benefit the Sheriff's Foundation Youth Scholarship Program. The Sheriff's Foundation is committed to awarding $80,000 in scholarships annually to students who are nominated by Palm Beach County Sheriff's Office deputies.
Foursomes and sponsorship opportunities are available. The event kicks off at 11 a.m. with lunch, a putting contest, raffles and beverages hosted by Deep Eddy Vodka and Saltwater Brewery.
At noon, Cloud 9 Helicopters will drop 200 golf balls from the air over a pin. The ball that lands closest to the hole wins $1,000 for one lucky participant. There will be numerous other games and contests on the course, including the chance to win a car from Ed Morse Cadillac.
Following the tournament, participants will be treated to a delicious Wanderers Club buffet followed by an awards ceremony with a raffle and silent auction.
The event is being presented by the Jacobs Family Foundation of Wellington and hosted by the William H. Pitt Foundation and Merrill Lynch.
The mission of the Palm Beach County Sheriff's Foundation is to positively impact the community by helping underprivileged children, enhancing public safety and assisting deputies in need.
For more information, contact Mimi Haley Meister at (561) 213-2942 or mimi@charitydynamicsandauctions.com or visit www.pbcsf.org.
ABOVE: The Palm Beach County Sheriff's Foundation was at the Buffalo Wild Wings recently to promote the Sheriff's Scholars Golf Classic. Shown above are Ed Portman, Jerrel Webb, John Flanagan, Jan Kucera and Mimi Haley Meister.