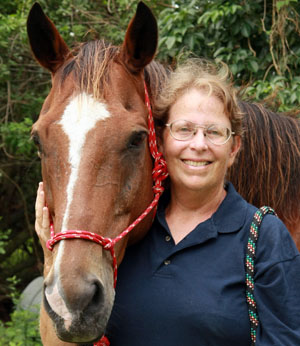 TALES FROM THE TRAILS
The weather couldn't have been better, the tack shops were packed and ready, and shoppers were prowling for bargains on Black Friday.
Chris Burwell, owner of the Silver Spur Equestrian Emporium (561-798-6651), had racks of gently used show shirts, breeches and jackets, all sizes and colors, priced from $1 to $20, saddles starting at $95, and bridles from $25 to $35. The store has been at the same location, 160 Business Park Way, Suite 2, in Royal Palm Beach, for 12 years.
"We're very thankful for the support of friends and neighbors," Chris said. "We're a small local business, willing to work with everyone. Pretty much everything's on sale."
Just down the street, at 10125 Southern Blvd., was Dark Horse Tack (561-427-1772). Owners Cecelia and Christopher McDaniel had marked down most items from 10 percent to 40 percent. "There's nothing that's not on sale," Cecelia said. "And we'll have our whole online catalog ready for Cyber Monday."
Dark Horse offers horseshoe art made by a local artist, as well as English and western clothing and equipment. "New shipments arrive weekly," Cecelia added. "We carry full lines of apparel for men, women, boys and girls. We've got everything from stocking stuffers to saddles."
On Course Consignment (561-753-6256) was buzzing. They had tables and racks in front of the store, located in the Wellington Plaza at 12773 W. Forest Hill Blvd., Suite 109. The place was packed with shoppers looking through helmets, girths, bridles, bits, shin boots, wraps, halters, half chaps, saddle covers, martingales and racks of clothing.
Owner Jacquie McCutchan was busy behind the front counter. "We'd planned to open at 10 a.m., but people showed up at 9 a.m., so it just kinda happened," she said. "The Animo apparel is flying out the door. We've got everything marked down dramatically. We look forward to this sale each year. It's a fun event — a great way to give back to the community."
Angela Walker and her daughter, Hannah, were browsing for items for Gracie, their Quarter Horse mare. "It's our first time here," Angela said. "They have some great deals."
Dover Saddlery (561-422-2025), at 11120 S. Crown Way in Wellington, offered selected sales on their large variety of tack, stable supplies and equestrian apparel. A local charity, the Peeps Foundation (www.thepeepsfoundation.com), had a display out front. It's an organization dedicated to rescuing miniature horses with special needs, as well as normal-size horses. They had a small pen with two minis, tables with T-shirts for sale and a group of enthusiastic volunteers.
Inside, store manager Wendy Manganelli was busy behind the register. "It has been crazy," she said. "A lot better than last year. Many items are on sale, including 10 percent off Parlanti boots. We were pleased to invite the Peeps Foundation to help raise awareness for their cause."
Shelley Megathlin was shopping for breeches for daughter Emma. "We don't have a horse — yet," Shelley said. "Emma volunteers at a local barn and takes lessons."
"I'm obsessed with horses," Emma added. "I ride mostly English, occasionally western, and bareback a lot. I hope to start showing. I also need paddock boots and half chaps."
And then there was the biggest sale of all, the Tackeria's annual Thanksgiving weekend blowout. The store, at 13501 South Shore Blvd. in Wellington (561-793-2012), was practically bursting at the seams. Vendors for Theraplate, Acuhorse and Equine Choice had displays out front, and there were tents around the side with overstock items such as rakes, bridles, halters, helmets, jackets, blankets, brushes, breeches and boots.
Store Manager Lou Cuthbertson was as busy as a long-tailed cat in a room full of rocking chairs. "Find more of these, and mark them down," he directed a sales associate, handing her a pair of splint boots.
Everything in the store was on sale: 15 percent off bits, bridles and stirrups; 20 percent off horse treats, helmets, halters, lead ropes and gloves; 25 percent off breeches and crops; and 10 percent off everything else.
"It's going well," Lou said. "We've marked everything down pretty aggressively, especially a wide selection of apparel. The saddle pads are a big hit, along with helmets and the tall Ariat boots. When someone walks out with a pair of $200 boots for $89, they're grinning."
The Tackeria also showcased Leovet, a new line of natural horse care products, including shampoo, hoof balm and detangler. Also new was the line of Kingsland apparel, made in Norway.
"Kingsland has a huge following in Europe," sales rep Melissa Hill said. "We give adult and child riders another option in show shirts, jackets and breeches. We also have wonderful soft, stretchy socks. Everyone loves our socks."
Alicia Gamboa stopped by. She collected a bottle of liniment, a bag of dog food, a Breyer toy and some saddle pads. "I'm a regular customer," she said, "but I love this sale."
Keri Kampsen was another loyal customer who regularly browses the Tackeria's aisles.
"I'm getting basic barn supplies and toys for my horse. He prefers dog toys and rope chews, along with a Jolly Jumbo Lick. He's 5 and easily bored," she said. "I love the Tackeria. You can get anything you need here, and the staff are all super knowledgeable and friendly. This sale is just icing on the cake."