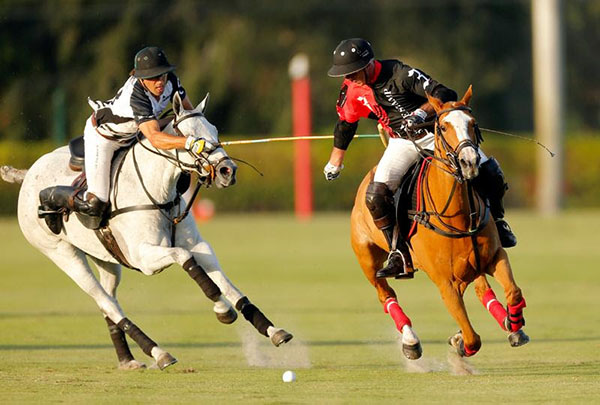 Villa del Lago Modere defeated Postage Stamp Farm 12-9 in the Herbie Pennell final Sunday, Jan. 1 at the International Polo Club Palm Beach.
The lineup was a strange juxtaposition for Hilario Ulloa (Villa del Lago) and Mariano Aguerre (Postage Stamp), longtime White Birch teammates. "It was special to play against Mariano," Ulloa said. "I've been playing with him the last five years in the U.S., previously for Alegría and the past three years with White Birch. That made this a really fun game."
Capitalizing on the guidance of 9-goaler Aguerre, Postage Stamp held its own from start to finish. The score was tied several times in the first half, with Postage Stamp containing Villa del Lago to a 1-goal lead throughout. Villa del Lago owned the second half, steaming ahead to a 9-5 lead in the fourth chukker and keeping Postage Stamp off the board. The gap remained at a 4-goal advantage for Villa del Lago in the fifth, but Postage Stamp tightened the game in the final chukker. Ulloa, who scored for Villa del Lago in every chukker, was game high-scorer with eight goals.
Ulloa said he was happy to return to IPC with Villa del Lago. "We played last season here together for the first time and lost two finals in a row. It was great to start 2017 with a win," he said. "Today showed us that we have a great team and a strong chance in all the remaining 20-goal games."
It was Postage Stamp's debut at IPC. Team patron Annabelle Gundlach said her first time playing on the Engel & Völkers stadium field at IPC was thrilling. "I have been dreaming of playing at IPC ever since I began playing polo, and for it to become a reality three years later feels surreal," she said. "I didn't embarrass myself, which is always nice. It was an honor to have Hilario chase me down the field and hook me."
The official 2017 season opener attracted throngs of spectators to the New Year's Day extravaganza, which featured many social festivities before and after the match.
"We were delighted with the turnout today," said Mark Bellissimo, whose partnership purchased IPC after the 2016 U.S. Open Polo Championship. "Polo is alive and well in Wellington. The International Polo Club Palm Beach has and will continue to devote a great amount of resources to make polo better than ever. Opening day reflected a great effort on the part of the polo community in Florida, and we hope this facility will be the hub of it for many years to come."
IPC's 20-goal tournament series continues this weekend with the Joe Barry Memorial Cup. For more information, visit www.internationalpoloclub.com.
ABOVE: Villa Del Lago's Hilario Ulloa attempts to hook Mariano Aguerre of Postage Stamp Farm. Photo by David Lominska