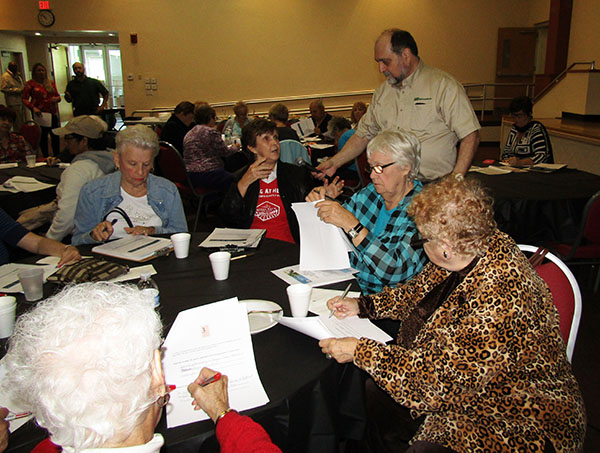 About 100 people attended a Senior Needs Assessment Forum conducted by the Village of Royal Palm Beach on Wednesday to gain more comments on a report being prepared for the Royal Palm Beach Village Council.
PMG Associates consultant Linda Gonot said the forum was to gather information from residents on what they believe are gaps in services to seniors.
The firm was contracted by the council to prepare a study assessing what services are available, or not, through federal, state, county and local governments for senior citizens in Royal Palm Beach.
The consultant and the council have already met with several senior care providers, including the county's Division of Senior Services.
"What do you feel is missing or needs to be improved to ensure resources that you may need, or what your husband, spouse or significant other may need, and these are the things that we want to hear from you so that the village can look at them and plan for the future," Gonot said. "This is very important to the village because it wants to make sure that you're getting good services."
The consultants passed out questionnaires to all those attending that included a list of services to rank as important to them, invited written comments and speaking at the microphone, as well as encouraging seniors to discuss their ideas with others at their table.
"We want to know if there are people falling through the cracks and not getting services that need to be delivered to them," she said.
Phyllis Katz, who sits on the village's Recreation Advisory Board, said senior transportation is one of the most important issues for the village, as well as communication and information about programs that are available to seniors, and providing access to them.
Another resident said she thought a licensed nurse should be at the Royal Palm Beach Cultural Center, which provides several senior services. She added that a "senior checker," to make calls to seniors living independently, should be made available.
One resident said that the Cultural Center's senior services have people participating from as far away as Fort Lauderdale, and asked whether the services under study will be for Royal Palm Beach residents, and consultant Phil Gonot said that they would, but one result of the study would provide a directory of all services available to seniors anywhere in the general area.
"Would the village provide a food pantry? Maybe, maybe not, but there are food pantries out there," he said. "What we're trying to do is get that information so that if someone may ever need that service, we can find out where they can get it. You may or may not know, but Meals on Wheels is not going to come after you, so that's one of the things that we found out in the study that we've done so far."
One participant said the village should offer senior healthcare services, and Gonot said a "SeniorFest" sponsored by the village might provide some of her needs.
"Health service providers from all over the county come, and they offer a number of different screenings and other types of advice," he said. "They can help you with the information that they have about how to access services."
He said they learned that some common services, such as blood pressure tests, are performed at local fire stations.
"Is that convenient? That's one of the points we're trying to get to," Gonot said. "A lot of people don't know about it."
One person said the system to apply for senior services is too cumbersome, and Gonot said he understood that, and they were working on that.
Senior Citizen Advisory Ad Hoc Committee Chair Iris Levin noted that the village has a guide to senior services available at www.royalpalmbeach.com, by calling the Cultural Center or by watching the village's Channel 18.
One participant pointed out that the 211 hotline is available 24 hours to take any kind of calls.
Linda Gonot said that as part of the study they had reviewed senior services offered in other municipalities and would include that information in the final report to the council.
An additional forum for seniors will be held Thursday, March 23 at 6 p.m. at the Royal Palm Beach Cultural Center.
ABOVE: Consultant Phil Gonot interacts with seniors attending Wednesday's forum.