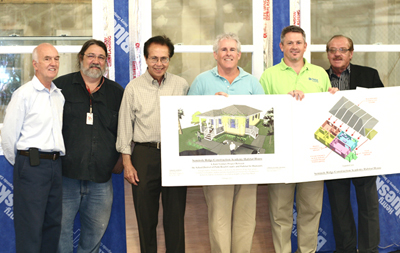 County Commissioner Jess Santamaria recently visited the Seminole Ridge Construction Academy. Santamaria was joined by Ron Barsanti, a past member of the Habitat for Humanity Palm Beach County Board of Directors and regular volunteer on the Habitat worksites; Martin Bixler, director of construction services for Habitat for Humanity; and Bob Frein, the immediate past president of the Habitat for Humanity Board of Directors.
The goal of the visit was to observe the working environment and facilities at the academy in an effort to promote similar programs in area schools, as well as on the campus of Palm Beach State College, where a graduate academy could be initiated to allow students to further develop their skills on the college level after graduation.
"As an advocate of affordable housing efforts in our community for many years, I strongly support partnerships like this one between Humanity for Humanity of Palm Beach County and the Seminole Ridge High School Construction Academy," Santamaria said. "The long-term benefits of exposing youth to both hands-on training and the work of an organization such as Habitat for Humanity are truly commendable."
Barsanti called the school district's commitment to such technical programs praiseworthy. "As a major supporter of Habitat for Humanity of Palm Beach County and a former employer of technical school graduates, I am very proud and pleased that Habitat for Humanity has chosen to fully engage and partner with the school and these students on this major effort," he said.
Seminole Ridge and Habitat for Humanity joined forces in 2011 to construct a three-bedroom, two-bath home at the construction academy over an 18-month period. The home, well underway with construction four months ahead of schedule, will be built in four modular quadrants then transported to the Habitat for Humanity lot in West Palm Beach and set on a foundation. Additional homes will be built by the academy in the coming school years, each with a 12-month turnaround time.
During the construction process, the students will be trained in the art of carpentry, plumbing, electrical, cabinetry and other typical construction trades. Habitat for Humanity will complete the construction of the home once it is transported, along with community volunteers.
Local architect David Porter has been working with the students on the house design and will be completing all necessary drawings to obtain building permits and for the students' construction work. Local modular concrete building contractor Royal Concrete Concepts has donated its expertise, cranes, trailers, rigging and trucking services to transport the modular units from the school to the building foundation. Inspections of the modular units, as they are being built at the school, will be provided by the Palm Beach County Building Department.
Shown above: Robert Frein, Frederick Terkovitch, County Commissioner Jess Santamaria, David Porter, Martin Bixler and Ronald Barsanti.