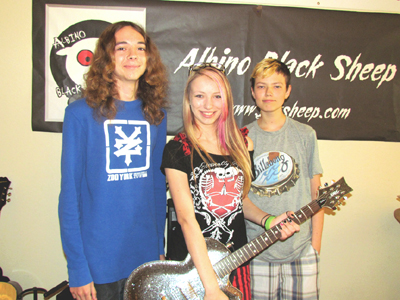 Three Royal Palm Beach teens will soon be making their on-screen debut, in the action-packed comedy Ned Venture. Members of the local band Albino Black Sheep brother and sister Stone and Harrison Harward, along with new band member Trey Ramirez, have been cast in the movie.
The movie follows the adventures of skater Ned and his siblings, also his band members in Venture Effect, as they evade a gang of crooks. Taking precious stones from the crooks, the band members try to use the stones to make a music video. Their intention is to make enough money from the video to help their single father, who has fallen on hard times.
The adventure movie features lots of surprises and turns. Most of the cast is young, and the core of the film centers on the music.
Albino Black Sheep got a lucky break, after their drum teacher informed them about the movie's casting. The director needed a girl about 16 years old who plays lead guitar, a boy around 11 to 12 who plays drums, and a boy about 16 who plays bass, recalled Helen-Marie Harward, Harrison and Stone's mother.
It sounded perfect, but could the kids act? "I wasn't sure about their acting, but I knew they were always on stage, so I figured they would try anyway," she said.
Harrison first heard about the audition after getting picked up from school. "I got into the car, and everybody was smiling and looking at me, and I said, 'What's going on guys?'" she recalled. "Then they told me we have an audition for a movie, and we are going tomorrow. I was like whoa, what's going on? Is this for real?"
The band packed all their equipment and headed to the G-Star School of the Arts studio in West Palm Beach. "When we got there, they had this huge stage, where we set everything up," Helen-Marie said. "Then the director walked in, and he absolutely loved them."
During the audition, Ned Venture Director Ron Stone spent over three hours with the band members. "They made us read our lines over and over, and it was the three of us, so it pretty much took all day," Harrison said.
When the audition was over, the band members packed up and went home, hoping for the best. "When we left it was about 8:45 at night," Helen-Marie said. "An hour later, the director called me and said, 'I just want you to know, your kids acted just as well if not better than students I've seen in lessons for years.'"
Harrison, 16, the lead singer in Albino Black Sheep, is cast as Krystal, the lead girl in the movie's band and Ned's sister. A quick learner, Harrison has only been playing the guitar for a year. "But I've been playing music from the cello to the violin since I was a little kid," she said. "My brother Stone, too, he's played all kinds of instruments, and just learned how to play the drums a couple of month ago."
Stone, 13, plays all the music for the drummer in the movie. "Ironically, the kid that they cast to play the drummer has never played the drums before," Helen-Marie said. "They are using Stone to play all the tracks for the music in the movie."
Stone also has a line in a scene in which he rolls by on his Heelys, which he is endorsed by the company to wear. "They want me to wear the shoes in the movie, and they're sending me a box of shoes, and I'm excited because that's one of my favorite shoes," he said.
Ramirez, 16, went for the lead role, but was cast as one of the skateboarders doing tricks and stunts in the movie. "The role they were going for the bassist is supposed to be someone who is more full of himself and a lover-boy type, and our sweet Trey is so humble and nice," Helen-Marie said.
Since being cast in the movie, the band members have had to learn how to play along with other musicians.
"For the movie they have added a keyboardist, a guitarist, bassist, drummer and a singer who have never played together," Helen-Marie said. "So they have all been getting together and learning how to play together."
Stone and Harrison started Albino Black Sheep less than a year ago, and have performed at local events and venues from the Caribbean-Americans for Community Involvement (CAFCI) annual talent show to concerts at the Wellington Amphitheater. "We grew up in a creative environment," Harrison said. "We are always doing something different."
Stone and Harrison's mother owned a dance studio for many years, and their father is a former R&B singer. "They have been on stage for almost their entire lives," Helen-Marie said.
Their creativity is expressed through their unusual band name, which Stone came up with out of the blue, to Harrison's colorful hair. "I'm pretty much known for the girl power style with my crazy hair and playing my Daisy Rock guitar," she said.
When Harrison was told she had to cover up her Daisy Rock guitar for product placement issues in the movie, she felt that she had to do something about it because it was a representation of her self-expression.
"So I got permission from Daisy Rock to use my guitar in the movie without covering it up," she said. "We are now endorsed by them, and I can play my Daisy Rock in the movie, and they are sending us posters to use in the movie."
Ned Venture is currently in the process of being filmed, and will take an estimated month to complete. The movie is expected to come out some time next year. For more information, visit www.nedventure.com.
Above: Trey Ramirez with Harrison Harward and her brother Stone Harward.