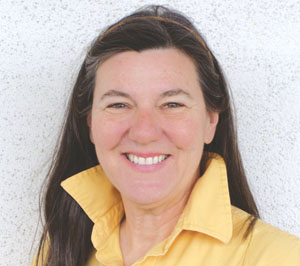 THE SONIC BOOMER
I had a really busy day recently. This column was due, I needed to conduct 11 interviews, I was pricing the entire contents of someone's home for an estate sale, and my store decided to get pre-holiday busy.
Ordinarily, I can handle this kind of pressure with my usual grace and aplomb (trip, stumble, gasp), but Fate decided to send a few fun extras my way. For instance, my Internet service was down for 10 minutes. Why? I don't know. I do know that, unsure whether it'd be down for 10 minutes or 10 hours, I had one of my patent-pending conniption fits.
In a case like this, my husband leaves the building, as experience has taught him to do. First he stops, drops and rolls. Then, when that doesn't work (I don't even notice him), he leaves the building.
Also, when one's Internet is down in a deadline time crunch, one quite naturally hits, punches, kicks and tips a glass of water into one's computer.
One is merely shooting the messenger.
Nonetheless, 11 minutes later I was up and running with nothing but a damp keyboard to slow me down.
I got off to a good start with the estate sale, and then it was suddenly put on hold for two days. Why? Because after bringing in three boxes from another location, the owner sighed and said: "I'm beat. I usually work one day and sleep for two, so I'm off schedule."
I laughed convivially, but it turned out she was serious.
Work one and sleep for two? Who has that kind of time? While she took her nappy-poo, I unpacked the boxes (those three plus 47 others), emptied her shed, set up tables, put everything out and priced every single item right down to her toothpick holder. I did this as quickly as I could because I've been advertising this sale for a week, and the Big Day was tomorrow.
Stressful? Sure, but I tell myself that's why I get the big bucks. Then I laugh oddly, like one seriously out of touch with the real world.
In related news, the store getting busy is a good thing. We've been record-setting busy all summer and the stock was looking thin (translation: you could almost walk unimpeded down the aisles), but then I brought all the Halloween, Thanksgiving and Christmas stuff down from the attic.
You'd think that holiday designers had already done everything that could be done with pumpkins, Pilgrims and reindeer, but no. And I am just a sucker for that stuff. "I buy it for my customers," I tell myself, but that's a lie. Put me on the Naughty List if you must, but my store is well-supplied with black, orange, brown, red and green inventory.
Of course the first thing to sell on Saturday morning was the gigantic distressed hutch in the front room — the one with the vintage-looking glass handles in which we had crammed all our red and green inventory. So I went on the hunt, bought another hutch the moment I found one, and promptly decided its natural wood was simply too ugly. It needed to be painted. So I painted it.
Then I distressed it. Then I replaced the handles with nice glass ones.
Now I'm done with all my work except for this column.
… aaaaaaand, it's wrap.
That is, until tomorrow.