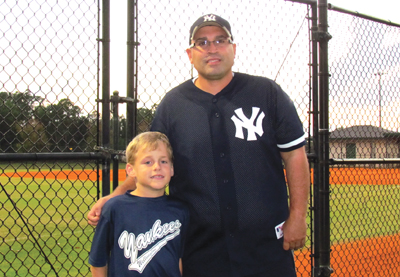 It was a typical day for 8-year-old Patrick Cerasuolo. He came home from Binks Forest Elementary School and found a package at the front door. He immediately brought it in to his mother, Rose. After all, he's a kid — he never gets packages.
As he walked away, his mother told him that the package was addressed to him. Surprised, he opened it and dug through the bubble wrap, finding blue-and-white New York Yankees memorabilia.
The Yankees are his favorite Major League Baseball team. The package even contained an autographed baseball from his favorite player on the team, Curtis Granderson. "When I opened it up, I literally just fainted," Patrick said. "There was a binder with a list of when all of the games are, a notepad, a yearbook, a Snoopy bobble head and a Yankees hat."
After the shock wore off, Patrick began to think about why he'd received a package of souvenirs from the New York Yankees. The only person who came to mind was his Little League coach, Scott LeFante.
"He knew I was in the hospital and knew that I like Curtis Granderson, so I knew it had to be him," Patrick said.
His mother, of course, knew it was LeFante because he'd told her about the possibility of receiving a package from the Yankees. It was something that LeFante had in mind after visiting Patrick in the hospital after his recent kidney surgery.
"All his teammates and I went to visit him at the hospital," the coach recalled. "We brought him a Yankees jersey with his number on it, and everyone signed a card for him."
LeFante remembered two months ago, when he first noticed that Patrick was not himself. "After the second game of this season, he wasn't feeling well," he said. "I spoke to his mother about it, and that's when I found out he was having problems with a kidney and had to have it removed."
This greatly disturbed LeFante. "He's such a good kid, and you would never know what he was going through, because he would show up to all the games and practices," he said.
LeFante realized he wanted to do something special for Patrick. "No kid should have to go through what he went through," he said. "I did what I had to do, which was something nice that would put a smile on his face."
Since LeFante knew that Patrick's favorite team was the Yankees and that Granderson his favorite player, he thought of getting them involved. LeFante took on a mission to contact the Yankees by any means possible. "I called the Yankees and left a message for the public relations department," he said. "I also called the agent of his favorite player and left a message."
Four days later, LeFante got an unexpected call back. "I told them about what Patrick was going through, and asked them if they could send a little care package to brighten up his day," he said. "And they came through, which is amazing."
LeFante was thrilled the idea worked out. "I wasn't sure what to expect because they are a large organization and they probably get thousands of phone calls in a week," he said.
Rose called LeFante and sent him a picture to let him know that the Yankees actually did send a package.
"He couldn't stop smiling," LeFante said. "He was completely surprised and had no idea I was going to do this."
After a month and a half of healing, Patrick came back to play his favorite sport alongside his teammates. "This is his third game back, and he made it just in time for the playoffs," LeFante said. "He loves the sport so much he couldn't wait to play."
Patrick and his team won the championship game this season. "We let him play because the season is almost over, but we are cautious with him and monitor him while he plays," LeFante said. "All the other coaches and players are also supportive."
LeFante began coaching the team as a way to participate in the sport he enjoys with his 7-year-old son, who is also on the team. He also likes the Yankees and named the team in their honor. "I'm originally from New Jersey, and I've been following the Yankees since the 1980s," he said. "So when it was time to pick a name for our team, I picked the Yankees because it was available on the list of names."
LeFante's advice to people who may be discouraged from contacting a major organization for something is to never give up. "It doesn't hurt to make a phone call or two," he said. "Most people think nothing will happen, but you won't know unless you try."
ABOVE: Patrick Cerasuolo with his coach Scott LeFante.