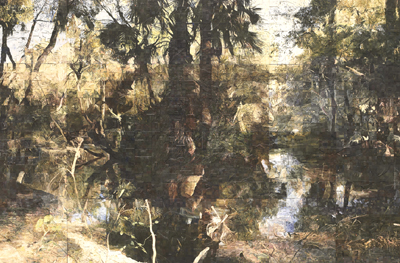 "Altered Realities," exhibiting now through March 13 at the Lighthouse ArtCenter Museum of Art in Tequesta, features a retrospective of renowned contemporary artist Jake Fernandez.
The exhibition is sponsored by Cotleur & Hearing Landscape Architects, Planners and Environmental Consultants.
Fernandez's drawings, photographs and paintings, some of which span more than 12-feet wide, give you the sense of being in a totally different environment.
Take a closer look; Fernandez has created a landscape by deconstructing reality and reassembling it according to his own precise and calculated imagination.
Art historian and State University of New York professor Lynette M.F. Bosch, Ph.D., recently reviewed Fernandez's work. "In paintings and drawings, Fernandez takes you through a woodland path or brings you to a meditative pause at the edge of a lake, pond or stream," Bosch said. "His colors and forms move your sight, through the passing times of day, in which each degree of changing light transforms time. As Fernandez composes his images, the underlying structure of the geometric, perspectival grid is submerged into compositions that draw the spectator in and through his delineated spaces — so subtly that the picture plane between the spectator and the work dissolves."
Fernandez was born in Cuba and graduated with a Bachelor of Fine Arts degree from the University of Florida and received his Master of Fine Arts degree from the University of South Florida. An internationally known artist, Fernandez creates complex pictorial structures with a unique depiction of light and space. His works are in numerous public and private collections throughout the world, including the Florida House of Representatives and the capitol building in Tallahassee. Fernandez lives and works in Florida and New York City.
"In this 30-year career retrospective exhibition, Jake Fernandez invites you to survey his changing interests, explorations and development of style in multiple mediums," said Katie Deits, executive director of the Lighthouse ArtCenter. "The Lighthouse ArtCenter Museum is pleased to present this unique artist's collective of work."
Fernandez will give an artist's talk at the Third Thursday event on Thursday, Feb. 21. Guests will enjoy wine and hors d'oeuvres at 5:30 p.m., followed by the lecture at 6 p.m.
The Lighthouse ArtCenter Museum & School of Art, a member-supported nonprofit organization, provides visual and performing arts for the community through unique collections, engaging exhibitions and cultural programs, a dynamic school of art and diverse outreach activities. Programs are funded in part by the Cultural Council of Palm Beach County, the Palm Beach County Tourist Development Council and the Palm Beach County Board of County Commissioners.
The Lighthouse ArtCenter is located in Gallery Square North at 373 Tequesta Drive, Tequesta, one half mile west of U.S. Highway 1. Museum hours are 10 a.m. to 4 p.m. Monday through Friday, with admission free for members and $5 for nonmembers age 13 and up. Saturday hours are 10 a.m. to 2 p.m. with free admission. The Lighthouse ArtCenter is a member-supported not-for-profit charitable organization, providing excellence in art exhibitions, instruction, education and outreach for all ages.
For more information about the Lighthouse ArtCenter Museum & School of Art, and its exhibitions, programs and events, visit www.lighthousearts.org or call (561) 746-3101.
ABOVE: Myakka Fork, an oil painting on 24 wood panels.