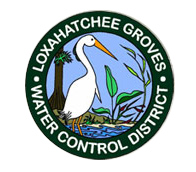 The Loxahatchee Groves Water Control District Board of Supervisors has now turned to engineer Steven Yohe as its likely new district administrator after first choice Steve McKown turned down the board's offer.
"We offered [Yohe] the same contract as we offered [McKown], $84,000 and benefits on top of that, the same that employees get," LGWCD Chairman Dave DeMarois told the Town-Crier.
The package also includes a $400 a month car allowance.
Negotiations were done by Supervisor Don Widing, who had been directed at the last meeting to focus on the board's second choice if McKown turned them down. The final contract negotiations are being handled by human resources attorney Lara Donlon.
"The number-one guy looked at it and he finally came back with a negative, then we offered it to the number-two guy, and he came back with a positive," DeMarois said. "We did a background check on the number-two man and that came out OK."
Final approval by the board is expected at its next meeting, set for Feb. 11, and DeMarois said Yohe would then start work Feb. 12.
DeMarois said McKown turned down the board's offer over a difference in the health insurance policy. "He wanted us to pay for his health insurance for the family," DeMarois said, noting that several board members had misgivings about hiring McKown for other reasons as well.
McKown, who most recently served three years as Clewiston city manager, was terminated late last year after allegations including possible misuse of a credit card and a prior incident where he was accused of impersonating a police officer.
"The number-two guy, everybody was satisfied with," DeMarois said.
Yohe, a resident of Palm Beach Gardens, is a civil engineer with experience in the public and private sectors, according to his resume.
He is currently the director of engineering for the Community Learning Outreach Center, a 53,000-square-foot charter school, where he has managed the architect, contractor and civil engineer for design, permitting and construction since June 2010. He also wrote the charter school application and several grant applications.
Yohe was senior project manager and engineer for O'Dell Land Development Consultants from December 2008 to May 2009 where he designed and permitted water, sewer, paving and drainage projects.
He also was director of planning and engineering for the Housing Trust Group of Florida from 2002 to 2007, interim director of public works for the Village of North Palm Beach in 2002, and executive director of project and facilities management for the Public Building Authority of Knoxville, Tenn. from 2001 to 2002.
Upon graduating from the University of Florida in 1976, Yohe was employed as an intern by Robert E. Owens & Associates, one of the favored consultants for northern Palm Beach County billionaire John D. MacArthur.
MacArthur's most valuable Florida property was 40,000 acres in northern Palm Beach County, which included private water, wastewater, gas utility companies, golf course communities and hotels.
Robert E. Owens & Associates designed and permitted many of the utilities projects, which Yohe worked on during his internship.
Yohe was later asked to join what would become the John D. and Catherine T. MacArthur Foundation, with initial assignments to Seacoast Utilities, then the largest privately owned utility in Florida.
When the foundation sold Seacoast, Yohe became director of engineering for the foundation and was eventually promoted to deputy director of Florida operations. During that time, he worked closely on projects with the Northern Palm Beach County Improvement District and the Loxahatchee River Environmental Control District. He was also a board member of the Pal Mar Water Control District.