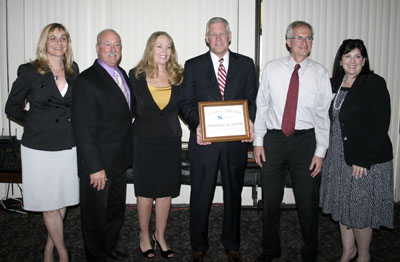 Beaches, the budget and road improvements will be the greatest issues facing Palm Beach County in coming years, County Administrator Robert Weisman told local business leaders this week.
Weisman was the featured speaker at the Central Palm Beach County Chamber of Commerce luncheon Monday, Jan. 28 at the Wellington Community Center.
Weisman predicted that beaches could become the most controversial topic of the next decade. "We have rising sea levels, whatever you believe the cause is," he said. "The sea levels are going up, the storms are getting worse, our beaches are getting more eroded, and there is less money to fix those beaches."
Millions of dollars from the federal, state and county governments are put into beach renourishment every year, he said.
"We just approved $1.5 million to fix county parks along our beaches that were damaged by the storms this fall," Weisman said. "That's a lot of money that we don't have. We're trying to get more state money and more federal money, and the federal money is lagging, so it remains to be seen how that's going to go."
He noted that some beach condominiums in areas such as Singer Island have water washing at their foundations. "It's something we're going to be hearing a lot about and dealing with, and that's a good part of our tax base, waterfront property, so it's very important," Weisman said.
Over the past seven years, the county has significantly reduced spending.
"In the early decade of 2000 we had a lot of tax money, property tax money coming in and that was good, and the Board of County Commissioners spent a lot of money," he said. "A big change came later in the decade with the decrease in property values, and we've literally cut our budget by reducing staff, reducing compensation to employees and really only slightly reducing services to the public."
In county offices, refuse is not picked up as often. "We're not mowing the lawns in front of the buildings. We're not mowing the medians the way we did, but the biggest reduction area is in staff," Weisman said. "We cut about 700 employees in total," he said. "We've since added some things back, but 700 employees is really big dollars. They've had no pay raises in four years, and it's that type of thing that helps you balance the budget in tight times."
The biggest area of the budget is the sheriff, whose office spends about $400 million each year. "We have a lot of built-in cost there," Weisman said. "The county commission has discussed issues like the sheriff's budget and employee compensation."
He said there is a lot of public support for good compensation for public safety employees but little willingness to pay higher taxes.
"If you give out 3 percent raises, let's say, every year on the sheriff's budget, that comes to $12 [million] to $15 million a year," Weisman said. "The public has got to decide if they want to pay more in taxes or you've got to address issues like compensation."
The Florida Retirement System is a big part of compensation. "The Florida Legislature talks about retirement issues, but in general they have avoided the big-ticket issues that help reduce cost," Weisman said.
The Florida Supreme Court recently upheld a ruling that requires county employees to contribute to the cost of their pension. "The employee groups sued about that, and the court ruled in favor of the legislature, so that did reduce county costs for retirement," Weisman said.
In recent years, the county commission has redirected much of its road development money to pay for mass transit. The spending goes for Palm Tran and transit service for handicapped people, which is becoming the most expensive portion.
"Those vans you see driving around, it's privatized — we hired the low-bid contractor, and that contractor has been having many problems since they took the contract in August," he said. "It's one of the downsides of privatization. Sometimes it works well; sometimes, it doesn't. We are contract-stressed with this person, and we are trying to get through."
Weisman said it is difficult to throw out a contractor who has bought 100 vehicles and provided a daily service for 300 to 3,000 people a day, picking them up at their door and carrying them to doctors' appointments, school or restaurants — whatever they need.
"Each rider pays about $3 per ride, but the cost is about $30 per ride, so it's a huge part being largely subsidized by local taxpayers through gas taxes," he said. "It also comes from state and federal dollars."
Roads in the central western communities have largely been built, but Seminole Pratt Whitney Road is still underway and will take another year or two to complete.
"The biggest problem is State Road 7," Weisman said. "We're going through the state to get that built north to Northlake Blvd. The City of West Palm Beach is standing in the way of that."
Ibis, where West Palm Beach Mayor Jeri Muoio lives, is the biggest opponent, he said. "That road passes by them and we have a right-of-way for it, and they will get in the way of construction of that road," Weisman said.
He said Ibis has also joined fellow West Palm Beach developments Baywinds, Andros Isle and River Walk in opposing Roebuck Road from being built from Jog Road to State Road 7.
"That was supposed to be to the benefit of the residents of the western communities, who allowed those West Palm Beach projects to be built on Okeechobee," Weisman said. "When the people moved into those projects, they objected to the bypass road being built. It is that simple. West Palm Beach has reneged on this issue."
ABOVE: Chamber CEO Jaene Miranda, Chamber Chairman Dr. Jeffrey Bishop, Assistant County Administrator Shannon LaRocque, Bob Parsons of the Oxbridge Academy, County Administrator Robert Weisman and the chamber's Mary Lou Bedford.