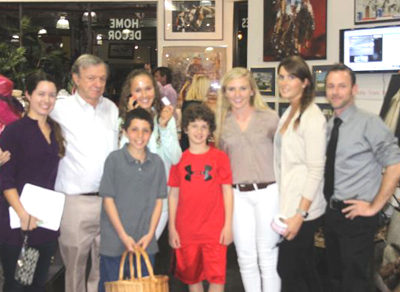 There wasn't a parking space in sight Thursday night, Feb. 21, as the Wellington Equestrian Gallery & Mall began to fill up with jovial groups of women out to have a good time and support a great cause. The occasion was the gallery's Girls Night Out, Trunk Show & Martini Reception, where there was something to appeal to everyone.
As soon as the guests entered the door of the gallery, they were greeted by volunteers from JustWorld International. Founded in 2003 by Jessica Newman, the not-for-profit, humanitarian organization funds life-changing nutrition, health and hygiene, education, as well as leadership and cultural development programs for impoverished children in Cambodia, Honduras and Guatemala.
At the entrance, the evening's five raffle prize items were displayed, and the JustWorld representatives were busy selling a chance or two to be a prize winner to everyone who entered.
The evening's grand prize was a pair of diamond horse-head earrings donated by Jack Van Dell, owner of Van Dell Jewelry. He also donated a Chamilia bracelet to the cause.
The raffle ticket-holders also had a chance to win one of three gift certificates to Rejuvia Medspa. By the end of the evening there were five very lucky winners.
Once inside, the staff from Blue Martini at CityPlace offered everyone samples of two of their signature martinis — a chocolate martini, and of course, a Blue Martini! The guests leisurely ambled through the gallery, admiring the beautiful, eclectic collections of art, jewelry, bronze statues, antiques and clothing on display, and had the chance to chat with many of the artists.
In addition to the gallery's established vendors, there were visiting artisans and vendors who provided an added dimension to the night's assortment of merchandise.
"Tonight was fun!" Van Dell said. "By having this Girls Night Out, Trunk Show & Martini Reception, we enticed some new faces into the gallery, and we had many returning clients, too. But, I think that they all had a great time socializing and seeing the one-of-a-kind merchandise we have to offer."
Jeanne Chisholm of Chisholm Gallery LLC brought in an outstanding assortment of artists and vendors as part of the evening's trunk show. "P.J. Bundy Collection, known for their classic, yet fashionable jewelry designs, was here," said Chisholm, a leading international dealer of polo and sporting art. "Filip and Inna brought their clothing that employs the exquisite weaving, embroidery and beadwork techniques indigenous to groups of the Philippines. And for the silk lovers, Indo-Chic had their stunning silk clothing line of pants, jackets and tunics to complement a variety of lifestyles, shapes and sizes."
There was a live pastel painting demonstration by renowned British portrait painter, David McEwen. "Guests were mesmerized while they watched McEwen bring to life on the canvas the international show jumper, Rodrigo Pessoa," Gallery Manager Robin Carr said.
Once completed, the painting was donated to JustWorld International for use in an upcoming silent auction event.
In addition, two award-winning authors were on hand: Beatrice Fairbanks Cayzer, author of Murder for Beauty, and Anne Rodgers, who authored Kiss and Tell: Secrets of Sexual Desire from Women 15 to 97 with Wellington's own Dr. Maureen Whelihan.
The Wellington Equestrian Gallery & Mall is located in the Wellington Courtyard Shops at Wellington Trace and Greenview Shores Blvd. For more information, call (561) 333-3100 or visit www.wellingtonequestrianmall.com.
ABOVE: Gallery Manager Robin Carr and Van Dell Jewelers owner Jack Van Dell with JustWorld International volunteers.