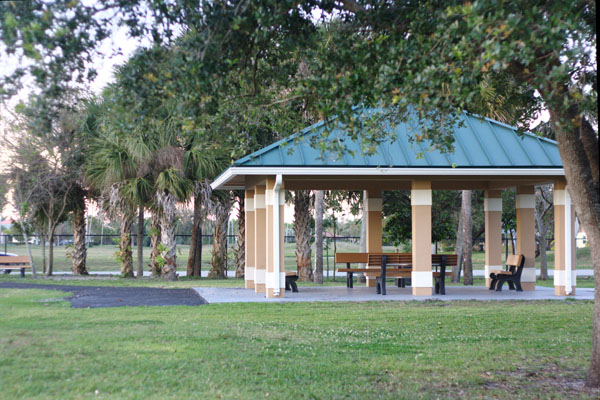 Improvements to Wellington's dog park are underway that, when finished, will provide better accessibility and comfort for pooches and people alike.
Located on Greenbriar Blvd., the Wellington Dog Park provides three large play areas for dogs of all sizes and their owners to get out and socialize.
Soon, each section of the park will have its own covered pavilion and a pathway circling each enclosure, Wellington Director of Operations Jim Barnes said.
"We have a user group, made up of park regulars, who we consult on different issues in the park," he said. "We told them we were looking at adding pavilions in the small- and medium-sized areas."
The Wellington Village Council already approved spending for the pavilions, Barnes said, which will be similar to the one in the large dog area.
It was members of the user group, Barnes said, who requested paths around the park.
"It's common in other dog parks to have a sidewalk or path that goes around the entire space," he said. "If you choose not to let your dog run loose, owners have the option of using the more structured pathway."
The pathways will be made of recycled asphalt.
"We had leftover, recycled asphalt millings available," Barnes said. "Because of that, it was feasible to do it with a limited cost to the village. We'll be able to do it with our own staff and our own equipment."
The asphalt millings will provide a path around the areas, and also surround several of the areas with benches.
"We know at some point that if we want to do more than that, we'll be able to use [the asphalt] as a base," he said. "We weren't budgeted to do a full sidewalk at this time."
In the meantime, the asphalt will provide a surface for better accessibility to the park by people in wheelchairs or with other needs, as well as a dedicated path for walking or exercising. "It will be fairly walkable," Barnes said. "It's a very stable surface."
He said that, so far, members of the user group have been pleased with the improvements.
"They were excited to get the walking paths," he said. "Overall, we think it's going to really improve the space."
ABOVE: Pavilions and walking paths are planned for all three play areas at the Wellington Dog Park.