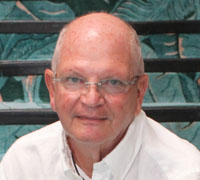 Vic & Angelo's is one of my favorite and most visited restaurants — delicious food, great ambiance and attentive service!
There are a lot of reasons why I like Vic & Angelo's, from their great Italian food, to their friendly staff, to their "world-famous happy hour" from 3 to 7 p.m., seven days a week. It reminds me of being on vacation and cozying up to the bar to chat with fellow guests, and just relaxing and having a great time. Whenever I have a bad day, I go Vic & Angelo's for happy hour, and I have a great night!
I was fortunate enough to attend their grand opening in 2008, and I have been there over 50 times — way more than any other restaurant in Palm Beach County. I will probably go there as soon as I finish writing this article!
Italian restaurants are also my favorite, and Vic & Angelo's is a terrific, reasonably priced Italian restaurant for brunch, lunch, dinner and happy hour. I have taken many out-of-town guests to this restaurant, I have celebrated family birthdays and anniversaries here over the years, and I have never been disappointed.
Owner John Rosatti — a talented restaurateur and entrepreneur — also owns the sister Vic & Angelo's restaurant at 290 E. Atlantic Ave. in Delray Beach, and the Office, also on Atlantic Avenue in Delray Beach. Whenever I am in that area, I make an effort to enjoy lunch or dinner at those restaurants as well.
Now to their taste-tantalizing offerings:
• Antipasti ($12.95 to $18.95) — This includes calamari (grilled or fried), eggplant parmigiana, beef carpaccio, grilled artichoke and their Signature Starters, Sicilian chicken wings, and their jumbo meatball. I selected Oregenatta with a mouthwatering trio of lobster, shrimp and calamari, lightly breaded and cooked to perfection. I also opted for their delicious San Marzano tomato sauce for dipping, which was quite yummy!
• Pasta ($16.95 to $28.95) — Nona's Sunday Gravy is a must. This dish is quite soul-satisfying and features rigatoni with meatballs, pork and sausage, all simmered in San Marzano tomato sauce for 48 hours — this is just the best! There is also their shrimp penne alla vodka, linguine and clams (white or red), lobster risotto, ricotta gnocchi, lasagna, ravioli and keeping with the time, vegan pasta (gluten-free spaghetti). Vic & Angelo's pappardelle, which is mixed with wild mushrooms in an incredibly tasty parmesan sauce, was my guest's excellent choice.
• Entrée ($19.95 to $36.95) — Veal or chicken cooked your way. You can choose from Scallopine, Picatta, Francese, Marsala or Parmigiana. Steaks include filet mignon, New York strip and skirt steak, or you can choose veal or pork chops. Vic & Angelo's fish selections are second to none: you can select from snapper Francese, roasted sea bass, trout, grouper, wild salmon and my two favorite ocean dwellers, Branzino and Dover Sole. I selected Dover Sole because, in my opinion, it is perhaps the best-tasting fish in the world (and not offered at many restaurants). Found only in the waters of Dover, England, this tasty treat must be filleted table-side to give it its proper due. It was cooked to perfection here, and it was superb!
By now you can see why I go to Vic & Angelo's as often as I do. But of course, there are seven other reasons, such as desserts ($9 to $12). Do you love old-fashioned banana cream pie? This mile-high dessert was our choice and wow — it was the perfect ending to a most romantic Valentine's dinner! Then again, there are tiramisu, zeppoles, cannoli, tartufo and their authentic, highly recommended ricotta cheese cake!
Best of all, you get to dine on these delectable dishes in a restaurant that combines a touch of whimsy with old-world charm. There is so much to see and admire that I don't want to spoil it for you. Their oversized patio, filled with canvas umbrellas and comfortable seating, is the perfect spot to relax and enjoy your meal.
Whether you come for lunch, dinner or a small bite, you will not be disappointed. They are open every day of the week, so you have some time to work through their fantastic menu. Visit their web site, at www.vicandangelos.com, and you will get to read through the menus, look at some photos, and learn more about this special place.
Please, do the following: pick up your phone and call General Manager James Diggs or Restaurant Manager James Stewart at (561) 630-9899 in Palm Beach Gardens or call General Manager Diego Nasissi at their Delray Beach location at (561) 278-9570, and tell them that the Phantom highly recommended that you call. You will thank me, and you will also enjoy one of the best — and most authentic — meals of your life!