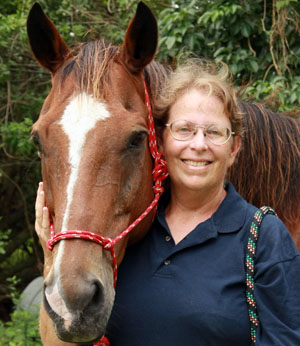 TAILS FROM THE TRAILS
I recently added another horse to the herd and, as frequently happens, this meant I also needed another saddle.
People tend to think about saddles as fitting their seats comfortably, when in truth, much more important is whether or not it fits the horse's back comfortably. If it doesn't fit you, you end up with a sore butt. If it doesn't fit the horse, you can end up with a lame horse or a bucking bronco!
That's why I found myself perusing the offerings at the Silver Spur, located just off State Road 7 at 160 Business Park Way in Royal Palm Beach. They have a great selection of new and used saddles, both English and Western.
Within a few minutes, owner Cris Burwell and her daughter, Tiffie, were pulling down saddle after saddle and lugging them over to the try-on rack. I sat in this one, that one, seeking something which would fit both my butt and the new horse's back.
The Silver Spur is a wonderful emporium of all things horse-related. They repair leather and sharpen clipper blades. In addition to saddles and all the fittings (girths, stirrups, leathers, saddle pads) they have mounds of boots, chaps, riding jackets, breeches, gloves, socks, show shirts, jewelry, halters, leads, bridles, bits, spurs, hats, helmets, brushes, supplements and health supplies, plus tons of cute knickknacks, everything from ceramic cows to Breyer models.
"We've got about 50 English and 50 Western saddles right now," Cris told me. "Some of the new English saddles are Henri de Rivel, made of buffalo leather, super comfortable, soft, cushy and very grippy. You really stick to these saddles. Plus they have a key you can use to adjust the gullet width to fit a narrower or wider back."
Those ran about $1,000 — too rich for my blood. I was more interested in the used offerings; saddles people had brought in on consignment. "We take in anything on consignment," Cris explained. "Any horse equipment or clothing. Boots and saddles are big sellers, equally English and Western. Typically, we take an item in for 30 days, and if it doesn't sell in that time, the owner can pick it up or leave it and drop the price. I don't mind items staying six months, as long as I have room for them. When something on consignment sells, we get 30 percent and the owner gets 70 percent. On saddles, it's 40-60."
"How do you decide on the price?" I asked.
"Three things: what the owner wants, what the item's worth, and what I think it'll sell for," Cris replied.
The Silver Spur has been in business for about 9 years, and expanded to the brighter, larger store about four years ago.
"Our biggest sellers, in saddles, are basic Western trail saddles, barrel saddles and English close-contact saddles," Cris said. "We even have some custom-made Peruvian work saddles. We have a little of everything, and prices range from $75 to $1,500 for a nicer older McClellan."
One of the nicest parts of the saddle-buying experience is Cris's insistence that you take the saddle home and try it out on the horse to make sure it fits properly.
"If it's a new saddle, we ask that you set it on the horse but not ride in it, to avoid scratches. If it's used, you should definitely ride in it," she said. "We like people to make sure they're buying the right one. We give people a few days to try out a saddle. The weather might be iffy, or they might live a distance away. We like to have a flexible relationship with our customers. We even keep a want list of things people are on the hunt for, and give them a call if their item comes in."
I wasn't the only one looking for things in the Silver Spur that day. Laurie Sharma of Wellington was also there. She described herself as a good, loyal customer, also in the horse equipment business. She's with Equine Couture and Tuff Rider, and sells riding apparel and tack wholesale to tack shops. She was picking up some items for her daughter, who is just starting to show.
"I absolutely love coming here," she said. "Cris does an amazing job. It's very budget friendly. The prices can't be beat. Their customer service is amazing. I highly recommend this place to everyone."
Another customer was Melissa, from The Acreage. It was her first time there. She had an armful of horse blankets and fly spray.
"Everyone at the barn where I board my horse always talks about the Silver Spur, so I had to come," she explained. "I like it. It's nice. They have a good selection, and their prices are amazing. I priced some of these things at other tack shops, and it was a little scary. I like that they have both English and Western stuff. I'll definitely be back, and absolutely recommend it to others."
Meanwhile, I was playing "three bears" with saddles: too hard, too soft, too big, too small. And then I found one that fit just right, an older Steuben with great character. It had been there over three months.
"Take it home, try it out," Cris urged.
I did, and it fit both of us perfectly, me and the new horse, proving one of Cris's beliefs: "There's a person for every saddle."
I'd just found mine.
The Silver Spur is open from 10 a.m. to 6 p.m. Monday through Saturday. For more information, call (561) 798-6651.