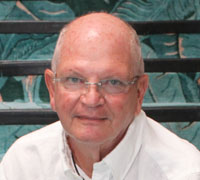 Delicious, organic and affordable gourmet meals delivered to you!
"I don't feel like cooking tonight" — how many times have you said that? In my case at least once or twice a week, if not every night! Now there is a delicious, healthful and affordable alternative. I Don't Feel Like Cooking Tonight is the brainchild of Master Chef Massimo "Jorge" Marrou. His experience and passion for cooking dates back 20 years, and he now brings delicious, organic and affordable gourmet meals delivered to your door nightly.
On a recent Saturday night, I hosted a dinner party for eight. I ordered a wonderful seafood paella extravaganza featuring shrimp, scallops, clams, mussels, calamari, and I added Florida lobster tails, all for under $200! What added to this incredible experience was that Jorge goes that extra step and uses only the authentic Spanish Calasparra rice, cooked to perfection. Without a doubt this was the best paella I have ever tasted, even surpassing my former favorite in Porto Banus in Marbella, Spain.
This was the third time I called I Don't Fell Like Cooking Tonight, and it won't be the last. Last month I ordered Beef Bourginon, a French favorite of mine: beef stew braised in Burgundy red wine, with pearl onions and mushrooms and a side of creamy mashed potatoes. Before that I had a surprise birthday party and served Lasagna al Forno, a classic in Bologna-style made with veal and pork, topped with a creamy Bechamel sauce… yum!
The only major decision you have to make is whether or not to tell your guest that you ordered from I Don't Feel Like Cooking Tonight or take full credit for your newly acquired cooking talents.
Speaking of cooking talents, Marrou was born in Italy (Italian talents), grew up in Spain (Spanish talents), studied in France (French talents) and lives here (American talents). His 20 years of experience is now available at your doorstep and just a phone call away, be it a romantic dinner for two or a party for 22.
So if you are like me and don't feel like cooking tonight or any night, then call I Don't Feel Like Cooking Tonight at (561) 233-9838 or visit its web site at www.idflct.com.
Please tell Jorge that the Phantom Diner highly recommended I Don't Feel Like Cooking Tonight!