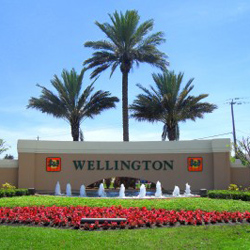 Though the 2014 Global Dressage Festival is set, it will be October before permanent plans for the future of the controversial Equestrian Village site are in place.
The property owners, Wellington Equestrian Partners, agreed earlier this year to resubmit a master plan amendment and compatibility determination that could allow the site to operate as a commercial equestrian arena year-round.
Approval of the items also could cease litigation between Wellington and WEP, which agreed to restart the application process for approvals on the property that were revoked two years ago. If the two sides cannot agree on the applications, however, the lawsuits could continue.
"Right now, we're working with the applicant on refining the conditions for the master plan and compatibility determination," Planning & Development Services Director Tim Stillings said.
Stillings said the master plan amendment deals mostly with access to the site, while the compatibility determination, if approved, would allow the site to operate as a commercial equestrian arena.
If Equestrian Village is given a commercial equestrian arena designation, show promoters will not have to return each year before the Wellington Village Council for a special use permit for the shows, as they have the past several years.
"They would need a special use permit if they were doing non-equestrian-related events," Stillings said. "But for what they want to do now, they won't need to keep coming back."
First, the items must face the scrutiny of Wellington's advisory boards, which will suggest changes and make recommendations to the council.
"It's tentatively scheduled to go before the Equestrian Preserve Committee in September and the Planning, Zoning & Adjustment Board in October," Stillings said. "We're targeting the second meeting in October for it to go before the council."
According to a submitted compatibility determination application, which is available on the village's web site, WEP is requesting a commercial arena designation for the 3,000-seat facility with outdoor derby arena, open-air equestrian arena, secondary equestrian rings, a covered arena, three barns with a maximum of 100 stalls each and accessory structures for administration, restrooms and more.
A site plan submitted Aug. 1 shows that the site will have a 14,600-square-foot temporary banquet hall with kitchen and restrooms, temporary stalls and a two-story open-air tiki hut. A bridle path surrounds the property, with parking on the southwest and northeast corners, as well as parking near the barns and the main arena.
There is trailer parking on the northwest corner of the site.
The site has drawn concerns from the Jacobs family, which owns property nearby. Stillings said village staff is working with both the applicant and a Jacobs family representative.
"We are trying to finalize some language," he said. "We have met with [Amy] Huber, who is their representative."
Stillings said if all goes well, the community would have the opportunity to speak on the issue this fall, with a final decision in late October or early November.
"If we stay on track, we should be done by the end of October," he said. "It depends on how we move through the boards and committees."