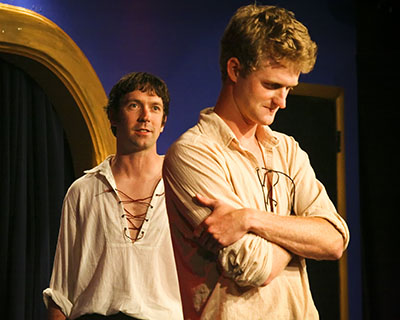 The Improvised Shakespeare Company (ISC) is returning to the Dolly Hand Cultural Arts Center in Belle Glade on Tuesday, Oct. 22.
Based on one audience suggestion (a title for a play that has yet to be written), the Improvised Shakespeare Co. creates a fully improvised play in Elizabethan style. Each of the players has brushed up on his "thees" and "thous" to bring you an evening of off-the-cuff comedy using the language and themes of William Shakespeare.
Any hour could be filled with power struggles, star-crossed lovers, sprites, kings, queens, princesses, sword-play, rhyming couplets, asides, insults, persons in disguise and all that we've come to expect from the pen of the Great Bard. The night could reveal a tragedy, comedy or history. Nothing is planned-out, rehearsed or written. Each play is completely improvised, so each play is entirely new.
Founded in 2005, the troupe has been performing its critically acclaimed show every Friday night at the world-famous iO Theater in Chicago for more than six years and continues to entertain audiences around the globe with its touring company.
The ISC has been featured at the Piccolo Spoleto Fringe Festival, Off-Broadway in New York City, the Bumbershoot Music & Arts Festival, UCB's Del Close Marathon and the prestigious Just For Laughs festival in Montreal and Chicago. It has been named Chicago's best improv group by both the Chicago Reader and the Chicago Examiner and has received a New York Nightlife Award for "Best Comedic Performance by a Group." The ISC was recently honored by the Chicago Improv Foundation as its Ensemble of the Year.
The ISC will be in Belle Glade for two days, performing for Palm Beach State College's Glades Campus students on Monday and for Glades Central High School's students on Tuesday.
Their residency in Belle Glade is made possible by a grant from South Arts.
Be sure to catch the performance at the Dolly Hand Cultural Arts Center on Tuesday, Oct. 22 at 7:30 p.m.
For tickets, call the box office at (561) 993-1160 or visit www.dollyhand.org.
ABOVE: The Improvised Shakespeare Company in action.