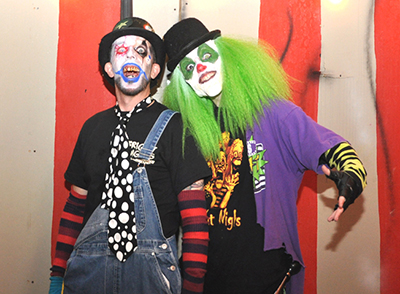 The western communities will be howling with Halloween activities suitable for families, as well as those with strong hearts, over the next two weeks.
Wellington Fall Festival — Events kick off this weekend with the Wellington Fall Festival, set for 6 to 10 p.m. on Saturday, Oct. 19 at Village Park (11700 Pierson Road).
The Halloween-themed event is a partnership between the Central Palm Beach County Chamber of Commerce and the Village of Wellington. Children's activities include trick-or-treating, bounce houses, hay rides, face painting and a costume contest.
Unlimited, all-access bracelets are required for some activities. On the day of the event, bracelets cost $10 for children and $5 for adults. For more information, visit www.wellingtonfl.gov or call (561) 791-4005.
Fairgrounds' Scream Park — The scary Halloween phenomenon Fright Nights Scream Park has returned to the South Florida Fairgrounds. This year's terror-filled attraction has been redesigned to be scarier than ever.
With four new haunts and more than 21,000 square feet of attractions, plus a gigantic monster midway of thrill rides, surprise scare zones and live entertainment, Fright Nights Scream Park is the largest and scariest haunted attraction in South Florida.
Fright Nights Scream Park will run every Thursday, Friday and Saturday through Oct. 26, with a special Monster Bash Costume Party on Sunday, Oct. 27 featuring more than $1,000 in prizes. More information and advance tickets are available at www.myfrightnights.com.
Spookyville at Yesteryear Village — Spookyville, an old-fashioned Halloween celebration at Yesteryear Village at the South Florida Fairgrounds, offers a full array of safe trick-or-treats, kiddy rides, games, crafts and pony rides for families and children 12 and younger.
Yesteryear Village's 20 historic buildings will come alive with costumed volunteers offering treats and smiles. The event will be spread over two weekends and on Halloween, Oct. 18-20, Oct. 25-27 and Oct. 31.
Those wearing a costume can compete for prizes on both Sundays. There also will be crafts, activities, scarecrow making and a "spooky house." A pet costume contest will be staged on both Fridays, Oct. 18 and Oct. 25. The contest begins at 6 p.m.
On Saturday, Oct. 19, and Friday, Oct. 25, a scavenger hunt with special prizes will be conducted. Food and beverages will be available for sale.
Admission is $7 and includes trick-or-treating, all contests and activities (except pony rides). Children 2 or younger get in free, and there is free parking. Backpacks, food, glass containers and alcohol are prohibited. For more information, call (561) 793-0333 or visit www.southfloridafair.com.
Boo at the Zoo — The Palm Beach Zoo's beloved Halloween event, "Boo at the Zoo," will take place Friday, Oct. 18 and 25 from 5:30 to 9 p.m., and Saturday and Sunday, Oct. 19-20 and Oct. 26-27 from 10 a.m. to 5 p.m.
Guests can enjoy trick-or-treating, the decorate-your-own pumpkin patch, giveaways, a haystack hunt, roving animal encounters, not-so-scary wildlife presentations and much more.
In addition to the stations presented by the zoo, local businesses and organizations will be set up so children can trick-or-treat at specific locations. Games, arts and crafts, a haystack hunt (for a $1 fee) and a child-friendly haunted house will entertain young visitors. Children can also purchase a pumpkin to decorate on-site. All money raised will go toward the care and feeding of the zoo's animals.
For more information, e-mail info@palmbeachzoo.org or visit www.palmbeachzoo.org.
Royal Palm Beach Festival — Royal Palm Beach will kick off the fall season Saturday, Oct. 26 from 11 a.m. to 9 p.m. at Commons Park with a Halloween-themed community festival for families, featuring a variety of craft vendors and great food from the popular Food Truck Invasion.
Enjoy live entertainment with a performance from Brass Evolution at 7 p.m. The park will have roving entertainers, a kids' fun zone, a pumpkin patch and many other activities. A costume contest will take place at 5 p.m. and a dog costume contest at 1 p.m.
Park & Hayride will be available from the entrance of Commons Park. Vendors may visit www.pottcevents.com to register. For more information, call the Cultural Center at (561) 790-5149.
Wellington's Free Trunk or Treat — The Village of Wellington will host a free Trunk or Treat event from 3 to 5 p.m. on Sunday, Oct. 27 in the student parking lot at Wellington High School (2101 Greenview Shores Blvd.).
Returning for the fifth year, it will be a safe, family-friendly twist on trick or treating, where volunteers decorate their vehicles and distribute Halloween treats out of their trunks. Children 12 or younger are invited to trick-or-treat from vehicle to vehicle. Families can also enjoy music, refreshments, a bounce house, face painting, crafts and more. There will also be a costume contest.
Anyone interested in decorating their car and passing out candy should contact Community Projects Manager Scott Campbell at (561) 791-4105 or scampbell@wellingtonfl.gov.
Trunk or Treat at the King's Academy — Family Church West at the King's Academy (8401 Belvedere Road), will host a Trunk or Treat on Sunday, Oct. 27 from 5 to 6:30 p.m. with bounce houses, face painting, food trucks, Rita's Italian ice and trunk-or-treating with loads of candy. Fall food items also will be available for purchase. Find out more by visiting www.gofamilychurch.org or call (561) 650-7400.
Halloween Fun in The Acreage — Residents of Citrus Grove Blvd. in The Acreage will host their annual Trunk or Treat Halloween on Thursday, Oct. 31 from 5 to 9 p.m. between Coconut Blvd. and Seminole Pratt Whitney Road.
The event has been hosted by residents on Citrus Grove Blvd. for many years, who ask participants to clean up after themselves. Participants parking in the swales are asked to back their vehicles in so their trunk will point toward the sidewalk to make it easier and safer when they are ready to leave, and are reminded not to park on the sidewalks.
Drivers should pay attention and drive slowly because there will be hundreds of children at the event. Parents are reminded that there are no street lights so the area is dark, and to accompany their children at all times. Flashlights are recommended.
For those of driving ATVs or golf carts, Palm Beach County Sheriff's Office deputies will be enforcing all traffic laws.
ABOVE: Scary fun awaits at Fright Nights Scream Park. Town-Crier File Photo by Denise Fleischman