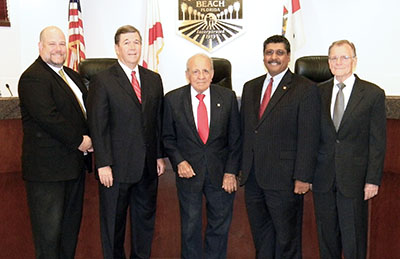 The Royal Palm Beach Village Council gave a glowing annual review to Village Manager Ray Liggins on June 19, approving a 3 percent merit pay raise on his $174,748 salary.
Council members were asked to rate Liggins from 1 to 5 in six areas: employee relations and handling of human resources, the local and intergovernmental image of the village, long-range planning for future needs of the village, financial management of resources, the ability to communicate with the council, and completion and direction of capital projects.
Councilman Richard Valuntas rated Liggins a perfect 5 and recommended the 3 percent merit pay increase. "He's doing a great job," Valuntas said.
Councilman Fred Pinto agreed that Liggins was doing an excellent job and has met the challenges that have faced the village.
"The village manager has gone through the process of putting together our strategic plan model, which I think is very helpful for us to collectively provide input and serves as a road map on where we need to go," Pinto said. "More importantly, he has also given us an opportunity to get valuable input from our citizens, and allows us to make sure that we're all on the same page."
Pinto added that Liggins had provided information in preparation for the village's approaching build-out and developed a strategic plan through consultant Lyle Sumek to help Royal Palm Beach anticipate where it wants to be in five, 10 and 20 years.
He also credited Liggins with giving council members the opportunity to prioritize projects.
"This is why he has such a full plate now — all the things we want to see get done in the next year and the things we want to see done out on the horizon," Pinto said. "Because of that process, we are more focused now, and that is generating more significant work for the village manager and his staff. I credit him with helping get us to that point."
Councilman Jeff Hmara agreed that Liggins' performance has been exemplary.
"Much of what has been accomplished here is due in large measure to the leadership that our village manager has provided to our staff, and also the guidance that he provides to us," Hmara said. "I think that is something that is particularly valuable. I can't imagine having a job where I have five bosses who, by the way, work for 34,000 people, and a full staff to work with. There's nothing insignificant about the challenge that Mr. Liggins faces."
Hmara said the long-range plan is one of the reasons he gave Liggins an excellent rating. "It has got residual benefits that most people don't even realize come about by having that process in place," he said.
The process is not only a map toward the village's goals, but it also provides a basis for budgeting, he said.
"We have an alignment between what we say we want to accomplish and resource allocation to accomplish that," Hmara said. "That's pretty powerful stuff."
He also credited Liggins with helping generate a positive image of the village, both inside and outside the community.
One area Hmara encouraged Liggins and his staff to seek improvement in was to attempt to use plain language in discussion of often technical and complex issues.
"When you get into the habit of discussing these among yourselves, that works very well when you use those terminologies and technical jargon, but when you're talking to laypeople, not so much," he said before recommending the maximum increase in merit pay.
Vice Mayor David Swift also gave Liggins an excellent rating, noting that he had been initially critical of the manager in his first year on the job.
"I guess the 'image' one is important to me," Swift said. "He is recognized as someone who gets things done; someone who's fair. He's well-known through the League of Cities and other entities. He's also well-known for trying to be fair to our businesses in town. I give Ray the highest marks for that."
Swift also agreed on the importance of long-range planning put in place by Liggins. "To me, that's very valuable to us and to our citizens," he said.
He said he thought Liggins had grown the most in communications with the council. "He really bends over backward to try and accommodate all of us," Swift said. "I know he does it for me, and I know he does it for you guys. I have to give him the highest marks because that's where it's at. That's what makes the council function as a working body."
Swift said Liggins was especially helpful in communicating with the council when contractors were not meeting deadlines on projects, including the completion of Royal Palm Beach Blvd. and Royal Palm Beach Commons Park.
"I recognize we've been through a kind of special time when we have people lowballing us, and I think we're getting better," he said. "The good part about our staff will show up in court because they document the issues very well, so when we have to go to court, we will win. That's the thing the people outside the village don't understand."
Valuntas made a motion to approve a 3 percent merit increase for Liggins, which carried 5-0.
ABOVE: The Royal Palm Beach Village Council.