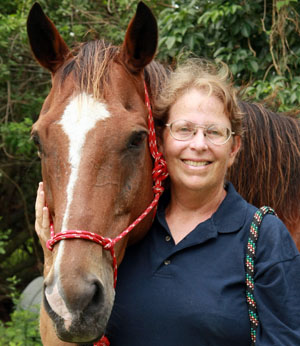 TALES FROM THE TRAILS
When she's not working with her horses — she has eight; seven Arabians and one Warmblood that's for sale — Audrie Comperatore runs Bocoy Stables, a boarding establishment at 2868 A Road in Loxahatchee Groves named after her grandfather's rum company, back in pre-Castro Cuba. She thanks her parents, Mike and Elena Anthony, for supporting her and making the establishment possible.
Audrie is serious about horse shows. That much becomes clear as soon as you walk into her house: The walls are covered with championship ribbons and rosettes. "I don't like to lose," she said. "And I don't like to give up."
Which is why, when presented with a challenge, Audrie tends to dig in her heels rather than throw in the towel. And the challenge of a lifetime came her way not that long ago — a tall (16.2-hand), gray, rangy Arabian gelding with problems. Serious problems. Dangerous problems. Rearing. Bucking.
"A friend gave him to me," Audrie said. "She said he was worthless and she couldn't do anything with him and thought I might have more luck. Jet Myles PW was an untrusting horse when he got here and also very crooked. His movement wasn't straight but more C-shaped. I figured he had some spine or neck issues and was probably in pain, so I had a chiropractor work on him.
That got him straight, and eliminated the pain, but the horse still had problems.
"He'd go off into these hard bucking antics, not bucking fearfully but aggressively, as if he wanted to hurt me. I never had a horse react that way," Audrie recalled. "I'd ask him kindly to move forward, and he'd react with aggressive bucking. I found it very odd. It opened a whole new chapter in my riding."
Riding the horse put Audrie in a dangerous situation.
"One day we were jumping, and he decided he'd had enough and was done," she said. "He reared up and went over backward on purpose. I realized this wasn't just his personality, it was as if he had to act this way; he didn't have a choice. I suddenly had to rethink everything I did and the way I did it."
That accident resulted in a broken shoulder for Audrie, and she had only had the horse a month. But, again, she is not one to give up. As soon as things were mended, she was right back at it, trying to unlock the puzzle that was this tall gelding.
"I decided to go way, way back to the start. We worked through every issue at the walk," she recalled. "I didn't ask him to do anything complicated, just find his balance. And as soon as he started thinking about rearing up again, we'd switch and do something else. This horse simply didn't want to go on the bit. He viewed it as me invading his mouth. He was almost claustrophobic about my taking up a contact."
Slowly, Audrie made some progress.
"We got through a lot of stuff at the walk, so then we started trying it all again at the trot," she said. "After that got better, I decided to take him to the local shows. We did the walk-trot classes at Posse for eight months. He started off with a lot of bucking and spooking but finally relaxed a little."
When Audrie began cantering with him
at the end of last year, that opened up a whole new set of problems.
"We were right back to the bucking, plus he'd whip his neck around stallion-like and try to smack me with it," she said. "I kept going. At some point, I think he finally figured out I wasn't going to give up. More than that, he realized I wasn't going to punish or hurt him no matter what he tried. Every time he tried to do something right, I rewarded him by releasing the reins. That's when we finally bonded. I realized you have to love him before he'll let you train him. Once we took that step and started trusting each other, we were finally able to move on."
Slowly, the partnership grew.
"He became a totally different horse. Peaceful. Trusting. No fights, no arguments," Audrie said. "It was so frustrating at the beginning. It really set me back and made me think in a whole different way. I realized the riding wasn't about me and what I wanted and needed; it was about him, his problems, his life. He taught me humility."
Today, they work together as a team.
"Now, he's amazing. He doesn't take one wrong step," Audrie said. "This past March, I took him to an Arabian breed show and put him in an open class against big trainers, and we won, qualifying for the regionals. I never thought we'd get there, with all his issues, not in a million years. But we went. It was an incredible experience."
The Region 12 and Region 14 qualifier Arabian Celebration Horse Show in Newberry, Fla., took place in May.
The weather was rotten the first show day, with flooding and tornado warnings, but Jet was unfazed by the downpours and did a fantastic job, winning one championship and two reserves.
"He was a rock star," Audrie said. "He was perfection."
Her future plans for Jet are to compete at the Global Dressage Festival in 2015.
"I think Jet brings a lot to the table as a breed ambassador for Arabians," she said. "He has beautiful extension and has the potential to do just as well as any Warmblood. I'd like people to see what Arabians can accomplish."
For more info., call (561) 654-1252 or visit www.bocoystables.com.