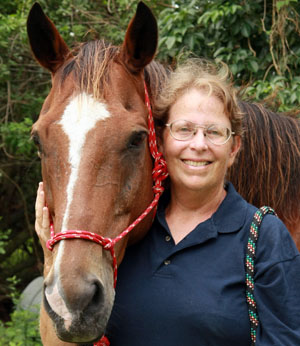 TALES FROM THE TRAILS
The Caloosa Equestrian Committee has planned some fun events for October and November. If you're free, it's worth bringing along some friends, both human and equine, and head up the Beeline Highway.
The first one is a humongous tack and yard sale on Saturday, Oct. 18, which will run from 9 a.m. until noon. There will be tables and booths set up at the Caloosa Horse Park, but it's much more than that. Many people in the community will be selling stuff in their yards — and there are about 300 people living in Caloosa!
This is one event I've already noted on my calendar. I'll be one of those people driving madly from farm to farm, trying to see it all. I love a good equestrian yard sale, and this is one of the best.
"It costs $15 to set up a table, and anyone is welcome to do so," explained Lisa Loewenberg, a member of the Caloosa Equestrian Committee. "All the proceeds go toward maintaining the horse park. We've held this event a few times in the past, and it's always a huge hit with everyone."
People clean out their tack rooms, and you never know what you'll find.
"Tack, grooming supplies, a lot of the usual horse equipment, stall gates, jump standards, flowerpots, lawn mowers, even horses and trailers," Loewenberg said. "There are always great deals to be had, and so much stuff to look at that it gets crowded with everyone driving around and trying to see it all."
There are fantastic finds around every corner. "One of the best treasures I found one year was a hand-carved rocking horse. I have no idea what I'll find this year," Loewenberg said. "It's not like I particularly need anything. But who can resist looking? This is a moving feast of a yard sale, and I'm sure everyone will be able to find something they didn't know they needed but can't live without."
The second event is the Caloosa Halloween Fun Show, which will take place from 1 to 5 p.m. on Saturday, Nov. 1. This annual show includes entertaining classes for children of all ages, including adults who are still young at heart.
"There are the usual mounted equestrian games, like egg and spoon races, plus costume classes," Loewenberg said. "It's a lot of fun seeing how creative everyone can get. I always marvel at how patient the horses and ponies are, dressed up in their outfits. In the past, I recall one pair where the horse was dressed like a deer, and the rider like a hunter. Another pair came as a Viking on an Icelandic horse. You never know what you'll see."
The fees are low, and everyone always has a great time, whether they're participating or just watching.
"There's apple bobbing for horses, which is a riot. The whole day is very family-friendly; a great place to hang around and visit with other horse enthusiasts," Loewenberg said.
The last event is the Caloosa Poker Ride on Saturday, Nov. 15, which will run from 10 a.m. until noon. You definitely need a horse for this one. You ride the marked trail, making five designated stops, where you randomly pick a playing card. At the end of the ride, whoever has the best poker hand wins a share of the pot. The top winners win different percentages, as in a jackpot class. The cost is $20 for the first hand, and $10 for each additional hand. There will be lunch for sale after the ride.
"Everyone loves the Poker Ride," Loewenberg said. "Not only do you have the chance to win some money, but it's a great opportunity for people to enjoy our gorgeous bridle paths, which loop around the canals."
This annual event is a great hit with everyone.
"There are usually between 25 and 40 riders. You can go in a group or by yourself, and ride at your own speed. Some people gallop along, while others walk or jog. You meet some really nice people, and it's a lot of fun," Loewenberg said. "There's no card-playing skill involved. I know nothing about poker, and three years ago I ended up winning $100. I thought my hand was worthless. It was pretty exciting."
The event is open to riders of any age, kids and adults. The ride usually takes an hour to an hour and a half, depending on your speed.
"I've lived here in Caloosa for ten years, and I love it. You've got the best of both worlds: a horse community filled with wonderful, friendly people," Loewenberg said. "You can step out your door and ride the trails all day long without repeating any paths. I wouldn't want to live anywhere else."
For additional information, call Loewenberg at (561) 775-9220 or e-mail lisa@ridingicelandtours.com.