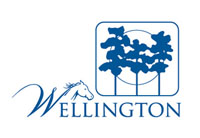 The Wellington Equestrian Preserve Committee voted unanimously Wednesday to oppose paving of roads in the Saddle Trail Park neighborhood, although the Wellington Village Council approved the project unanimously in April.
The meeting started with staff's intention to get feedback from the committee in order to move forward with the project, but the committee members' feedback was that they did not want paving at all.
Two residents spoke against the project, and most of the committee members expressed opposition to paving, as well as to proposed speed tables and the removal of vegetation in the existing right of way.
Committee Chair Linda Elie passed the gavel to Vice Chair Michael Whitlow in order to make the motion.
"I am going to make a motion just for the benefit of the council that we do not pave Saddle Trail Park," Elie said. "Looking at it from a larger perspective of the entire EOZD [Equestrian Overlay Zoning District], not as a property owner at the moment, this feeling of paving Saddle Trail Park to me seems to be dividing the community even further, not bringing it together."
Elie said the project seems to focus more on the rich and few who really want to concentrate on horses and showing their horses at the venues.
"If they wanted to be on pavement there's other communities they could have bought in, Palm Beach Point, Grand Prix Village, whatever, to be on pavement," Elie said. "They bought there knowing it was a dirt road."
She said the Wellington Equestrian Preserve is already drastically different than when she moved there 16 years ago.
"Going forward from here, that same trend continues," Elie said. "It's going to be like riding through Greenview Cove on a trail ride, and it's not what a lot of people are here for. I think it will tend to narrow your equestrian base, as opposed to widening your equestrian base with all types of recreational riding, as well as show riding."
A formal poll was conducted in the spring that allowed for one vote per plotted lot, meaning some property owners were allowed more than one vote. According to the staff report, there are 67 property owners among the 105 lots. Forty-eight owners (72 percent) supported the project, seven (10 percent) were against it, and 12 owners (18 percent) did not respond, which were considered "no" votes. Wellington requires a two-thirds majority to approve such projects, and the poll showed that the project has sufficient support, according to Village Engineer Bill Riebe.
Committee Member Houston Meigs amended the motion to note that the water main part of the project is not a problem, a change Elie accepted. Meigs then added, "I think the paving of this area is going to irreversibly change to the negative the equestrian preserve."
Committee Member Linda Smith-Faver pointed out that Saddle Trail Park is not a gated community and said she thought the paving of Saddle Trail would affect more than the 50 people who voted for paving.
"I do believe that the water is important," Faver said. "One doesn't necessarily mean that you get the other, and if it's water that they want, I'm all about that."
Whitlow spoke against the paving.
"I find paving roads, regardless of what the neighborhood voted by lot, totally incompatible with the equestrian preserve," he said. "I think the water is a terrific idea, I think that we should go ahead, but I think that we should pass and make this recommendation to the council that this not go ahead because it is, in my opinion, a violation of the Equestrian Overlay Zoning District, which is to preserve and protect — which this does not — the Wellington Equestrian Preserve."
Several members also objected to plans to remove trees and other vegetation that is growing in the rights of way.
"They will be removed as part of the project," Riebe said. "All of the property owners were aware of that when we did the balloting. They were put on notice that anything within the right of way would need to be removed."
He said property owners could remove any vegetation prior to construction, otherwise the contractor would remove it.
Riebe also pointed out that the vegetation removal in the swales would improve drainage.
"The centerline elevation varies from 16 to 16.5," Riebe said, explaining that the minimum roadway elevation in Wellington is 16 feet. "There are some areas in here that are 14 to 14.4, and that will be corrected. Just so you know, the 100-year flood elevation in Wellington is 16.5 feet. If we hit 16.5, that will accommodate a Tropical Storm Isaac-type storm."
The roughly $10 million cost, including both construction and financing, would be bonded out by Wellington and paid back by Saddle Trail residents in a special assessment.
Riebe said the average cost per lot for the total project will be about $61,000 before interest. Payment would be based on acreage and vary by individual homeowner.
The project is to include a 15-foot trail with 10-foot swales and a 20-foot roadway, Riebe said, pointing out that 20 feet is the standard roadway size in Wellington. He added that the design will also provide a safe path for horses and protect the water main.
Elie's motion to oppose paving carried 4-0, with Committee Member Mary Jo Shockley abstaining.