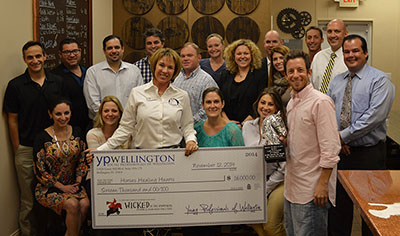 On Nov. 1, the Young Professionals of Wellington hosted Wicked at the Wanderers, a casino and costume party for a cause. A smashing success, the event was attended by more than 300 people and allowed the Young Professionals of Wellington to make a charitable donation of $16,000 to Horses Healing Hearts, an organization whose mission is to help children raised with addiction in their home by working with horses. The check presentation was held at the Art Cellar in Wellington.
"The funds raised from the Young Professionals of Wellington will be instrumental in allowing more children to experience the healing effect of horses through HHH," said Lizabeth Olszewski, founder of Horses Healing Hearts. "This $16,000 will cover the complete cost of our program expenses for all 50 children for two full months. We are so appreciative and grateful for the lives that will be changed through this donation."
Also at the event, Juan Gando, owner of the Grille, Oli's and the Seahorse, was honored with a Community Impact Award for bringing fine dining and an elegant nightlife to Wellington, and being a great supporter of the community.
The Young Professionals of Wellington have accomplished major feats in its first two years, and the future is even brighter as Meg Krueger is set to become the next president in 2015, following Kevin Shapiro this year. Jay Henley will become vice president.
In 2015, new initiatives will be rolled out that bring local leaders together, support young entrepreneurs, give a voice to the younger demographic, instill community awareness all while staying true to philanthropic roots.
The focus of the Young Professionals of Wellington is to identify, develop and engage the next generation of leadership in Wellington by increasing community awareness and promoting the social and economic interests of the community. For more info., visit www.ypwellington.com.
ABOVE: Young Professionals of Wellington members present a check for $16,000 to Lizabeth Olszewski, founder of Horses Healing Hearts.