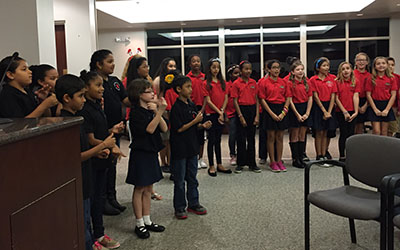 By Briana D'Andrea
Royal Palm Beach Elementary School was the school in focus at the Monday, Dec. 8 meeting of the Royal Palm Beach Education Advisory Board.
Principal Tracy Gaugler, who took over the top spot at the school last summer, gleamed with positivity as she proclaimed Royal Palm Beach Elementary School the "Happiest School on Earth."
Joining Gaugler was a room filled with parents and students in bright red shirts, backing up her sentiment.
Gaugler said Royal Palm Beach Elementary has been an A-rated school since its inception 13 years ago. Its school grade has gone up 85 points in tests scores compared with last year — from 525 in 2013 to 610 this year. Those numbers reflect the 620 students attending the school.
The school's mission is to provide a nurturing environment, which promotes self-esteem, academic excellence and technological advancements among all students. According to Gaugler, the school employs about 100 staff members, and more than 100 volunteers put in approximately 2,100 volunteer hours to improve the school as a whole.
"We challenged our staff this year to not only make a difference in the school, but out in the community," Gaugler said. "We asked all of our teachers to think of something they feel passionate about."
Outside their everyday roles, the teachers have been coaching various recreational sports, leading beach cleanups, tutoring children with cancer, teaching Sunday school and working with residents in retirement homes.
"We feel that it's very important that we teach our students not only academics, but being a responsible citizen and making our community better," Gaugler said. "The best way to do that is by modeling that behavior as adults."
The school has participated in several community events. A large trophy sits in the school's lobby as its prize for being the top fundraising school at a Relay for Life event hosted by Royal Palm Beach High School. Another event is "Boosterthon," which is a weeklong fundraiser to help raise money for the school and teach students about team-building.
This fall, students focused on fictional stories and characters. "Depending on what grade level we were in, we may have written compositions to explain how a character's feelings changed over time throughout the story or how a character may have overcome challenges in the story," Gaugler said.
The lesson wrapped up in October, with all students dressed up as their favorite fictional character. They staged a parade and had about 28 students dressed up as Elsa from the hit Disney movie Frozen.
Two principals and an interpreter traveled all the way from China to visit Royal Palm Beach Elementary this year. "We were one of the schools chosen to have the Chinese delegation visit our school and see what a normal day in the Palm Beach County School District was like," Gaugler said.
Both American educators and the Chinese guests shared ideas and answered and asked questions. The school was one of 10 chosen in the district. "We exchanged gifts at the end, and they brought some beautiful artwork that we have on display," Gaugler added.
In an effort to enforce the importance of reading, the school invited Ronald McDonald this year to put on a magic show, and then school officials served behind the counter of a local McDonald's restaurant after the students met their reading challenge. A percentage of the purchases were donated back to the school to help with technology needs.
According to Gaugler, things like the monthly family fun nights hosted by the Parent Teacher Organization, Math and Science Nights and Royal Palm Beach Winterfest, where the school's chorus was able to perform, have all been great opportunities to get students and their families together outside of school in a social setting.
Meanwhile, the school helped Forgotten Soldiers Outreach for Veterans Day. Students collected items to be sent overseas to veterans in need. The school also hosted a program for local veterans featuring performances by the drama, chorus and sign language clubs.
Monday's presentation culminated with a special treat from Royal Palm Beach Elementary School's chorus and sign language club. They got up and sang "God Bless America" and their rendition of "Rudolph the Red-Nosed Reindeer."
"This is just one of the best reasons that makes our school the 'Happiest Place on Earth,'" Gaugler said.
Education Advisory Board Chair Lynn Balch asked about the number of students enrolled at the school after the 11-day count.
"This year, our enrollment went down slightly, and we did lose a couple of teaching positions," Gaugler said. "Since the 11-day count, we've had many of our students who left and went to charter schools return to our school. Right now we're at 620, and I think this time last year, we were about the same… It's just a shame we didn't have them all before the 11th day," Gaugler said.
Balch also asked how parents like the new report card system.
"Amazingly, everything went very smoothly," Gaugler said. "We had several presentations with our open houses prior to that first report card distribution, and lots of information going home."
The report card grades were changed from using percentages and letter grades to a number scale.
"We were still able to carry on and celebrate students' success. Parents and students have all met the challenge and moved right along with it," she added.
Loxahatchee Groves Vice Mayor Ron Jarriel, who attended the meeting, was impressed with the choir.
"Thank you for taking time out for your veterans," he said. "You impressed me tonight, the way you're organized and the way you sang, and I can see how you're the happiest school in Palm Beach County. Remember, education is the most important thing in your life. You do an outstanding job. Thank you for taking the time out to do this."
ABOVE: The Royal Palm Beach Elementary School Sign Language Club (left in black) and chorus (right in red) perform at Monday's Education Advisory Board meeting.