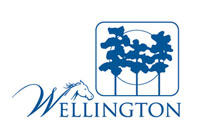 The Wellington Village Council approved land use amendments and an updated master plan last week for the residential components of the Wellington Country Place planned unit development.
The Country Place PUD covers large swaths of Wellington's equestrian areas, but last week's changes focused on the south side of Pierson Road, east of Gene Mische Way, which contains the Palm Beach International Equestrian Center.
The changes for the 250-acre parcel also received the approval of neighbor Victoria McCullough, whose property fronting on 40th Street is abutted on three sides by the Country Place residential PUD.
McCullough had previously objected to a planned road that she thought ran too close to her Mida Farms property. At her request, a condition was added that will prohibit the east/west roadway from being closer than 800 feet to her property.
The Country Place amendment was to add access points at the southwest corner of the PUD from Gene Mische Way to 40th Street, one at Palm Beach Point and another at the intersection of 40th Street/Lake Worth Road and South Shore Blvd.
Planning & Development Services Director Tim Stillings said several property owners are part of the application. The site plan approval was required by 2014, but received a plat extension to 2016 due to recent changes to the law.
"They are still coming forward with the amendment and site plan approval to achieve that requirement," Stillings said, adding that the application complies with master plan amendment criteria.
The master plan adopted in 1976 originally requesting 958 units has undergone a number of iterations since then, Stillings said. It was reduced to 440 units in 1985 and upped to 479 in 1998, and included the PBIEC and the barns and veterinary clinic of Dr. Scott Swerdlin.
The 2011 master plan for the 250-acre site is for 479 units, which is the most current plan, except for an amendment in 2013 that received administrative approval to put Gene Mische Way into the master plan.
"The proposed request before you tonight is to add the three access points," Stillings said.
Other conditions of approval are to require that Pod F be platted, as well as an alternative landscape plan for the buffer along the west side of Gene Mische Way from Pierson Road to 40th Street where parking is currently allowed, and controlled access from 40th Street to Gene Mische Way.
The Equestrian Preserve Committee recommended denial 6-1, while the Planning, Zoning & Adjustment Board recommended approval 3-2. Staff recommended approval.
Attorney Janna Lhota, representing McCullough, said they had been working with Equestrian Sport Productions CEO Mark Bellissimo, who runs the equestrian center and is one of the PUD's primary landowners, to find a solution that resolves both of their concerns.
"We have agreed to a solution that would be included as part of the development order for the master plan, which I will leave for the applicant to bring forth," Lhota said.
Attorney Tatiana Yaques, representing Wellington Country Place, said Bellissimo and McCullough had agreed to a condition that would resolve her objection.
Yaques pointed out that on the master plan, there is a road planned that will run from South Shore Blvd. through parcel E and travel west, north of Mida Farms, to parcel F. "The realignment was part of the 2011 master plan amendment," Yaques said. "Ms. McCullough objected to it at that point. What we have agreed to is a condition that the road will be realigned pursuant to the council's site plan review, and it's going to be located at a minimum of 800 feet north of the Mida Farms property line, and that will resolve Ms. McCullough's objection."
Engineer Mike Sexton, representing Wellington Country Place, said in addition to the request for the three access points and the agreed-upon realignment of the road running east and west, they had worked with village staff on equestrian bridle paths in the area.
The amended plan will add a bridle path along 40th Street south of Pod F that, along with many of the other bridle paths in the PUD, will be open to the public. Others will be private and dedicated to the property owners association, he said, adding that a private bridle path along Gene Mische Way will be open to PBIEC exhibitors.
Lhota said McCullough's main concern was having access roads on all three sides of her property, and wanted any roads a minimum of 800 feet from her property.
"We fully support the application with that condition added," she said. "For right now, we believe this is a good compromise, and a good step in the right direction between the two parties to try to work together on the issues."
Vice Mayor John Greene said he appreciated both parties working together to reach a compromise.
"I think it has been clear that we do not oppose development," Greene said. "We want responsible development, and we want to develop a partnership that allows people to invest in Wellington, but follow the process."
Greene made a motion to approve the land use amendments, which carried 3-1 with Councilwoman Anne Gerwig opposed due to road design questions. Councilman Howard Coates did not vote because his law firm has a client in the Country Place PUD. Gerwig made a motion to approve the master plan with its conditions, which carried 4-0.