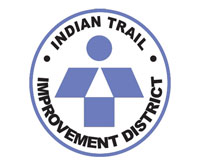 Joseph Capra of Captec Engineering gave a rundown of traffic calming alternatives to the Indian Trail Improvement District Board of Supervisors in a workshop session on Wednesday.
The workshop was called by ITID President Carol Jacobs in preparation for projects to be carried out over the coming year.
Capra reviewed more costly ideas and some more immediately affordable alternatives for the board to consider, as well as detailed maps of district roads, which the board plans to consider more closely at its regular meeting in February.
He pointed out that many roads in the district, including Grapeview, Avocado, Orange and Persimmon boulevards, already have traffic calming measures.
"They're all over the district, and my purpose in showing you this is it not only shows you where traffic calming is today, but it also shows you the accidents," Capra said. "It shows you that the roads with less traffic accidents have traffic calming on them, so they are working in some sense."
He also pointed out that Hall Blvd., which has been a problem area, is pretty much a through road with very few stops, and traffic on all roads entering Hall are required to stop.
"When people are moving along on that road and you hold everybody on the side streets stopped, we feel that is why there have been so many accidents on that road," Capra said. "The bottom line is those are the kinds of things we want to fix. That's one-and-a-half, two miles of unimpeded road. They're hoping everybody's going to stop. Sometimes they don't."
Capra said that one of his recommendations will be to add some four-way stops. He also recommended what he called a raised-median intersection where Hall ends at Northlake Blvd.
"The idea is to make sure a person who comes up to that intersection is not forgetful that there is a stop sign coming up," he said. "Basically, there's more markings on the road, there's more signs, there's a more visible approach. Some people call it a chicane. You're actually moving over a little bit. That'll wake you up to say, 'OK, I'm going to have to stop.'"
Capra said the concept has been presented to the county engineer as a possible treatment where all district roads meet county roads.
"We didn't seem to get a lot of pushback on that yet, so we think that's one thing that maybe the county engineer will approve for us," he said, explaining that the county would make the improvements on Seminole Pratt Whitney Road and Northlake, Coconut and Orange boulevards, if approved.
Supervisor Gary Dunkley pointed out that the more troublesome intersections tend to be where district roads meet county roads.
Capra said he had showed about $1.5 million to $2 million worth of improvements to the county engineer and asked them to be included in the county budget, including the approaches on district roads.
He also presented conceptual drawings of roundabouts, which he said are fairly expensive and tend to receive criticism, although they have been shown to be effective at traffic calming.
"Some people like them, some people hate them," Capra said. "I've designed a ton of them, and I hear criticism all the time. They're nice, but they're pricey. For the initial improvements, I'm not recommending them."
He showed a roundabout he designed, costing $225,000, that would fit within an 80- by 80-foot right of way. He also showed diagrams of various speed humps and tables.
"What you seem to have a lot of out here are speed humps," Capra said, explaining that there are other varieties of speed tables that might work more effectively than the existing ones at calming traffic on roads with speed limits of 40 mph or greater.
He added that the speed tables could also be enhanced with traffic islands and rustic fences that would further serve to reduce speed, and would be especially effective at canal crossings.
Capra also presented drawings of left-turn prohibiting devices that could be introduced to prevent cut-through traffic.
"This project is not here to try to deter traffic or cut-through traffic at this time," he said. "That is something that could be looked at in the future. Basically, this is a median that would prevent left turns. I just wanted you to understand the cost. It's about $150,000 and there are some advantages and disadvantages to that."
He also pointed out that traffic calming devices would not be desirable in the proximity of fire stations, and that he had talked to school crossing guards about their issues, which included lack of flashers and other signaling devices to inform drivers that they are present.
Capra said the most important topic at hand is improving the existing traffic calming on the district roads themselves.
"We believe that we need to go out there and complete painting and marking and signage upgrades," he said. "There are signs out there that are faded. There are pavement markings that need to be done over. There are rumble strips that have worn down, so those are things that we feel would be the first things that you should do."
Capra added that those initial improvements will also have the lowest cost, because most of them can be done in-house.