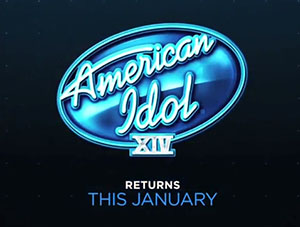 With the arrival of 2015 comes a new season of American Idol. Familiar faces and voices will be coming through during the Season 14 two-night, three-hour premiere on Wednesday, Jan. 7 and Thursday, Jan. 8 on Fox.
On Wednesday night, viewers will see 16-year-old Emily Brooke, who lives in Wellington and attends Wellington High School. A sophomore, Brooke is already is an accomplished singer, songwriter and guitarist.
American Idol has been an influential show for Brooke. "I've wanted to audition for forever, because I've always watched the show growing up," she said.
When she turned 15, the stars aligned, and she auditioned in Nashville. She always wanted to know what it would be like to be on the show, and here was her chance.
There is a great deal that goes on behind the scenes that doesn't make the special audition episodes, and that includes the two preliminary auditions, first with the producers and then with the executive producers, before the big test with the celebrity judges.
Brooke sang Blown Away by Carrie Underwood for celebrity judges Harry Connick Jr., Jennifer Lopez and Keith Urban.
"It was so cool meeting them," she said. "I walked into the room, and it was so surreal and crazy."
Once reality sunk in, that they were indeed real and in the room with her, it was time to perform.
"I was a little bit nervous because I know Harry is… one of the tougher judges, so I was worried about what he was going to say, but I was mostly excited," she recalled.
Just 16, Brooke is in awe at her success so far. "It feels so amazing," she said. "I just can't believe that. There are so many talented people there, and at my age, I was able to make it as far as I am. It has been absolutely incredible."
One thing Brooke is looking forward to, beyond advancing, is getting feedback.
"I'm most excited to see how America thinks I did," she said. "It's cool when you perform for people and then hear their feedback, because you'd like to be better."
Brooke will have to wait and see what happens after the auditions air, but she has already made one good friend in fellow Floridian Hector Montenegro from Royal Palm Beach, whom she met while they were in Nashville.
This isn't Montenegro's first try at American Idol, but he has learned a great deal since he first auditioned at age 15. Now 24, he feels comfortable in his artistry.
He attended Royal Palm Beach High School, yet moved to Kentucky recently to be closer to Nashville. As soon as he saw online that the auditions were going to be close by, he decided it was time to try again.
"Getting past the first set of producers was super exciting for me," Montenegro said. "I tried out for American Idol once before, so when I went in this time, I went in with very low expectations, since last time I went in with very high expectations."
Getting past the first set of auditions was unexpected, but thrilling.
"It kind of caught me off guard," he said. "Of course, there's always that hope that we make it through, but I went in there thinking that I wasn't going to make it through, so that if it wasn't going to happen, I wasn't going to let myself down."
His audition will air Thursday, Jan. 8.
"As each day gets closer to the season premiere, it gets more and more exciting," Montenegro said. "The executive producers definitely hit me as a shock as well. Those first two rounds were like a dream come true for me. The first one, I was like 'wow,' and the second one I was almost in disbelief a little bit."
Montenegro's experience with the celebrity judges was much like Brooke's.
"Meeting the celebrity judges was very, very unreal," he said. "When I first walked into the room, it was almost like they were fake because they were sitting there and they were not moving."
After realizing that he wasn't being pranked, reality began to set in. "It was just so crazy," he said. "These are people we see on TV and people we idolize. To be sitting in front of them, the emotions are kind of raw — you don't really know how to feel or how to act because you've never really been around people of this status. It was a very gut-wrenching experience."
When Montenegro first tried out, at 15 years old in 2005, he made it past the first set of producers but didn't make it past the executive producers to audition for the celebrity judges.
"When I tried out last time, I was still very young and didn't really know what I wanted at that point," he said. "My voice hadn't fully developed yet. From 15 to 24, I've had a lot of experience as a street artist and playing local gigs."
For his auditions, he sang Too Close by Alex Clare and If It Will Rain by Bruno Mars.
Tune in next Wednesday and Thursday to watch these talented local artists perform on the national stage. To learn more about Brooke, visit www.emilybrookemusic.com. To learn more about Montenegro, visit www.youtube.com/user/hairprep2012.