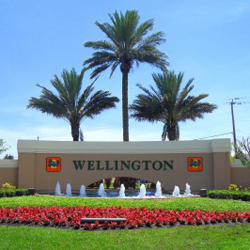 The Wellington Village Council gave preliminary approval Tuesday to an amendment to the equestrian element of the village's comprehensive plan dealing with bridle trails, even though many of the trails on the proposed map are still in private ownership.
Wellington Projects Manager Mike O'Dell said the trail map would update the original map created in 2004.
O'Dell explained that the updated map will show both public and private trails that the village would like to adopt for public use and will serve as a basis for future bridle trail improvements.
"It proposes to delineate our overall bridle paths and connectivity," O'Dell said. "It would provide greater detail and clarity to accessibility, and also provide for a system to show that clearly to all our residents."
O'Dell said that village staff has been working with various landowners, such as Deeridge Farm, on a bridle path along Pierson Road from Southfields Road to 120th Avenue South, where much of the path is privately owned, although in widespread public use.
In the past year, the village has completed improvements along Pierson Road from South Shore Blvd. to Equestrian Club Road. The council recently approved improvements from Flying Cow Road to Ousley Farms Road, and is continuing coordination with owners at Grand Prix Farms to secure a bridle path on Pierson Road from Ousley Farms Road to Gene Mische Way.
A bridle trail has also recently been completed on 50th Street South that runs along Section 34 in southern Wellington.
"We will continue to work on improvements as we go through the overall system, but this is a map that we hope can get adopted so that we can continue to progress to the ultimate goal, which is to complete an overall system and provide continuity to all of our equestrians," O'Dell said.
The Planning, Zoning & Adjustment Board unanimously recommended approval of the comp plan amendments in October.
Councilwoman Anne Gerwig said she gets calls from equestrians with complaints about maintenance of the trails and asked whom they should contact. O'Dell said he can be contacted directly, or they can call the Public Works Department. Staff members out working on the trails will also take comments, and there is an equestrian hotline at (561) 791-4008.
Vice Mayor John Greene supported the amendments, hoping that it would help give the plan more initiative.
"I think it's important to keep moving this initiative forward," he said, adding that the bridle trail plan had been put before the Equestrian Preserve Committee almost five years ago. "I'm looking for a little more in terms of progress and tying these trails together and working with private landowners and public interests to make sure that we continue to support the equestrian industry."
Councilman Matt Willhite was unhappy with the amount of time it was taking to bring the map to fruition.
"It just doesn't seem like it should be taking this time frame," he said. "I'm happy that this is getting into the comprehensive plan. There's a couple other concerns that I have."
Willhite pointed out that Wellington has been working on the map for three years and it is still not complete.
"One of your main responsibilities you are charged with is to work on this, and three years later, we are still working on it," he said. "Additionally, unbeknownst to us, you hired a consultant at a cost of $24,000 to start to help you with it as well, so this concerns me that we are starting to outsource and trying to hire additional help to try and get things done."
Willhite added that he was concerned that the map did not show a completed trail, but was a "wish list" of trails that the village staff would like to see done.
"If we can't get them done, we need to step back and get some different ideas and thoughts and start working differently," he said, "or start involving different people in the community or the council who have the ability to talk to members of our community."
Planning & Development Services Director Tim Stillings suggested that the map could be modified to show uses that are in place, as well as future proposed bridle trails.
Willhite said he thought that amending the map to show existing and proposed or future trails would not change the intent, but also would not give the public the impression that the map is complete and that trails shown on the map are actually passable.
Stillings said the goal is to get the new map into the comp plan as a base map for the master plan. "As the system evolves, we'll revisit this map and modify as necessary," he said.
Village Manager Paul Schofield said the map in the comp plan would show a current circulation plan similar to the roadway thoroughfare and drainage plans.
"The thoroughfare and drainage plans, when they were originally implemented, included all of the roadways and drainage even though there were parts that weren't built," Schofield said. "That is all the comprehensive plan document is. It's an aspirational document that talks about the circulation system."
Schofield said the map is needed so property owners will be able to see the overall objective of the plan.
Mayor Bob Margolis said that sometimes the council has good intentions, but it comes down to private owners to allow them to happen.
"We have meetings with private landowners, and we ask them if this would be amenable," he said. "They say, 'Sure.' But when the rubber meets the road, most of the time they don't agree, and it's giving up some of their own property."
Willhite made a motion to approve the ordinance with minor language changes, which carried 4-0.