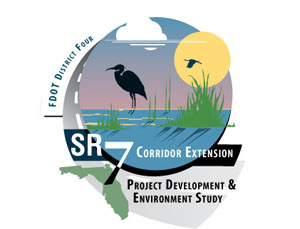 The Western Communities Council unanimously approved a resolution Wednesday supporting the Palm Beach County Metropolitan Planning Organization's objections to the Florida Department of Transportation's four-year delay in funding for the extension of State Road 7 from 60th Street North to Northlake Blvd.
The resolution recognizes and supports the MPO's approval of a motion in December objecting to the construction delay after it was informed of FDOT's change in priorities.
Indian Trail Improvement District Supervisor Michelle Damone said that the FDOT had switched its priorities from the completion of the extension to Northlake Blvd. on the northern end of the extension to four-laning the southern portion from Okeechobee Blvd. to Persimmon Blvd., which was completed by the county as a two-lane road in 2009. The county opened a second leg from Persimmon Blvd. to 60th Street North on Jan. 7.
"For those of you who weren't here last month, the Western Communities Council decided to follow the actions of the Metropolitan Planning Organization to oppose the Florida Department of Transportation's recommendation to move the funding, ultimately delaying construction from 2016 to 2020," Damone said.
She explained that the council members decided at that time to go back to their respective governmental bodies to seek approval of resolutions supporting attempts to get the funding restored. "I notice everyone's resolutions are here," Damone said, asking for a motion to approve a resolution by the Western Communities Council.
Royal Palm Beach Vice Mayor David Swift made a motion to approve the resolution, which carried unanimously.
Damone said she would take the resolution, along with the respective governing bodies' resolutions, to the Palm Beach County Commission at its Feb. 3 meeting.
Ken Roundtree, representing the Northern Palm Beach County Improvement District, which was not represented at the last meeting, said he would present the resolution to his board of supervisors for similar approval.
"We're late to the party, so to speak, but we're going to present this resolution to our board," Roundtree said.
Swift said he would be asking his council for more money to support lobbyist Terry Lewis of Lewis, Longman & Walker, who has been working primarily at the federal level where the City of West Palm Beach has been focusing its opposition to the SR 7 extension. He also noted that Wellington committed another $10,000 to the Western Communities Council war chest on Tuesday.
Wellington Village Manager Paul Schofield said that although his council had committed $10,000, it was important to council members that the other communities offer their continued monetary support as well.
The Town of Loxahatchee Groves committed $5,000 at its meeting last week, while the Indian Trail Improvement District had pledged another $10,000 at its last board meeting.
Swift said at one point they had discussed having a consultant attend a Royal Palm Beach meeting to answer questions, and Damone said she would arrange that.
In other business, Western Communities Council Administrator Tanya Quickel said County Commissioner Melissa McKinlay, who was at the meeting, was arranging meetings in her office with Palm Beach County Water Resources Director Ken Todd on Feb. 9 and 10 with western communities representatives to hear their concerns.
"We very much appreciate that, and we look forward to sitting down with you to go over our areas of concern," Quickel said.
McKinlay said she is trying to set up meetings with the seven improvement districts in her district first, followed by the municipalities.
She also mentioned that a remaining $4 million is still needed from the state, in addition to the already-funded $4 million, to rebuild the last 2.7 miles of the J.W. Corbett Wildlife Management Area levee, which was in danger of breaching after Tropical Storm Isaac.
"For those communities that are affected by that, it certainly would be helpful if you would put in a call to the South Florida Water Management District asking for their support in their budget request to the governor," McKinlay said.
The Western Communities Council is next slated to meet on Thursday, March 12 in Royal Palm Beach. A key topic of discussion is tentatively set to be the federal changes in standards for water bodies in the United States. "That's probably the thing that's going to hit us all the hardest in the next four or five years," Schofield said.