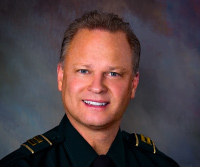 The Palm Beach County Sheriff's Office District 8 substation in Wellington adhered to its goals for 2014 to reduce property crime, improve traffic safety, bring street-operated golf carts into compliance and enforce juveniles on probation, according to Capt. Jay Hart (above), who gave his annual report to the Wellington Village Council on Tuesday, Feb. 10.
As a result, property crime declined by 13.2 percent, traffic stops increased by 9.6 percent, residential burglaries declined by 18.9 percent and vandalism declined by 18.5 percent.
It was the fifth-consecutive year that property crime declined in Wellington, said Hart, who commands the village's PBSO substation.
Hart said that 630 property crimes were reported in 2014, compared with 713 in 2013. He is proud of the effort that the PBSO puts into solving property crimes.
"You know TV and the movies have everything solved in 60 minutes, but in real life it just doesn't work that way," he said. "Our detectives go all over the county searching for these things. They may end up in pawn shops in Boca Raton or Riviera Beach, so it does take a lot of man-hours to actually hunt these things down."
The district missed its goal to reduce the vehicle crash rate to 2.2 or fewer per 100 village residents. The crash rate actually increased to 2.4 crashes per 100 residents, with an average of 119 crashes per month in Wellington.
District 8 conducted 10,923 traffic stops in 2014, which was up by 11 percent, but issued only 6,441 citations, which was a 35 percent decrease from 2013.
"What that's telling you is that we are partnering with the community. What are traffic stops about? They're about education," Hart said. "We're educating the public of what they've done wrong, and hopefully they don't make that same mistake again."
He said deputies are leaning more toward warnings than writing up violators, because tickets typically run $200 to $400 each.
"Were trying to educate our residents and show them the error of their ways without actually getting into their pocket," Hart said, "but we have gotten into their pocket many times."
In commercial traffic enforcement, the district stopped 205 trucks, inspected 201, took 21 out of service, and issued 10 citations and 81 warnings.
District 8 has also attempted to increase protection of public parks. Five incidents at parks resulted in $3,000 damage, mostly at a concession stand. No arrests were made, although there have been no more incidents after deputy patrols were increased.
"Wellington did secure the concession stand, and since that time we've had no more burglaries at that concession stand," Hart said.
Of all calls for service, numbering about 35,000, 93 percent were non-crime calls and 7 percent were crime-related. He noted that Tuesdays have the highest average call volume.
Thirteen percent of the arrests made were for felonies; the other 87 percent were for misdemeanors. The district made 1,077 arrests last year, compared with an average of 1,470 per year, and processed 9,206 cases that were assigned numbers.
"Crime is down, so we're going to have less arrests," he said.
The district's action plan for 2015 is to maintain property crime at fewer than 1,000 cases and clear at least 10 percent of burglaries by arrest, reduce the number of crashes below 2.2 per 100 residents, ensure that equestrian residents comply with golf cart regulations, and increase enforcement of juvenile crime.
"We're going to stick with property crime," Hart said. "The goal for this year is to be below 650. We also want to clear 10 percent of those cases with arrests. We would like to see the crash rate below 2.2. We'll be making more traffic stops. We'll be issuing more citations, but during the equestrian season, the population and traffic do increase. That's where we see the majority of our crashes."
Golf cart enforcement has been a concern of the council and village staff, so deputies have been out issuing warnings for the most part.
"We've had a lot of talk about golf carts, so for the last several months you've seen our deputies out there," he said. "We've been stopping individuals on golf carts and warning them, educating them on the laws of the golf cart and what is necessary in order to drive a golf cart on a roadway. We haven't issued a lot of tickets, since we're in a warning stage at this point. But if you've gotten stopped twice, you've already been warned, you may pay the consequences."
The district has also been enforcing probation for juveniles, which Hart believes has reduced the crime rate.
"Juvenile crime seems to be the highlight here in Wellington," he said. "It seems to be the most prevalent, so we are tough on juveniles."
Hart said that PBSO deputies are constantly checking up on juveniles who have been in trouble.
"We get a list of all the juveniles who are on probation, and we know what their probation status is and what some of the rules and regulations are for their particular probation," he said. "So, if they're supposed to be in their house by 6 o'clock, we'll be knocking on their door at 6:05, and if they're not home, we take them to jail. We've found that over the last several years, by keeping a tight rein on juveniles, our crime has gone down."