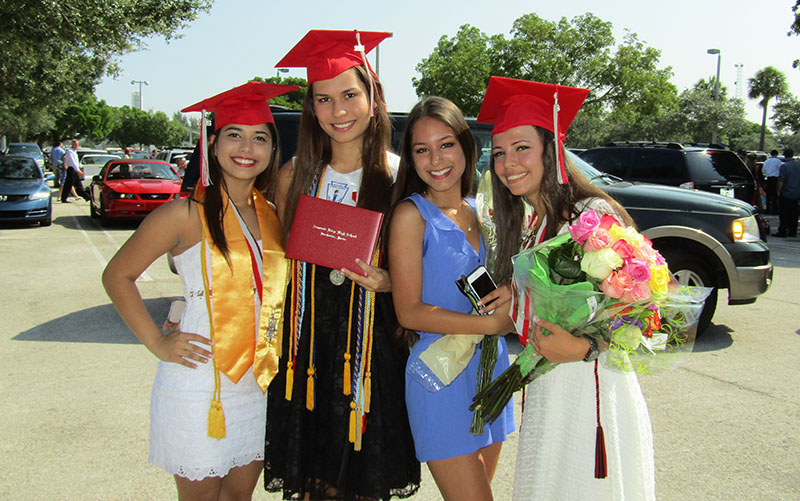 More than 600 seniors graduated from Seminole Ridge High School at a ceremony held Friday, May 22 at the South Florida Fairgrounds Expo Center.
"These young men and women have put in a great deal of work to get here today, and I want to thank everyone for joining us in honoring this outstanding class," said Principal James Campbell, who was joined on the stage by many officials, including Superintendent Wayne Gent, School Board Member Marcia Andrews, Chief Academic Officer Keith Oswald, Assistant Superintendent Karen Whetsell, Area 3 Superintendent Dr. Matthew Shoemaker, and senior class sponsors Andrea Caceres-Santamaria and Rose Carbone.
Gent, who is leaving his post next month, said the school district would have about 11,500 seniors graduating this year.
"I believe you're here because of three things: Number one, you had a goal; number two, you maintained your balance; and number three, you never lost your focus," he said. "You'll need those same attributes for the rest of your life."
Senior Class President Blake Selogy said Seminole Ridge has been defined by the nine graduating classes that walked before them, the community and the faculty, including its founding principal.
"While our community has helped define us, we have built our own legacy," Selogy said. "On Aug. 5, 2005, Dr. Lynne McGee opened the doors to Seminole Ridge High School. Under her leadership and help from some amazing assistant principals, who have become amazing principals themselves, she began the process that has helped make Seminole Ridge more than just a school, but the center of our community."
Selogy encouraged his classmates to chase their passions and have an open mind.
"Without an open mind, success is hard to come by," he said. "No matter what path life takes you down, follow your dreams, because in the end, it is your happiness that matters most."
Salutatorian Parth Patel said he will miss the great friends that he has made and the memories they created together. "Now it is time to enjoy our accomplishments and move forward," Patel said. "Congratulations and good luck, Class of 2015."
Valedictorian Victoria Dukharan thanked everyone who helped the Class of 2015 reach this milestone, and also took time to remember classmate Brittany Baxter, who died in an automobile accident last month.
"Brittany Baxter was a true friend to many, an excellent softball player and a genuinely good person," Dukharan said. "I am truly saddened that she couldn't be graduating with all of us here, but I know that Brittany will live on in our hearts and memories."
Dukharan told her classmates that they had spent the last 13 years working toward this day, and life had not been as simple as they would like.
"It's like a jumbled-up Rubik's Cube," Dukharan said. "Most of us don't have a clue; however, we have all overcome challenges, big and small, and you will always have to do so. At Seminole Ridge, I had the opportunity to witness the growth of my peers and have come to understand that success is an ongoing journey, not just a destination."
The education they received so far also was only the beginning of a lifelong pursuit of knowledge.
"Whether your pursuit is as a doctor, lawyer, teacher or mechanic, the basis of the knowledge you develop is your time as a student," Dukharan said. "As Albert Einstein said, education is what remains after one has forgotten what one has learned in school."
Over the past four years, Dukharan said she has been overwhelmed by the broadening of topics of study at the school, from TV production classes to the great work of the construction academy.
"You all have so much to offer," she said. "It would be unfair to define us solely by our grades. When I look around our campus, I see service in all forms, whether it be tutoring in the math department or donating blood, we all play a role in impacting the world around us… It is obvious that though we can succeed as individuals, we can accomplish even more as a group."
Campbell asked the graduating seniors to give a round of applause to their parents, family and friends who supported them along the way. "They worked with you, encouraged you and, when needed, pushed and prodded you to reach this day," he said.
He then asked seniors to applaud the teachers and staff who helped them get there.
"Every year I try to find a theme for this speech," Campbell said. "For this class, two words kept coming up again and again. Those words are community and compassion."
The Acreage/Loxahatchee area is a community where families grow up together and where people know each other from the parks and ball fields, as well as from the feeder elementary and middle schools.
"Even students who come to our school from outside our boundaries through our choice academies quickly integrate as members of the Seminole Ridge community," he said. "In 2007, I was named principal at Acreage Pines Elementary. At that time, there were 80 students in the fifth grade. I counted recently, and 63 of those students are sitting in this group of graduates today."
Campbell added that compassion goes hand-in-hand with community. "This class has demonstrated that compassion for each other, as well as outside of this community numerous times," he said.
As an example he cited quickly organized fundraising efforts in support of a fellow senior who had been diagnosed with cancer, including participating in the Light the Night walk for the Leukemia & Lymphoma Society, and later a kickball tournament. "Time and again, they were there to support their friend," he said.
He was also impressed by the Dance Marathon event to benefit the Shands Children's Hospital.
"They were excited to be raising money for families who were facing severe medical issues," Campbell said. "When the day of the event arrived, more than 150 students showed up to dance for the kids who can't. Two things stand out for me from that evening. First was a surprise visit from one of the families benefiting from the event. The elation from the faces on the students as the family walked through the door was overwhelming."
The second thing that struck Campbell was the amount of money raised. "They had set what they had thought was a reasonable goal of $12,000," he said. "Needless to say, everyone was astounded when at the end of the night it was revealed that the event had raised $18,656.38."
Campbell urged the Class of 2015 to keep that same compassion alive as they move on after high school.