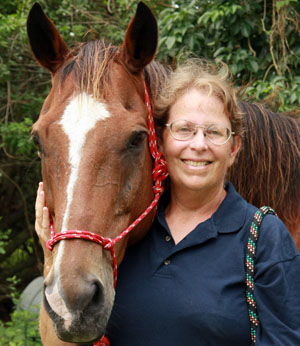 TALES FROM THE TRAILS
Originally from New Jersey, Lisa Lewis grew up riding. While in college, pursuing equine studies at Lake Erie College in Painesville, Ohio, she spent her senior year abroad in England. "It was fabulous," Lisa recalled.
She was so good in her chosen discipline of three-day eventing that she was short-listed for the 1996 Olympics in Atlanta with her 15.3-hand Thoroughbred gelding, Good Force. Alas, she was never called.
"Just getting selected was an honor," Lisa said. "Especially with Good Force, or Gopher, as we called him. I got him as a four-year-old and trained him. I love Thoroughbreds. They're smart, sensitive, have a great work ethic and are sometimes almost too athletic. Gopher helped my riding a great deal, especially in dressage. He taught me not to pull on the reins to slow down, which only made him go faster, but to use my core instead.
"Eventually, the jumping started to make me nervous, so I decided to concentrate on dressage, which is where my heart always lay. The best thing about dressage is the relationship you develop with your horse, the subtlety of the aids. It's technical, but also harmonious. It's as if you and your horse are dancing in unison."
Eventually, Lisa decided to start her own business. "Competing at the upper levels is hard, both financially and in terms of lifestyle," she said. "You're on the road a lot; it becomes your whole life."
So she settled in Deer Run and began teaching clients and training horses, specializing in the adult and amateur markets.
"This made a lot more sense," Lisa said. "There are many local dressage shows, and lots of clients. It's much more enjoyable."
Lisa currently owns four horses, two of which are for sale. All Tapped Out, aka "Izzy," is a 14-year-old, 16.3-hand chestnut Warmblood gelding. Lisa describes him as the perfect adult/amateur horse for first or second level. "He's very quiet, has great ground manners, flying changes and three comfy gaits," she said.
Valentino, aka Joey, is a six-year-old, 16.1-hand, bay Rhinelander gelding with definite FEI potential. "He's sensitive, forward, very athletic — perfect for the right talented rider," Lisa said.
One of the two keepers is Serenade GGF, a 10-year-old, 16.3-hand, bay Hanoverian mare, currently competing at third level. "She's easy and friendly, and her gaits are up off the ground," Lisa said. "She's queen of the barn."
Lisa's favorite is Serenade's half-brother, Donegal GGF, also a keeper. Donnie is a five-year-old black Hanoverian gelding with a blaze and four white socks.
"He makes me smile," Lisa said. "I've been through a lot with him. I almost lost him to shipping fever when I brought him down from New Jersey in 2013. He was only three. It developed into pneumonia."
Lisa enjoys finding the right horses for her clients. "Amateur horses need to be friendly and easy to be around, as well as talented in the arena," she said. "I look for the right temperament, size and athletic ability. Solid citizens with comfortable, rideable gaits. Some fancy movers can be too much horse for an amateur."
Many amateurs prefer a horse who needs to be pushed a little, rather than one that's too forward, Lisa explained.
"When I teach, I help riders understand how to give an aid, wait for a response, then repeat it if necessary. I find that people tend to keep using an aid too long, rather than applying it and waiting to see the results," she said. "Teaching is like looking at a big jigsaw puzzle with scattered pieces. Bringing those parts together into a harmonious picture, where the rider and horse connect in a true partnership, is what it's all about."
Lisa's goals are to teach her clients to be able to ride and compete safely and with confidence, and to handle difficult situations successfully. She is available for lessons at her farm or will travel locally. She teaches dressage, three-day eventing and hunter/jumper, beginner through advanced.
Rachel Paxton Blair is one of her clients and also boards her horse with Lisa and works as her assistant. "I like that when she explains an aid, she makes sure I understand the sequence," Rachel said. "She deconstructs it and makes it more comprehensible. She explains not just what and how to do something, but why. She has really helped me reorganize my training. I respect her workman-like approach. And the horses all love her."
Mary Ellen Sencer is another client who bought a horse from Lisa. She came to Lisa after a bad experience. "My horse bolted and threw me. I broke my shoulder," Mary Ellen said. "It was a horse I never should have owned. But Lisa worked with me and the horse. It was phenomenal. When I decided to buy another horse, she let me take lessons on him for two months before I bought him. I'll never buy a horse from anyone else. I highly recommend Lisa to everyone."
Diane Sasscer also has high praise for Lisa. "She's a great fit for me. She's terrific with my mare, Cossette. She really gets her," Diane said. "She has taught me to really use my seat and tune in to my mare's hind legs. I used to have trouble getting her to go forward. I didn't realize I was blocking her. Now we're having a great time. It's all good. Lisa is patient and enthusiastic. She makes you believe that you can achieve your goals. She unlocks your communication with your horse."
For more information, call Lisa at (609) 670-5958.