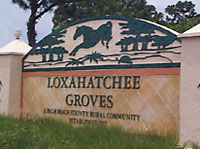 Filing closed Tuesday for the Loxahatchee Groves Town Council election in March, and both incumbents on the ballot will face challengers.
Incumbent Jim Rockett filed to seek a third term in Seat 2. He is challenged by Todd McLendon, who unsuccessfully ran against him three years ago.
Mayor Dave Browning, who has held Seat 4 since the town incorporated, is being challenged by Thais Gonzalez.
Gonzalez told the Town-Crier that she is running because she wants to preserve the rural character of the town.
"I feel that I can be an asset to this community, which I love," she said. "I moved to this community five years ago, and I thought it was a wonderful place to raise my two children. I am an equestrian person. I think it's lovely for the horses as well."
Although Gonzalez has long been an outspoken critic of development plans, including the college campus and commercial development at B Road and Southern Blvd., this is her first run for public office.
She supported McLendon in his unsuccessful council campaign three years ago and said she shares many of his ideas, but that she's running independently and not part of a slate.
"I support Todd," Gonzalez said. "I know where he's coming from. I know he wants the best for this community, but we're not running together."
Owner of the 10-acre Deal is a Deal horse farm, Gonzalez is a trainer and breeder specializing in polo ponies. She would like to see the completion of a comprehensive trail system in the town for all residents, horse people or not, to enjoy.
"For years and years, they have been talking about it, and nothing has been done," she said, explaining that the few existing horse trails are not connected or developed to a safe standard.
Her main goal, if elected, would be to preserve the rural nature of the community, Gonzalez said.
Originally from Chile, where she attended high school and college, Gonzalez traveled to the United States and lived in California for 11 years, then Illinois for a year.
"Then I started to get more involved with the sport of polo, and I moved to South Carolina, where I met my husband, Carlos," she said.
They traveled to South Florida for polo events and eventually decided to settle in Loxahatchee Groves.
Browning served on the Loxahatchee Water Control District Board of Supervisors for 12 years before being elected to the inaugural Loxahatchee Groves Town Council. He has served as mayor his entire time on the council. The mayoral post is an appointed position, chosen from among council members.
He said that the main challenge over his next term will be to establish a uniform land development code that will control development, especially along Okeechobee Blvd.
"I'm trying to finalize a picture for Loxahatchee Groves that will protect our community," he said. "The things that will go along Okeechobee [and] along Southern, and what's going on with our roads and trails — those are all items that I've been working hard on. It has been hard, but I think we're at the point where we're about to turn the corner and be able to do some of this stuff."
Browning said it was frustrating and surprising to him when they had put together a comprehensive plan for the town, and prior to incorporation when they had a neighborhood plan, to find that commercial use was still allowed along Okeechobee Blvd.
"We wanted low-impact residential along Okeechobee," he said. "What surprised me was that we had professionals helping us put this together, and what really caught me by surprise was that we basically had the same floor area ratio on Okeechobee as we did on Southern."
He also wants to address new issues in the town that have come to light recently, including illegal animal slaughterhouses and substandard housing.
Browning said that he was somewhat surprised to have a challenger, but is ready to run a campaign.
"I have nothing personally against Thais," he said. "She comes to a lot of meetings; she's very vocal on certain items. I've never seen her get involved in things like fighting the Minto development out to the west of us, or some of the things that will affect our roads, but we're in a republic, and you're allowed to file and run, and let the people choose."
Browning has lived in Loxahatchee Groves since 1979. He and his wife Sharyn have three adult sons.
McLendon said that he is running for the same reasons as when he challenged Rockett in 2013.
"The primary reason for incorporating this town was to preserve and protect the rural character of Loxahatchee Groves," he said. "The town council is not doing that at all… Mayor Browning stated that residents would never want to see a Publix in Loxahatchee Groves. Needless to say, they unanimously approved one. They've approved a 24-hour, seven-day-a-week gas station. Residents down the street in Royal Palm Beach are screaming it doesn't fit in their community, but somehow Loxahatchee Groves left it in their community."
McLendon asserted that council members are carrying out what he called "personal vendettas," such as the recent attempt to change the town's management company. "They spent thousands and thousands of dollars trying to find a new management company for no reason," he said.
He feels that people are more fed up than they were three years ago when he lost narrowly to Rockett.
"I think my chances for succeeding are a lot better than they were last time," McLendon said. "A lot of people have been paying attention, and the more people who pay attention are dissatisfied with what they see."
McLendon said that he thinks the timing of the election with Florida's presidential primary will not affect the outcome of the vote, although the turnout is expected to be greater.
"The more people who show up and pay attention to what's going on, the more people are dissatisfied," he said. "I think there will be a huge turnout because of the early voting process. I suspect you won't see as many of the absentee votes."
One of the things he would like to accomplish if elected is to establish term limits.
"I think that's important, because there's a lot of good people out there who want to serve on this council, and they just don't want to fight with the nonsense. The last election is a clear example," he said.
McLendon is a bird breeder and also owns and operates a company that does computer-controlled air-conditioning for commercial buildings.
Rockett, who is finishing his second three-year term, said he wants to complete things that are in progress now, including the Okeechobee Blvd. overlay.
"It seems that I finally have others who believe in a two-lane Okeechobee," he said. "I've been saying that for years, and most people have been debunking it, saying that's not going to happen. It seems like there's more people believing that, and we still need to pursue that."
He said that a four-lane-wide Okeechobee Blvd. would negatively affect the character of the town.
"The other thing we are unanimous on as far as the council is for moving the trails forward; it's just the process that takes time," Rockett said, explaining that the legal steps they have to follow, such as gaining control of the easements, has been happening in cooperation with the LGWCD. "We're moving it forward; it just seems to take time."
New problems that have come to the council's attention include unpermitted RV parks that he believes are associated with the equestrian season in Wellington.
"It has been going on for a while, but there are a lot of pieces to that," Rockett said, explaining that the primary concern is with health issues related to illegal dumping of sewage.
The council is still working on changes to the town's land use codes, stemming from problems that arose during the commercial application for the Day property at the corner of Okeechobee Blvd. and Folsom Road.
"It's pretty much continuing with items that we've had experience with or similar," he said. "I expect I can work through that in the future."
Rockett takes pride in his accomplishments on the council, which center on his background as a financial manager.
"Things along the budget, what we charge in taxes, how we spend our money, and we're responsible in how and what we spend our money on," he said. "The money that we are responsible for really belongs to the town and residents; we've been pretty good with holding the taxes down."
He was in the minority when the council recently raised the millage rate.
"If you have a need for money, you have to go to different sources and you have to look where you can cut costs and redirect funds," Rockett said. "Taxes, to me, are the last resort, and you really have to have something that you want to do with it."