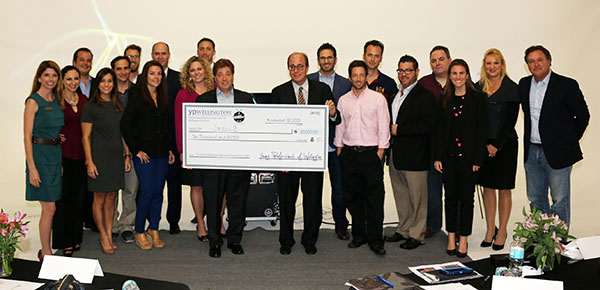 Jinglz LLC walked away with a $10,000 grant Thursday, Nov. 19 after competing in Xcelerate Wellington, a business competition created by the Young Professionals of Wellington to engage and stimulate the local business community.
"We have been very involved in the community in terms of social and philanthropic efforts and initiatives since we were founded three years ago," YPOW President Meg Krueger said. "This year, we decided that spurring the economic interests of the community was something that we hadn't really done in the past, and something that a lot of our members were very interested in."
The group brainstormed and settled on an idea that would help bring businesses to the surface by giving them a grant and helping them get to the next level with advice similar to that given on the ABC television show Shark Tank.
All contestants were required to have a registered business that would benefit the Wellington community. The owners needed to also be legal residents of Palm Beach County. Of the dozen businesses that submitted an application to compete, four were chosen as finalists.
A YPOW committee analyzed which pitch decks would be the most relevant to compete at Xcelerate Wellington, Krueger said. The four companies chosen for the final were: EnergyBionics LLC, InnateRX Inc. (Bridge Builder Docs), Jinglz LLC and Lotus Psychological Center/Psychological Wellness Center.
Those four companies had the chance, à la Shark Tank, to present their pitches to four judges: Mark Bellissimo, CEO of Equestrian Sport Productions; Robbin Lee, CEO of Wellington Regional Medical Center; Wellington resident and Beebo inventor Martin Hill, who appeared recently on Shark Tank and scored investments from Lori Greiner and Ashton Kutcher; and Jeff Brown, entrepreneur in residence at Florida International University's school of journalism and mass communication.
Lee was excited about the opportunity to hear innovative ideas from within the community and to be on the distinguished judging panel.
"To get to judge and be a part of this is just my way of giving back to the community and helping the community grow," she said.
The day before the competition, Lee said, the judges received a pitch from each of the companies to help them prepare questions and get ready.
Lee was looking forward to the contestants connecting with the audience and pitching a strong presentation of their ideas that would help improve the community.
"The Young Professionals of Wellington are definitely a group that we're all watching," Lee said. "This is a very impressive group of professionals. I've met with them a couple of times now, and I don't think I've seen a group of energetic, bright, motivated individuals in my career like this group, so I'm just honored that they asked me to be a part tonight."
Brown was really excited to see the outcome of the event.
"I'm looking forward to being able to see if Wellington's entrepreneurs have what it takes to launch and pitch a real business in front of real investors," he said.
Much of Brown's work with guiding entrepreneurs is in Miami, and this event provided the opportunity to lend his expertise to a new community. "I'm humbled to be a part of this group," he said.
As a judge, Brown was looking for entrepreneurs who were able to execute a great idea.
Bellissimo, who is experienced in early-stage and angel investing, was also honored to be part of the judges panel.
"I think it's a great group of people, and it's going to be exciting to see young entrepreneurs pitch their strategies," he said. "I'm curious to see how they react to some of the questions."
Hill, who recently made his pitch on national television, was excited to be on the panel.
"It's good to give something back, which is really important to me," he said. "To be involved in a great organization like this is fantastic."
The diversity of the panel is part of what made it a successful event, he explained.
Two of the four companies were medical in nature, Krueger said, which was coincidental but also advantageous for them, especially with Lee's experience and connections.
Sean Ebersold from EnergyBionics explained his vision first. Ebersold's product utilizes energy-harvesting products that power Internet of Things (IOT) devices. The current trend, he explained, is to employ wearable devices. But they are often worn on the wrist, clipped on to clothing or worn in an awkward manner.
His product, Carbon, solves the problem of cumbersome and unsightly wearable devices with a sleek wristwatch that has a solar component and has the ability to charge mobile devices such as a cell phone. The concept of Carbon was validated through a crowd-sourcing fundraiser that shaped and changed the product into something with mass-market appeal. In 35 days, he said, the Kickstarter campaign gained $42,000.
Alan Berkun and Aaron Itzkowitz from Jinglz presented a digital platform connecting advertisers with consumers, where consumers are given something for watching advertisements. Jinglz utilizes eye-tracking technology and other advanced methods to monitor whether someone is paying attention to an advertisement, and logs how many advertisements consumers watch.
Consumers are given entries into a lottery based on the number of advertisements they watch and interact with, and are given a guaranteed reward — be it a penny or $20. Jinglz, the owners said, reaches above and beyond the competition by offering variable rewards and user-generated data, it is free to play, offers social influence, utilizes facial tracking and more. The app is expected to launch in February.
Jinglz proposed using the grant to create a local, paid high school internship program focused on marketing, social media, advertising and public relations.
Jonathan Chung, a practicing chiropractor, represented BridgeBuilder Docs. He presented his company as one that bridges the gap between alternative and traditional medicine. He solves a communication gap between the two subsets of the medical industry through a program that creates documents with common language to help communicate diagnoses and ideas.
Chung's program would help to build relationships between traditional medicine practices and alternative practices, resulting in mutually beneficial referral relationships.
Licensed psychologists Diane Kelly and Stephanie Lippman from Psychological Wellness Center presented their company, which raises mental health awareness through integrating the medical community. Psychological Wellness Center was established in Wellington in 2012 and has since grown. Kelly and Lippman have been working to provide screening to identify at-risk individuals and connect them with the help they need. They have been utilizing physical copies of questionnaires, picking them up and contacting at-risk individuals.
Each company engaged in a question-and-answer session with the judges, who then convened to make their decision.
Upon returning, the judges announced that Jinglz had won the $10,000 grant.
After the excitement for Jinglz quieted down, Bellissimo made an announcement.
"We thought, with Psychological Wellness Center, the concept and the demand that you're addressing is a really interesting idea. The groups have offered to spend some more time with you and evaluate maybe a way to pivot your business model to something that we think could be viable and an important asset to Wellington," Bellissimo said. "We are willing to take a couple of meetings with you and try to figure out a way to direct your plan and direct you to people, maybe to capital or something."
Kelly and Lippman readily agreed and were thrilled with the supportive offer.
"Through creating this competition, YPOW aimed to spur innovation in our community by creating a competitive platform where local businesses could share their concepts and develop their successes," Krueger said. "We hope that tonight, all of the finalists will walk away from this experience with new ideas and inspiration to continue to follow their dreams and know that they truly are the building blocks of our business community,"
As grant money increases in the future, and as the event grows, Krueger said that the group has high hopes that the event will continue to grow.
"We look forward to building this event year after year and seeing the positive benefits to our community," she said.
Local businesses Wellington Plaza, Equestrian Sotheby's International, the Palm Beach International Equestrian Center and Rm5 Design sponsored the $10,000 grant prize.
For more information, visit www.xceleratewellington.com.
ABOVE: Aaron Itzkowitz and Alan Berkun from Jinglz hold their check surrounded by members of the Young Professionals of Wellington and the judges.