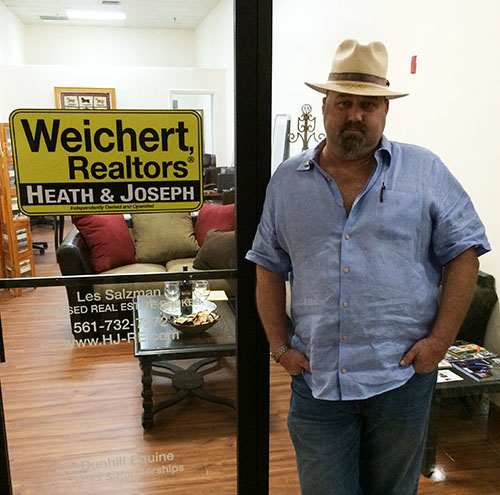 By Jason Stromberg
Realtor Andrew Burr has everything going for him as he embarks on a new business. The 45-year-old smiles from ear-to-ear when asked how excited he is.
As of Nov. 30, Burr officially opened the new Weichert Realtors Heath & Joseph office in the original Wellington Mall.
Burr is one of the leading Realtors at Weichert's new Wellington location. The grand opening of the Wellington office is set for Friday, Dec. 18.
"I'm excited about being associated with one of the leading brands in real estate," Burr said. "Weichert regularly leads the market in the Northeast, and we expect to do so in South Florida as well."
Burr has been working in the Wellington area for the past 18 years. He is currently the sergeant-at-arms for the Wellington Rotary Club and the club's fundraising chair. He also works closely with the Central Palm Beach County Chamber of Commerce.
"Andrew has always been a great supporter of the chamber," CEO Mary Lou Bedford said. "He's always ready to volunteer and give 100 percent wherever you need him. He is really someone you can depend on when you need assistance for volunteering. He has a great heart for serving his community."
Bedford expects to see a lot of Burr and the Weichert Realty staff in the future, now that they are neighbors in the original Wellington Mall.
"Andrew is a great ambassador in that he supports the chamber and our mission to help small businesses," Bedford said. "He's great at introductions, and he's a big believer in introducing one business to another. That's something we as a chamber do. We have a common interest in supporting one another for continual growth and success."
Les Salzman, broker and owner of the Weichert Realtors Heath & Joseph offices in Wellington, Boynton Beach and Deerfield Beach is excited to be opening a new location in Wellington.
His reasoning behind the move was that he understands how special and prestigious the community is, especially given his equestrian background. Salzman has been a racehorse trainer and an equine appraiser, has operated a small riding school, hosted a television and radio series and managed one of the largest breeding farms in the Northeast.
"For me, it's great that we are now here in Wellington," Salzman said. "It's a great family and retirement community. It's a great place to have a real estate office. It's the type of community that we enjoy working with because of its diversity and all the excitement that it has to offer."
And Salzman can't name a better man than Burr to help make it happen.
"We have about 120 agents in our organization for the three offices, and Andrew has established himself as one of our leaders," Salzman said. "He is a great face for the organization. We are proud and pleased to have him on board. The guys on the team in Wellington, they are involved with the community, and they have great business backgrounds. We feel very comfortable with the guys who are out there."
How could you not feel comfortable with someone like Burr? The accolades speak for themselves. Burr was recently honored as the Wellington Rotary Club Member of the Year and chaired last week's Wellington Wine & Food Fest fundraiser.
The bottom line for Burr is that he is always looking to make an impact in the community.
"When you are looking for a place, you want to find the right Realtor who works for you," Burr said. "It's about honesty, integrity and professionalism."
Burr worked previously in the original Wellington Mall when he was with Noble Realty, and now he's happy to be back in the area.
"Around March of this year, I joined Weichert, which is mainly a Northeast company based in New Jersey," Burr said. "I wanted to expand down here in South Florida and establish the brand. I'm excited about the brand, and I'm excited to be a part of such an outstanding company."
Burr understands that every buyer has a specific intention set in place. Whether it is looking to buy a home, or rent out a condo or apartment, Burr is there to offer top quality advice and direction.
"I've been in the real estate business for eight years now, and it has been great," Burr said. "I've been very successful, and I expect to build on that success in Wellington with Weichert."
Salzman has family in the Weichert business. His son Jason is the branch manager of the Broward County and Boca Raton areas. His other son, Brad, handles the money as the chief financial officer. His wife, Laura, handles the marketing side of the business.
"People know us nationally, but we are locally owned," Salzman said. "Our agents receive tremendous training, while knowing the nuances of the local market. As a result, we can provide better service."
The Wellington office will also do business in the Royal Palm Beach and Acreage/Loxahatchee markets.
"There's no community in South Florida that I'm aware of that gives you such a wonderful scope," Salzman said. "It's a great dynamic."
What helps Weichert is the migration of families from the Northeast.
"Weichert is the largest real estate company in the New York/New Jersey area," Salzman said. "We have so many offices in the Northeast that people go to the Weichert web site (www.weichert.com), which has a huge presence. We're seeing buyers that many other companies don't get the opportunity to work with. So, that's an honor for us."
To contact Burr, call (561) 324-8914 or visit his web site, www.andrewsellspalmbeach.com.
ABOVE: Andrew Burr in front of the new Weichert Realtors Heath & Joseph office in Wellington.