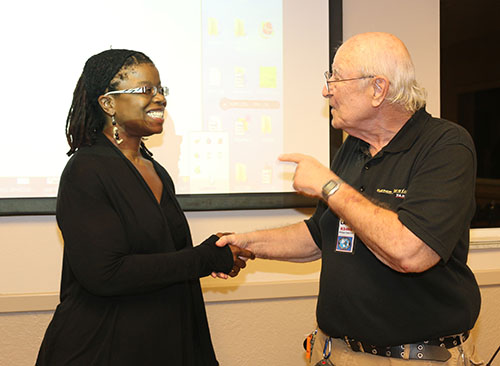 National Weather Service Senior Forecaster Arlena Moses led a special presentation for the Wellington Radio Club on Monday, Dec. 28 at Palm Beach County Fire-Rescue Station 30, focusing on the 2015-16 "Super Intense El Niño."
The 2015 hurricane season brought 11 named storms, four hurricanes and two major hurricanes, compared with the average of 12 named storms, six hurricanes and three major hurricanes, Moses said.
"If we're not getting the activity in the deep tropics, typically we don't see as much activity overall, and that's what happened this year," she said. "Part of that is related to El Niño. Unusually, we saw El Niño begin to strengthen in the summertime, when normally we see it start to strengthen in October and November, between Halloween and Thanksgiving. This year, it actually started strengthening in the late spring, early summer."
Increased wind shear over the tropical Atlantic, she said, is one of the impacts of El Niño.
"Even though here in the Atlantic, we may be quiet, usually somewhere else in the world they're seeing an increase in activity," Moses said.
ENSO, the El Niño/Southern Oscillation, is not the cause of all of the unusual weather, she explained. The official definition is "the year-to-year variations in sea surface temperatures, convective rainfall, surface air pressure and atmospheric circulation that occurs across the equatorial Pacific Ocean."
There are common misconceptions regarding ENSO, such as that El Niño will come to Florida, that all El Niños are the same, that El Niño is a storm, and that El Niño brings rain, storms and tornadoes.
In reality, she explained, ENSO is one of the known variations in weather and climate. Three phases of ENSO, between the atmosphere and the oceans, are recognized, including El Niño, La Niña and Neutral. El Niño is the warm phase, La Niña is the cool phase and Neutral is the phase where nothing exciting occurs.
A strong El Niño, Moses explained, has a direct relationship with winter storminess in Florida.
In correlation to past years, Moses said, the predictions for the end of 2015 and the beginning of 2016, through January, have a strong ENSO state, with near-normal temperatures, well above normal precipitation and storminess were predicted. For February, March and April, a strong ENSO state, with below normal temperatures and well above normal precipitation and storminess are predicted.
"In any given year, we can have severe storms, and it's always good to be prepared," she said.
Severe weather outlooks for the next eight days are put out by the Storm Prediction Center. Severe weather watches, she explained, are issued when the center determines conditions to be favorable for organized severe weather, and usually last six to eight hours.
Storm watches, are issued when hazardous weather could happen, and those in the area should have a plan ready. Storm warnings are issued when hazardous weather has been detected by radar or has been reported, and those in the area should seek shelter.
To learn more about local weather, visit www.srh.noaa.gov/mfl. To learn more about the Wellington Radio Club, call President Larry Lazar at (561) 385-2986.
ABOVE: National Weather Service Forecaster Arlena Moses with Wellington Radio Club President Larry Lazar.