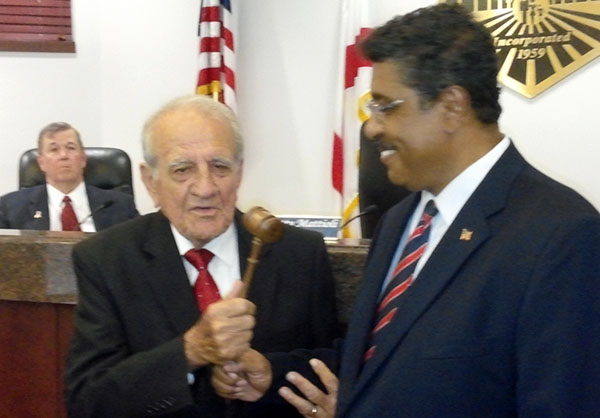 The Royal Palm Beach Village Council held swearing-in ceremonies for Mayor Fred Pinto and council members Jeff Hmara and Selena Smith last week.
Pinto replaced retiring Mayor Matty Mattioli, while Smith replaced Richard Valuntas in Seat 3. Hmara was re-elected to his third term in Seat 1.
The newly seated council also re-appointed Diane DiSanto as village clerk and Stanley Hochman as village treasurer.
Hmara will remain as liaison to the Education Advisory Board, while Pinto remains as liaison to the Planning & Zoning Commission. Smith was tapped as liaison to the Recreation Advisory Board.
Hmara was also tapped to serve as vice mayor for the next year. He will remain as the council's liaison to the Central Palm Beach County Chamber of Commerce. Hmara offered the chamber position to Smith, who is well-known in the local business community, but she declined due to a possible conflict of interest.
The council also re-appointed Hmara as representative to the Palm Beach County League of Cities and Councilman David Swift as representative to the Western Communities Council, where he currently serves as vice chair.
ABOVE: Retiring Mayor Matty Mattioli hands the gavel to new Mayor Fred Pinto.