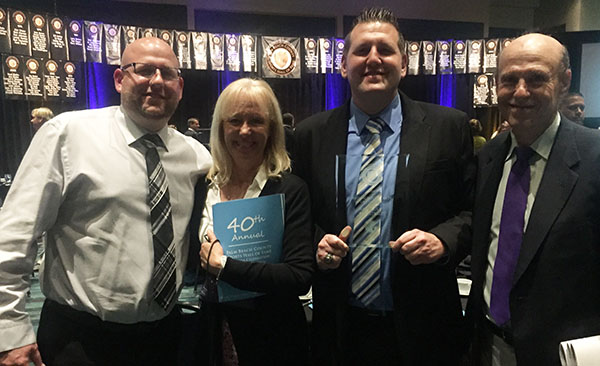 By Jason Stromberg
As the younger brother of Wellington High School boys varsity basketball coach Matt Colin, Mike Colin looks up to his older brother. Mike is the Wolverines junior varsity boys basketball coach.
"I've never met somebody who works as hard as him. When he is going through his pregame material, he will have everything down to a T," Mike Colin, 36, said of Matt, 41. "The key to his success is based on his aspect of planning, being organized, executing and being able to create a great player-coach relationship."
There are many others in the WHS basketball program who feel the same way about Matt Colin. Following his eighth season at the helm, Colin's hard work really paid off. The Wolverines basketball coach was recently named the 2016 Palm Beach County Sports Hall of Fame's High School Coach of the Year.
"It was definitely a shock," Matt Colin said. "I feel very fortunate, honored and privileged to be selected as the Hall of Fame Coach of the Year. I'm very lucky to beat out some very accomplished coaches. It's a very proud moment in our program's history; a moment that I was able to share with my family and friends, and my assistant coaches and players."
It was a moment that Colin has a hard time putting into words. "I'm very appreciative to have won," he said. "We all work very hard. The reward reflects the hard work, the sacrifice and the effort put in by the players and my assistant coaches at Wellington High School."
Reigning Sun-Sentinel Player of the Year Trent Frazier, a three-year starting point guard for the Wolverines, said Colin means the world to him. "It's not about winning games with him. It's about building relationships," Frazier said. "Coach Colin is like a second father to me. He's one of the best coaches I've ever played for. He would do anything for you if you needed it. He's an unbelievable coach, and I love him to death."
That's one of the key reasons why Colin won the award. It wasn't just about winning the WHS boys basketball program's first-ever Class 8A state championship. It was about his relationship with his players, who have improved on and off the court due to his tutelage.
"His time and dedication to the students has helped them get on the right track to perfect their academic and athletic ability," WHS Athletic Director Pattie Fitzhugh said. "We couldn't be more proud of him. All the effort that he has done to turn the program around and make it the success that it is makes him a worthy winner of the award."
Under Colin, the Wolverines are the defending three-time conference and district champions. They had their best season in 2014-15, when the team won its first regional and Class 8A state titles. The Wolverines also won the most games in school history that season, going 29-3, taking the conference and district championship. The team set records for the longest winning streaks in school history two separate times that season, the first being 11 in a row, and the second, 16.
Colin has also won other coaching awards. In 2014-15, he was named the Palm Beach Post and the Sun-Sentinel Coach of the Year, as well as the Florida Association of Basketball Coaches Coach of the Year. He took home the RMF Basketball Magazine 8A Coach of the Year award and the Florida Dairy Farmers 8A Coach of the Year award. He was also named the Florida High School Athletic Association 8A Coach of the Year.
"He deserves this latest accomplishment because of the time, the effort and the dedication that he puts into his craft," said Mike Colin, who capped his fifth season coaching under his brother this past winter. "I couldn't be more proud of him. It's well-deserved, obviously. We are very proud to say that we have a coach of the year on our staff."
Chris Morris has felt honored to be sitting next to Matt Colin the past four seasons on the Wolverines bench. Morris played for the Wolverines from 1994 to 1996 and got to know Colin when he refereed high school basketball games. Looking to get into coaching, Morris approached Colin about being an assistant coach.
"I think it's cliché when people say that every high school basketball coach is more than just a high school basketball coach," Morris said. "But with coach Colin, that's the case. He's a great coach and a great person. He built this from the ground up, and he deserves this. I am just happy to be a part of it."
So is another assistant coach, Alex Peavler, a two-year starter for the Wolverines at point guard and shooting guard. Peavler graduated from WHS in 2013, and in his senior season, Wellington went 21-9 and lost in the regional semifinals to Jupiter High School.
"Playing at Wellington was more like playing for a college program," Peavler said. "We were very detail-oriented. What set us apart was the fact that I had guys coming up to me during games and saying, 'How did you know all of our plays?' I would tell them, 'We had film study and scouting reports on you.' Their response was, 'We just looked at your stats.'"
To Peavler, there is nobody better than Colin. "In my opinion, he's the best coach in Palm Beach County," Peavler said. "I do believe he's very deserving of this award."
Mike Newkirk, a volunteer assistant coach, met Colin when he was coaching an eighth-grade travel league team in Wellington. "I wanted to meet coach Colin," Newkirk recalled. "I've always been a Wellington hoops fan. I'll say this: Initially, his energy, his demand for respect, really impressed me. He had an ability from the first year on to demand excellence but, at the same time, develop trust and a family culture. He coaches every kid the way they need to be coached."
Frazier agreed. "He just strives for the best. He pushes us to that next level," Frazier said. "We had a great group of guys during our state title run. We felt we couldn't lose. It was about how hard he pushed us. We did it for the coach."
Matt Colin is a coach who won't stop thinking about tomorrow. "We are getting better every day in every way, meaning not only on the court, but in the classroom, in the community and in life," Colin said. "Improving never stops."
ABOVE: JV basketball coach Mike Colin, stepmother Betsy Savitt, coach Matt Colin and his father Marty Colin at the awards ceremony where Matt Colin was named High School Coach of the Year.