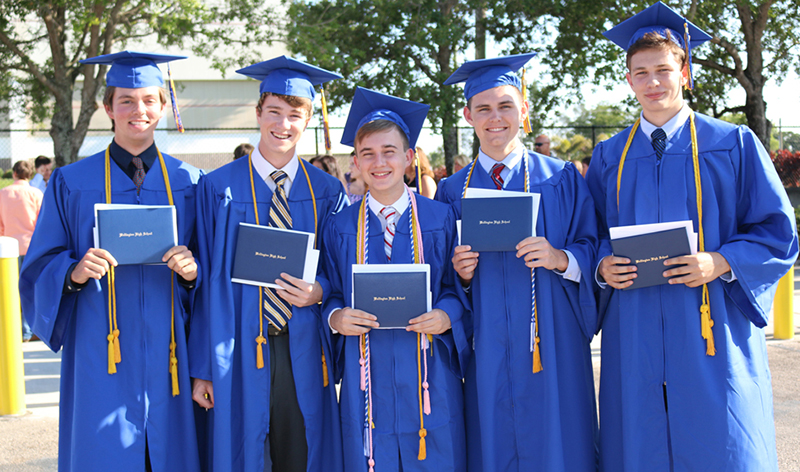 Wednesday, May 25 marked the end of an era for Wellington High School's Class of 2016. A graduation ceremony held at the South Florida Fairgrounds Expo Center concluded their high school careers.
The commencement began with a pre-graduation concert and processional by the WHS band, conducted by Mary Oser, and the chamber choir, directed by Bradford Chase.
Senior Class President Ashley Knoblauch led the Pledge of Allegiance before Student Government Association President Tessa Wallis gave a message of inspiration.
"Once upon a time, we all lived in a magical land where horses galloped down the streets and the sun was always shining. This land was known as Wellington," Wallis said. "Some of us grew up here. Others of us moved here in later stages of life. But all of us, at one point or another, have appreciated its magical qualities."
The fairytales that the students discovered as children taught lessons, Wallis said.
"It's up to each and every one of you to create a story that you'll proudly remember," she said. "It will take a lot of effort to reach our happy ending, whatever that might be, but it's the journey in between that counts."
Wallis asked listeners to close their eyes and pretend that they were the author and protagonist of their own storybook.
"If you really think about it, our lives aren't that different than the stories told in fairytales," she said. "We all encounter villains and tragedies, and we long for our prince charming and our happy ending."
Principal Mario Crocetti commended the parents, families and educators for the love and support they have given the graduating class, which will receive more than $2 million in scholarship money.
"Without your help and support, many of them would not be seated before us today," he said. "Please give yourselves a round of applause."
Crocetti recognized employees of the Palm Beach County School District, without whom, he said, the students wouldn't be where they are. He also recognized guests and retiring teachers.
Superintendent Dr. Robert Avossa was excited for the graduation, noting that much has changed since the students entered school, whether it be technology, advancements in medicine and American culture. "You are the generation that has grown up with the internet and technology at your fingertips," Avossa said. "You've gone from desktops to laptops to smartphones and tablets."
Technology has changed, yet despite the conflict and transformation, he said, this generation is optimistic about its future.
"Despite the changes that are ahead of you, embrace it. Don't run from change. Change is your friend," Avossa said. "Evolve your thinking, but stay true to your morals and values and your community's insistence that you succeed."
Salutatorian Kelly Cuthbertson thanked teachers, administrators, mentors and coaches.
"Although we may not have realized it, our families were our first teachers, and for me, my favorite teachers. Thank you to all of our families who have loved, teased and supported us through everything," Cuthbertson said. "When our parents graduated high school, all they left with was a yearbook. As we graduate high school, we leave with a collection of tweets, texts, posts and captions to encapsulate our memories. Social media has preserved our high school experience."
Social media, she said, won't reflect the tests failed and homework forgotten, but will lead students to remember their first day walking through the halls of WHS, cheering on the football team and homecoming. They will remember raising more than $32,000 during Dance Marathon.
"When we look back at our photos, tweets and captions, we won't just remember the fun we had, but the friends we made, and the people who made these last four years not just bearable, but exceptional," Cuthbertson said. "These memories don't just make up our four years; they make up who we are."
Cuthbertson thanked her classmates for the experiences, encouraging them to surround themselves with those pushing them to a higher standard and to be inspired.
"Congratulations, Class of 2016, and thank you for a wonderful four years," she said.
Valedictorian Davy Yue congratulated everyone graduating for their hard work that led them to graduation.
"In the last four years, we've worked together to achieve tremendous victories, to endure annoying catch phrases in origami club announcements, and to commemorate the undeniable legacy of certain faculty members who couldn't be here today, Coach [Matt] Mounts and Mrs. [Deb] Church, although I'm sure that many of us could very much agree that they are here with us today, in mind and in spirit," he said.
Valuable life lessons, such as strong ethics, a positive attitude and perseverance, Yue said, have been learned from teachers, coaches and counselors. "Thank you, faculty," he said.
Knoblauch called the class "simply the best" as she reminisced over the highlights of the students' last four years.
The senior hallway, she said, made high school seem like the movie High School Musical, which taught them many things, including the need to celebrate, because the world is a stage.
"By making this world your stage, we can all accomplish the impossible," Knoblauch said. "We are now alumni of Wellington High School. Congratulations, Class of 2016, you've made it."