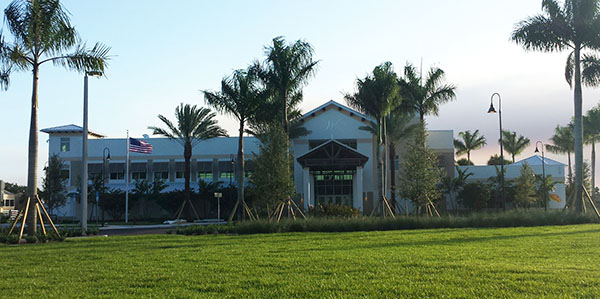 After a year of construction, the new Wellington Community Center is set to open Saturday, Aug. 6 with a grand opening ribbon-cutting ceremony around 9 a.m. and tours until just after noon.
Parks & Recreation Director Bruce DeLaney is looking forward to the community center's opening. The Aug. 6 date, he stressed, is not set in stone, but it is the expected date, barring any unforeseen delays.
Progress on the highly anticipated new building has been swift. In February, there was a topping-out ceremony. A call for instructors for programs went out that month, too. In April, rental rates were approved by the Wellington Village Council. In July, at the village's Fourth of July event, an announcement was made that the grand opening would take place on Aug. 6, and there was a booth where residents could receive information about programs.
The facility is making tremendous progress, DeLaney said.
"It's really beginning to take shape. It's going to be a beautiful facility," he said. "I think people will be very, very pleased with the final product."
As of Wednesday, almost everything from the outside is complete. Most of the landscaping is done. A few things are being finished with the parking lot, but the striping is done, DeLaney said. The gazebo and dock also received refurbishing.
The interior of the building is getting final touches. There are banquet and conference rooms inside, ready for almost any kind of special event.
"The view from our grand ballroom, looking out over the lake, is quite stunning," DeLaney said. "There will be lots of happy memories that will take place there, I'm sure."
The new building stands as a stark contrast to the building that formerly occupied the land.
"There is no comparison," he said. "The old building was originally constructed as a sales center for selling homes and lots in Wellington, and then it was a clubhouse, which provided entertainment for those people who purchased memberships. As the years went by, it eventually ended up being our community center."
After several retrofits and years of discussion, the decision was made to create an entirely new building, tailor-made for community functions.
Designed by Song & Associates and built by Pirtle Construction — the same firms that designed and built the new Wellington Tennis Center — the new facility was built specifically as a community center with areas for programming, people to congregate and have parties, for seminars and other events.
"It will provide the opportunity for us to get back to the programming aspect of various programs that we were offering at the original community center, plus adding some new ones," DeLaney said. "The facility itself will provide a terrific venue for weddings and parties, and the rooms will lend themselves to meetings, seminars and pretty much any type of activity that people are looking forward to."
Special events, however, will not be the only things taking place at the new building. There will be a wide array of programs and classes available.
Community Programs Manager Michelle Garvey is gearing up for the grand opening.
"We will have our program instructors there. We have 13 new instructors, and will be offering a variety of programs from infants to seniors," she said. "They range from art classes, meditation, dance classes, yoga, Pilates — there's something for everyone. We have morning, midday and afternoon classes. We also have language classes coming in Italian and French."
Many of the instructors will be there for the grand opening, to meet and greet people and discuss the programs.
A complete listing of the fall classes, starting after Labor Day, can be found at www.wellingtonfl.gov under the "Playing" heading, in the "Programs & Activities" subheader, click "Classes & Programs."
Garvey is looking forward to showcasing the new community center.
"To offer such a variety of programs is very exciting, to meet these new instructors and see what programs to offer. We hope the public likes them as well," she said.
Garvey and DeLaney invite the community to come out and enjoy the village's new gem on Aug. 6.
"If everything goes as expected, we would certainly invite the public to come and have an opportunity to walk through the building and see what it's all about," DeLaney said. "If they're looking to have a gathering of some type, whether it's a bridal shower or a baby shower or a wedding or a bar mitzvah, or just a family gathering, or you're looking for a place to hold meetings, on Aug. 6, pending everything goes as we expect, we'll have it open for people to come in, walk through the facility and get to see what we have."
ABOVE: The new Wellington Community Center building is nearing completion.