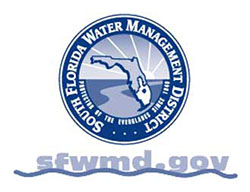 Palm Beach County Commissioner Melissa McKinlay has requested an emergency meeting of local, state and federal agencies to address the recent appearance of algae blooms in Palm Beach County.
Algae blooms that manifested in Martin County are now being reported in Palm Beach County, and McKinlay has asked the 16-county Coalition for the Responsible Management of Lake Okeechobee to convene a meeting on algae blooms in local waters.
Lead agencies include the South Florida Water Management District, the U.S. Army Corps of Engineers, the Florida Department of Environmental Protection, the Florida Fish & Wildlife Conservation Commission and representatives of the agriculture industry.
While regional, state and federal agencies are attempting to find a solution to the algae blooms, municipal leaders in the western communities report no problems other than the usual summer outcropping of aquatic plants in the canals.
As of now, findings of blue-green algae in the C-51 Canal, which passes through the area, have not affected local communities because there is not much back-pumping during the summer rainy season.
"We have the common, typical amount for this time of the year, but there's nothing out of the ordinary," Don Rinzel, acting manager of the Indian Trail Improvement District, told the Town-Crier on Wednesday.
Rinzel added that he had also received a call that morning from the Palm Beach County Department of Environmental Resources Management asking whether there were algae issues in Acreage-area canals.
"I talked to our pump operations manager today," Rinzel said. "We have our water tested several times a year, so if anything pops up, we'd be aware of it right away."
The Loxahatchee Groves Water Control District, which back-pumps periodically from the C-51 Canal, also reported no algae problems.
"We don't have it at this time," LGWCD Administrator Steve Yohe said. "We stopped back-pumping when we first heard about it. We stopped back-pumping a week before because it has been raining. It's kind of coincidental, but a week before we even heard that, it started showing up in the C-51. We will not back-pump until we hear that the C-51 is clear."
Yohe said that there would be no negative results of the suspended back-pumping because most property owners, including agricultural operations, have wells.
"Everybody went to wells, and the reason is that they couldn't rely on back-pumping," he said. "Those north of Okeechobee, that's a long way to travel uphill."
Royal Palm Beach Village Manager Ray Liggins said there were no algae problems in village waters that he was aware of. The village never back-pumps due to an ample supply of water.
"This time of year, we get the continual problems that we continually spray for and the stuff dies off and floats up," he said. "We do get complaints about that, but that's kind of the annual recurring event. Other than letting it grow, I'm not sure what the alternative is, other than having a machine out there continually."
Liggins said the blame for the algae blooms has been pointed at several sources, but it reflects the development of Florida in general.
"A lot of people have done a lot of work, but the bottom line is that millions of people live here who didn't live here before," he said. "It all contributes to runoff. The more runoff you have, the more probability that you're going to have algae blooms."
Wellington Village Manager Paul Schofield agreed.
"It's 150 years of continuous urbanization in South Florida," said Schofield, who also reported no algae contamination in his village, just the usual summer aquatic plant growth.
"There are a lot of contributing causes for it, but the impacts are everywhere," Schofield said. "Most of it has happened in the last 30 or 40 years. When I came to Palm Beach County in 1974, there were 300,000 people in this county. We're at 1.3 million today. You have a lot of urban runoff, and a lot of agriculture to support that. The same water out of Lake Okeechobee that's contributing to the blue-green algae is the same water in February and March that everybody is going to need to keep wellfields hydrated."
He added that Wellington does back-pump, but only during the winter dry season.
"We do not have a blue-green algae problem, but this time of year, we always do have some problems with aquatic weeds, and it really is because the temperatures are going up," Schofield said. "We're dealing with them on a daily basis."
According to the South Florida Water Management District July 1 operations update, Gov. Rick Scott and the Martin County Commission have declared a state of emergency due to the algae blooms.
The SFWMD has been pursuing several actions, including holding additional water in the Upper Kissimmee Chain of Lakes to reduce the volume of water flowing into Lake Okeechobee.
The SFWMD has begun requesting the use of private properties to store additional water. In response, Florida Power & Light confirmed that it can temporarily store about 2.2 billion gallons of water per month of Lake Okeechobee water drawn from the C-44 Canal in the cooling pond at the FPL facility near Indiantown. Storage has already begun and will continue for three to four months.
According to the report, the SFWMD will continue to explore practical steps that can be taken to address the algae blooms. The district is continuing to sample waterways and is coordinating with other state agencies responsible for algae response.
For more information, visit http://sfwmd.link/AlgaeResponse.