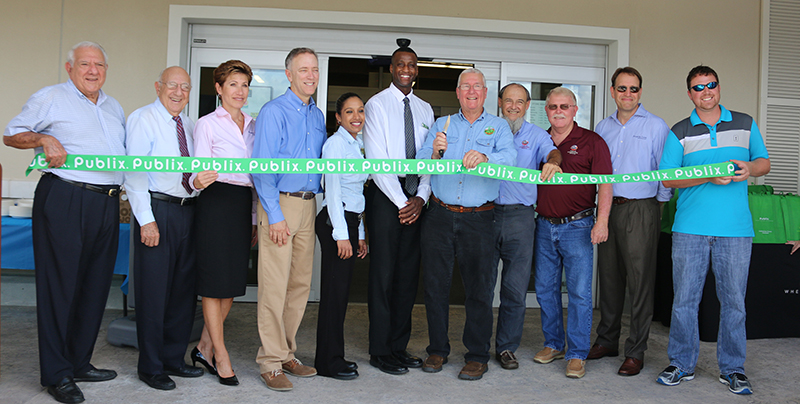 Atlantic Land Companies held a ribbon-cutting ceremony on Wednesday at Loxahatchee Groves Commons, the new shopping plaza it built at the intersection of B Road and Southern Blvd.
Atlantic Land partner Joe Lelonek began the ceremony by welcoming attendees.
"I appreciate you all coming here. It has been a long road getting to this point, but it's finally time to turn this center over to the town and to you, the people who are going to use it," he said. "We started this journey 12-plus years ago, March 5, 2004, when we finally signed a contract for the 97 acres that you're standing on here today."
Known as the Simon property, the project evolved into 75 acres for a new Palm Beach State College campus and 20 acres for the shopping center.
Publix opened at the plaza on Thursday, Aug. 18 at 7 a.m., while Tractor Supply Company held its grand opening on Saturday, Aug. 13.
"It's finally getting to that point where you can start enjoying this," Lelonek said. "We hope that it's going to be worth the wait, and we hope you're going to enjoy it and you embrace it as the town center."
Lelonek introduced partner Bob Bentz, along with team members Jeff Zito, Donna Scully and Michele Canney. Ernie and Roy Simon, two members of the original family that owned the land, attended the ceremony. Lelonek also thanked Centerline Utilities, Hawkins Construction, BB&T Bank and Dixie Landscape.
Loxahatchee Groves Mayor Dave Browning recalled the limited shopping choices when he moved to the area 38 years ago.
"My wife grew up in Fort Lauderdale, addicted to shopping at Publix," he said. "There was no other store. Therefore, when we moved up here 38 years ago, there was no Publix. The closest one was in Century Village."
His wife, Sharyn, wrote a letter to the Publix corporate office, asking them to consider building a store in Wellington, Royal Palm Beach or Loxahatchee Groves.
"The answer she got from them was, 'There are not enough people, and there won't be enough business, and we're not interested in building a store.' We are glad at this point, to have this store in Loxahatchee Groves," Browning said. "I appreciate the fact that they used the proper name of the town in all of their advertisements."
Publix using "Loxahatchee Groves," instead of "Loxahatchee," he explained, is important because the town is fighting against an identity crisis that confuses the mailing address of "Loxahatchee" with the Town of Loxahatchee Groves.
"Welcome to the town and glad to have you on board," he said.
Councilman Ron Jarriel, who celebrated living in the area for 55 years in July, said that his late parents and grandparents would never have dreamed of such a shopping plaza in Loxahatchee Groves.
"But it has happened, and I think Publix is one of the greatest stores around," he said. "When the firefighters worked hurricanes down south, it was Publix that was always giving as much as we needed to take to the people."
Jarriel encouraged residents to visit Publix for its opening Thursday, noting that Tractor Supply had informed him that the company had an incredible turnout at its Loxahatchee Groves store opening.
"We needed a Publix. I've had people say, 'Why do we need a Publix?' Because we have them in Royal Palm Beach and in Wellington. Well, hey, I want Loxahatchee Groves to have its own Publix," Jarriel said. "I guarantee you will do more business, probably more than any other store. It's great to have you here, and thank you for coming."
Lelonek explained that the ribbon-cutting ceremony is the official handoff of the shopping center to the tenants and the community.
"We are so excited to be here in the Town of Loxahatchee Groves," said Nicole Krauss, who works in media and community relations for Publix's Miami division. "It's truly a community event. We feel the energy. We're excited to open our doors tomorrow. This has been a long time coming."
Krauss reminisced about looking at the renderings for the plaza at the groundbreaking, which happened less than a year ago.
She introduced the local store leadership team: Regional Director Tim Redding, District Manager Lillian Cook, Store Manager Krystal Goss and Assistant Store Manager Arthur Jackson.
During the next two to three months, Lelonek said, the plaza will be rounded out with other businesses, including Dunkin' Donuts, Van Dell Jewelers, American Blue Pool Supply, Great Clips, Armani Nails, State Farm Insurance, Groves Dental Care, Stuart's Realty, Clear Medicine and 7-Eleven. There is space for two more businesses.
Roy Simon, the former property owner, offered his support.
"Ernie and I are very amazed with what you've done with our field," he said. "Before it was cows and forest. We're thrilled, and we know our parents would be very thrilled with what you've done. We congratulate you and the town."
For more information on the available bays, call Jeff Zito at (561) 537-4545. To learn about other Atlantic Land projects, visit www.atlanticland.com.