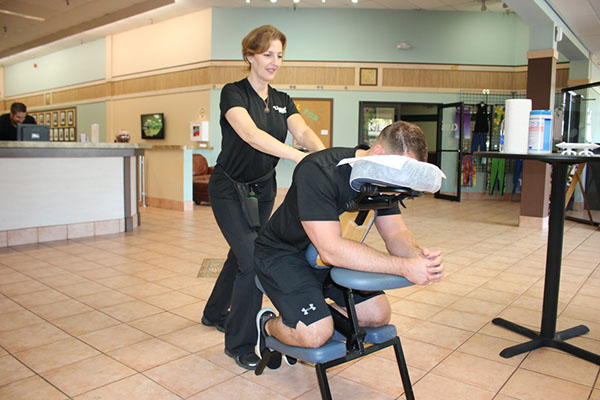 Susan Forma, a massage therapist, reiki master, certified holistic health coach and certified regenerative detoxification specialist, recently joined the team at Ultima Fitness in Wellington.
"I have a passion for making a difference for people, especially kids. I really want to make a difference for children and families that want to be healthier," she said.
Appointments can be made at Ultima with Forma for health counseling and massage. She specializes in holistic health and recently completed her studies in iridology.
"As a holistic health coach, iridology allows me to see into the person's body and see the systems of the body, both what has shown up already, and what's preclinical and could show up if they continue down the path of not nourishing the body with the proper nutrition," Forma said. "It allows me to address their needs and determine what it is that they need for their body to nourish themselves to good health."
Iridology focuses on studying the colors and patterns, along with other observations, within the iris, using the eyes as the window to the inner workings of the body, providing insight into the health of the individual. "It's the only tool that lets you see into the brain without doing an MRI," Forma said. "You can directly see how everything is affected."
The lymphatic system, Forma explained, is the body's waste system. Lymphatic fluid carries away cellular waste, cleaning the body.
"Most people's kidneys aren't filtering properly, and so that waste is not coming out," she said, adding that most people are eating the wrong things. "All those things cause an acidic environment… It causes inflammation at a cellular level, and then the lymph doesn't flow."
Fruit, she said, helps clean the body.
Looking into a magnified picture of someone's eyes, Forma is able to learn about how the body's function works and is able to better understand the person's health. She utilizes her unique set of knowledge to help put people on a healthier path.
Pairing the information gathered from iridology, Forma utilizes massage — she has been a licensed massage therapist and reiki master since 1994 — to help stimulate the body and encourage lymphatic drainage. She specializes in many types of massage therapy, including: neuromuscular therapy; deep tissue, a different version from the standard deep tissue massage; Swedish; reiki energy; hot stone massage; cupping; reflexology; and pregnancy/infant massage.
"I think that people are really stressed out, and I can make a difference in the health of their body with my hands and through my skills as a coach," she said.
Forma studied at the Pennsylvania School of Muscle Therapy, the Institute of Integrative Nutrition and the International School of Detoxification. She is a member of the International Iridology Practitioners Association. She is certified in plant-based nutrition and lives what she teaches. Forma gave birth to her two children at home, utilizes holistic remedies, massage, chiropractic, essential oils and more, to remedy ailments while helping support overall health and wellness.
"It really takes commitment to trust and believe that the body knows how to heal itself, and it knows how to heal itself if you give it the right food, if you give it the right internal environment and if you set your mind in a good way," Forma said. "Stress can cause a lot of acid in your body, and the acid is detrimental to that whole terrain."
Forma focuses on five basic premises: think good thoughts, move your body, massage, what you put in your body and your environment.
"The food that you eat makes all the difference in the world. You have a choice, every time you pick up a fork, what you're putting into your body, as far as whether it is going to enhance the internal environment or take away from the internal environment," she said.
For example, removing white bread, pasta and sugars, and adding in whole grains, brown rice, quinoa, greens, vegetables and fruits, will make a difference, Forma said.
Cutting foods such as cereal with dyes and replacing them with cereals colored with vegetables can make a difference as well, she added.
"That little change can make all the difference in the world," she said. "As a health coach, I like to teach people to be conscious of those things. I like to teach people about the science of food."
Foods such as salad, Forma explained, and foods with higher energy levels will provide greater energy. The way the body absorbs, utilizes and eliminates food is important to energy levels, she added.
Though change takes time, Forma's expertise guides clients toward a healthier lifestyle. In-depth explanations of the services Forma offers are available on her web site, www.inhealthandharmony.com. In the near future, she will be teaching health classes, qi gong and infant massage at Ultima.
Ultima Fitness is located at 12799 W. Forest Hill Blvd. in the Wellington Plaza. For more information, call (561) 795-2823 or visit www.ultimafitness.com.
ABOVE: Massage therapist and holistic health expert Susan Forma, shown here working with Spencer Parker, is now seeing clients at Ultima Fitness in Wellington.