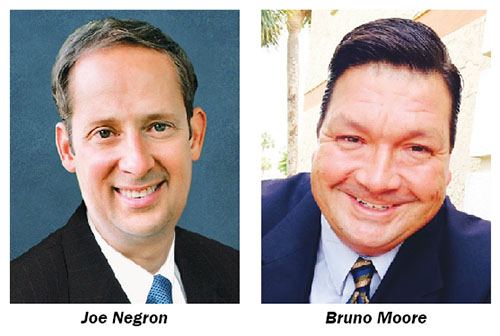 By Ron Bukley and Julie Unger
Republican State Sen. Joe Negron is seeking re-election in Senate District 25, challenged by Democratic candidate Bruno Moore.
Negron currently represents the Treasure Coast-based District 32. However, seats in the Florida State Senate were recently redistricted due to a court order.
The newly drawn District 25 covers all of Martin and St. Lucie counties, and extends into northern Palm Beach County. Locally, it includes parts of the Acreage/Loxahatchee area.
Negron is a lifelong resident of Florida, born in Palm Beach County. He earned a bachelor's degree from Stetson University and a law degree from Emory University.
A practicing attorney, he served in the Florida House of Representatives from 2000 to 2006. He was elected to the Florida Senate in 2009. If re-elected, Negron is in line to become senate president when the new legislature convenes.
"My goal is to make sure that this community has a strong voice in Tallahassee on the issues that concern Florida's families," he said.
Curiosity, perseverance and commitment, Negron said, are three traits of his that are ideal for service as a state senator. With years under his belt, he already is familiar with what it takes to represent the area in Tallahassee.
The top three priorities in his campaign, he said, are finding a permanent solution to stop the harmful discharges from Lake Okeechobee, to continue the economic growth in Florida and provide citizens with good jobs and careers, and to improve the quality of the public universities.
"I follow up on commitments that I make during a campaign," Negron said. "I have a track record of doing my best to make sure that my community is strongly represented in Tallahassee," he said.
Should Negron be re-elected, his approach will be to continue to make sure that Palm Beach County and the Treasure Coast have their voices heard in Tallahassee.
For more information, visit www.joenegron.com and www.flsenate.gov/senators/s32.
Moore, who was born on the Treasure Coast and lives in Port St. Lucie, is best known for his traffic reporting and work on local radio and TV. He ran in 2014 against Negron in District 32. Negron easily won that race by a two-to-one margin.
"Once Joe won, I was prepared to run again at the conclusion of his term, which would have been in 2018, but in January, the districts were redrawn and renumbered, and anybody who wanted to hold their seat or challenge an incumbent had to run, so we rushed to get a campaign together, a little bit more than two years ahead of schedule," Moore said.
He said his campaign is totally grassroots and relies heavily on social media and supporters to get the word out.
"We've been doing a lot of the bare-bones campaigning sort of things, like marching and walking and waving signs and going door-to-door, and trying to explain to people that there's an alternative to politics as usual and that we really want to get something done," he said.
Moore believes that he has a better shot in the newly drawn district than he did in 2014.
"There's a lot of negative ads running against me, so I look at that as an indication that we're doing something right," he said. "At least we're making a dent, and his campaign and… supporters of his bid to be senate president are taking notice of the fact that there is a fundamental need and desire for change."
He expects that will help him at the ballot box.
"I don't have the money to do polling, but I know just from people recognizing me now on the street… that's happening more and more. The negative campaigning against me is not working very well, and I think it's firing up all the people who are tired of seeing that kind of campaigning," Moore said.
Moore added that he has nothing personal against Negron, other than disagreeing on the direction that the district should go.
The main issues of Moore's campaign are preservation of the area's water resources and general water quality in the district.
"At some point, the water that is contaminating the northern end of the estuary and lagoon is going to go south, and we saw some of that happened the last couple of months with algae blooms starting to show up in Gardens and Jupiter," he said.
Moore said he is aware of central Palm Beach County residents' desire to preserve its rural nature, and concerns about encroaching development.
"I know that's on the plates of a lot of residents in that area," Moore said. "I certainly want to respect that. I want to respect the importance of the agricultural industry in the western communities."
He is also concerned about gang violence, wants the private prison system returned to a public system and seeks to eliminate what he calls "incarceration for profit."
Moore would like to get youthful first-time offenders into apprenticeships where they're learning a trade or skill in return for having their record expunged or deferred.
He also believes that no veteran should go homeless, hungry or unhealthy.
"I certainly would advocate for funding to either bolster the existing programs, restructure what needs to be restructured, certainly explore ways where we're taking the proper care of our veterans," he said.
For more information, visit www.brunoforsenate.co.