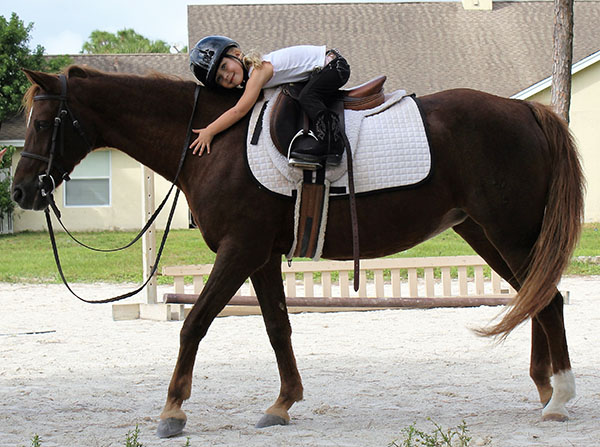 Three-year-old Fiona Mae Lashells is no ordinary toddler.
She rides horses, hangs out with her farrier father Heath Lashells, competes, has won pageants and even models.
"She has been around horses since she was about three weeks old, going to the barns with us," her mother Bailey Lashells said. "She got to ride her first horse when she was about 18 months old."
Fiona started with lead-line classes at Acreage Horseman's Association shows. Nov. 8 was the anniversary of the first time that Fiona competed in a horse show.
"She is now taking lessons and will be doing a few more things in the shows this year," Bailey said.
Fiona, who turned 3 on Sept. 23, has been taking lessons for the past few months and is riding off-lead and practicing jumps, as well.
"She absolutely loves it. Now, we've gotten to the point in the last few weeks, when we go to work with daddy, she just wants to ride any horse he's working on, or any horse that's in the barn," Bailey said. "We're working on, 'You only get to ride certain horses.'"
Fiona goes to the barn almost every day and is enthralled with horses.
"She's getting more and more into them by the day. We're very proud of her. She's such a big girl for being so little," Bailey said, noting that Fiona is only 30 pounds.
In 2014, Fiona was named Tiny Miss PBC Rodeo and Tiny Miss West Fest. In 2015, she was Tiny Miss Equestrian for her age division at competitions at the South Florida Fair.
Last year, Fiona helped present awards and rode in the parade. She has also taken up modeling and has done photo shoots for Babies 'R' Us and Tot Tutors.
ABOVE: Fiona Mae Lashells aboard Ella.