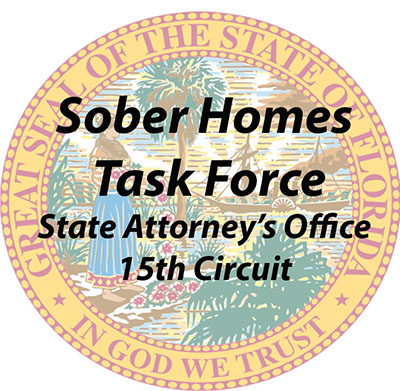 Work has been done at the federal and local levels to control the influx of sober homes that have popped up in South Florida, especially in Palm Beach County, and local agencies are using new tools to control shady operators who abuse the system.
Although the focus by the Palm Beach County State Attorney's Office has been on the arrest of unscrupulous operators and clients in Delray Beach and Boynton Beach, officials in the western communities say many sober homes exist in this area.
While they have not presented the magnitude of problems that exist in other communities, local residents living near sober homes have complained of their presence in neighborhoods.
A Palm Beach County grand jury released a report on Dec. 8 with recommendations on how to curtail the issues, and the State Attorney's Sober Homes Task Force has moved quickly to investigate and charge owners and operators of sober homes and drug treatment centers for violating Florida law — especially when it comes to illegal kickbacks and patient brokering. Eight arrests were made with more to come, according to a press release Dec. 12 from the office of State Attorney Dave Aronberg.
A statement from U.S. Rep. Lois Frankel's office last month announced that the Department of Housing & Urban Development and the Department of Justice will provide municipalities with legal clarity to maintain the safety and character of their communities, while still protecting the rights and needs of people with disabilities, including those recovering from drug addiction.
The statement makes several key points, including that a municipality can deny an accommodation request for a group home if it would impose an undue financial and administrative burden on local government that would fundamentally alter the community's zoning scheme, and also that licensing and other requirements for group homes for health and safety purposes are permitted if they are not based on stereotypes. It also states that the Fair Housing Act does not prevent state or local governments from taking action in response to criminal activity, insurance fraud, Medicaid fraud, neglect or abuse of residents, or other illegal conduct.
Wellington Village Manager Paul Schofield said previous federal rules have made sober homes difficult to deal with.
"It's the fact that they now come under [the Americans with Disabilities Act] and we're required to give them reasonable accommodations," he said. "Really, there's no local government that minds properly run recovery facilities, but in these cases, these folks are not running recovery places — they're selling patients from one place to another, they're not supervised and they're creating enormous problems for neighborhoods."
Schofield said that what Wellington and other municipalities want is the ability to hold sober homes to the same standards that other homeowners are held to. "That's really all we're asking," he said.
Royal Palm Beach Village Manager Ray Liggins added that residents have complained about the presence of sober homes in the village, but they have been able to regulate them under existing ordinances for legitimate complaints.
"The issue with sober homes is fair housing. People have a right to live, and they have a right to enjoy their homes," Liggins said. "We don't have the problem that people have over on the coast."
He said that the village uses existing ordinances to enforce residential violations, whether they are sober homes or not.
"There is no specific regulation for sober homes, period," Liggins said. "As far as businesses, at the home, it's not a business, and we don't allow businesses at single-family homes that require people to come to and from, so they're not receiving services at the home. They're going elsewhere to receive services, so we do regulate that in the sense that they are not treatment services. They are just living in a home, which is perfectly legal, and they're protected."
Chief Assistant State Attorney Alan Johnson, a Wellington resident who was active in the production of the grand jury report, said the Sober Homes Task Force has been active through the prosecutor's office and Department of Children & Families in addressing the actual problems as far as what caused the issues and why it has gotten so bad.
"If you look back 20 or 30 years ago, if there was a sober home in the community, people didn't know it because it was a grouping of something called the Oxford Model, a grouping of people who are post-treatment in terms of they are transitioning back into the community," Johnson said. "They have jobs, they pay rent, everybody is on the lease and they choose to live together to maintain a sober lifestyle."
That concept has since morphed into an economic engine. "It has been hijacked by some pretty bad actors who are only in it for the money," he said.
Johnson explained that in 2008, Congress passed a parity bill that took behavioral health issues such as substance abuse and mental health and put them on par with physical health.
"At that point, behavioral health became a different concept," he said. "If you break your arm and break your arm again, you get treated both times. If you relapse, you have an issue that's a health issue that is rekindled by the relapse. You have a behavioral medical issue. Up until that time, you had insurance companies that could deny coverage for pre-existing conditions, so if you had a substance abuse issue, you could be denied. Then came the 2012 Affordable Care Act, where people 18 to 26 remain on their parents' insurance, and mental health and substance abuse must be a component on any insurance policy, and you can't be denied for a pre-existing condition."
Now that population can get treatment and recurring treatment, Johnson said. The situation with oxycontin and pill mills being shut down has resulted in people returning to opioids, which are being laced with more powerful synthetic drugs that are leading to the deaths of users.
"There is an opioid epidemic in the entire United States," he said. "We are just one of the centers. There are centers all over the United States that are having intense crises."
He added that South Florida and Palm Beach County, in particular, has become a mecca for treatment.
"Florida, because of its sunny clime and beaches, people don't like this description, but it's a medical vacation destination," Johnson said. "Where do you want to go? You don't have a job. You have a heroin addiction. Where are you going to go?"