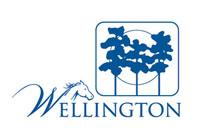 In a 4-1 decision, the Wellington Village Council gave preliminary approval Tuesday to a comprehensive plan amendment and other changes that will enable the creation of the Winding Trail equestrian development on the former Wanderers Club executive golf course.
The council still wants assurances before final approval that the developers will address turn ratios by large horse trailers and not endanger children at school bus stops or riders on a public horse trail that would run beneath the flight path of the Aero Club's runway. Those issues were raised by residents of the Lakefield South community, which Winding Trails would surround, and the nearby Aero Club neighborhood.
In a hearing that lasted almost six hours, more than 100 residents filled the council chambers. They were divided for and against the Winding Trails project proposed by W&W Equestrian Club LLC, owned by Jim Ward and Patricia Holloway of Ward Real Estate.
They have proposed nine equestrian-oriented residential lots of 2.3 to 4.45 acres each, situated on the former nine-hole golf course located in the area of Aero Club Drive and Greenbriar Blvd., with a horse crossing connecting to the showgrounds at Ousley Farms Road and Greenbriar Blvd.
In addition to the comp plan amendment, the council also approved the preliminary reading of ordinances extending the Equestrian Overlay Zoning District (EOZD) to the Winding Trails development and rezoning the property from commercial recreation to agricultural residential.
The amendment will be transmitted to the Florida Department of Economic Opportunity for approval and come back to the council for a final OK in about six weeks. The council instructed staff to work with residents during that interval to resolve as many concerns as possible.
Three interested parties gave presentations — two from the Aero Club both for and against the development, and one from Lakefield South that was divided on the question. The applicant was given 30 minutes to make a presentation, and the interested parties were given 15 minutes each.
Kelly Ferraiolo, associate planner with Wellington's Planning & Zoning Department, said the total project is about 65 acres, with the nine lots situated on about 38 acres, surrounded by nearly 22 acres of lakes and five acres of lake maintenance tracts. The project abuts the 200-unit Lakefield South development of townhomes and single-family residences. Lakes already there would be reconfigured to create space for the residential lots.
Ferraiolo said removal of the commercial recreation use from the comp plan would restrict land use to the underlying residential use.
The proposal includes a 12-foot bridle trail along Aero Club Drive and Greenbriar Blvd., which would be included in the village's equestrian trail master plan.
Its inclusion in the Equestrian Overlay Zoning District would impose more restrictions than other areas of the EOZD, with a 100-foot minimum lot depth and 250-foot minimum width; a maximum of two stories; a prohibition on clustered development, temporary stabling and covered arenas; and four stalls per acre but no more than 12 per lot. Setbacks for the buildings and manure bins are also more restrictive to protect Lakefield South.
The project would also have to abide by village regulations setting screening requirements for horse trailers, plus noise and lighting standards; prohibiting commercial stables; and exempting noise created by aircraft from future Winding Trails residents' complaints.
The project would have three access points on Aero Club Drive and two on Greenbriar Blvd. All driveways to the lots would be gated. Manure pickup would be on the same day weekly for all lots. Landscape buffers require a tree every 25 feet and a continuous hedge at least 4 feet tall.
Staff recommended approval, as did the Equestrian Preserve Committee and the Planning, Zoning & Adjustment Board.
Ferraiolo noted that there has been a decline in golf course use and said the current proposal is a better alternative to possible multi-family use.
Mayor Anne Gerwig asked what the applicant is entitled to, and Growth Management Director Bob Basehart said that without seeking an approval, the land cannot be used for anything other than a golf course or open space, but a number of uses could be approved by resolution in one council meeting with an amendment of the planned unit development master plan, including assembly buildings for club and organization offices, a vegetable market or medical/office buildings. A park is also a possibility, as well as some conditional uses such as arenas and stadiums, churches, hotels and motels, and secondary uses such as shops and cabinet-making, all without a comp plan amendment.
Basehart added that the comp plan provides that the owner can default to residential, which the applicant is seeking, but with lower density than is allowed.
Attorney Al Malefatto said the regulations that apply are strict and that conversion to equestrian use would enhance the overall value of neighboring communities. Malefatto added that the developer is in full accord with conditions, and willing to enter restrictive covenants to guarantee their compliance.
Donaldson Hearing, agent for the applicant, said his clients have reached out to the residents to resolve their concerns, and noted that the golf course has been out of use since 2007. He said he thought the application was fully in the spirit of Wellington because it is surrounded by equestrian uses.
"Wellington is all about the equestrian world," he said. "We believe this enhances the community."
He noted that the residences will be built above the barns and grooms' quarters, which will be limited to two, and the four-sided architecture would be a pleasing sight from all sides.
Janet Teebagy, speaking for the Aero Club Fact Finding Committee, which opposes the Winding Trails development, said she represents about half of the Aero Club residents, who disagree with zoning changes that bring an equestrian element into the area.
She explained that the committee stands in opposition to another Aero Club group headed by her neighbor, Joe Maguire.
"We are a community that cares deeply about its existence," Teebagy said. "We were here for a very long time. Our runway is really the crown jewel… We all care very passionately whether we believe in this project or we don't."
She said the main concern of the fact-finding committee is the introduction of equestrian traffic uses on Aero Club Drive, which serves 1,100 homes.
"At the end of the day, whatever this council decides, we are going to do our best to work together to bridge whatever misunderstandings that have happened," she said, explaining that their main concerns are that Aero Club Drive is a small road that is already overused, and even with modified designs, it would become clogged with service vehicles entering the restricted access gates of Winding Trails.
Teebagy also raised concerns about the entrances' proximity to schools and bus stops, added noise and odor. "Our conclusion is that the zoning changes are incompatible," she said.
Maguire, representing a group of Aero Club residents favoring the development, said he got involved when he learned that there was opposition after a survey.
"Our group of supporters was caught off guard by the group that had organized against it," he said. "When I first learned of Winding Trails, I thought, 'What a great idea. I wish I had thought of it.' I thought it was a perfect use for the property."
He learned later that the Aero Club board had hired an attorney to fight Winding Trails.
Maguire added that the survey had been sent out four times because initial responses were not good. The final survey of 253 lots resulted in 130 responses, with 64 in favor, 53 opposed and 13 undecided.
"We support Winding Trails because the developer is a longtime resident who lives across the street," he said. "She's raising her family here, she's vested here. She has a stake in the community and its future."
Attorney Anthony Barbuto, representing the Lakefield South Homeowners' Association, said that community faces a large potential impact because the Winding Trails development would surround Lakefield South.
"While the HOA has maintained neutrality, they did ask me to intervene and be sure that the homeowners had the information on this project," Barbuto said, explaining that he had met with the developer and village representatives to understand the nature of the request, and conducted a survey of residents.
Results showed that of 200 homes, 45 owners support the project, 59 oppose and two were undecided. The rest did not respond.
Councilman Michael Drahos asked about the turning radius for trucks, and Village Engineer Tom Lundeen said he believed with the required radius, trucks could make the turns without running over curbs or blocking a lane.
Drahos also asked about the danger to children at bus stops, and Planner Corey Lyn Cramer said that the two stops on Aero Club Drive pose no conflict with the proposed entrances.
Malefatto said those details could be worked out during final approval and asked that the council grant preliminary approval.
Objections were raised about service vehicles stacking on the streets, but Hearing said the stacking distance outside the gates would be adequate to accommodate trucks entering.
Gerwig said she favored the project, but would vote against it because she had to listen to the divided Lakefield South residents.
"I think it's fantastic," she said. "It is the best option, but I'm not seeing that support from the neighborhood."
Malefatto said they would continue to work with residents to assuage their concerns.
Councilman John McGovern made a motion to grant preliminary approval to the comp plan amendment, which passed 4-1 with Gerwig opposed.
Councilman Michael Napoleone made a motion to approve the equestrian and zoning elements, which also carried 4-1 with Gerwig opposed.