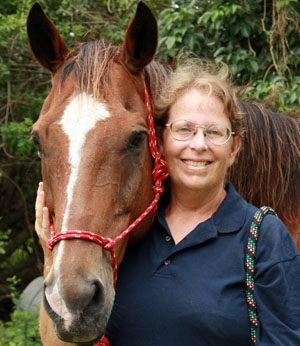 TALES FROM THE TRAILS
The weekend of Feb. 4-5 featured perfect weather: cool with a slight breeze, making it a crime to stay inside. And, for a fortunate few, inside was not where they were. The 70 or so auditors sat in plastic chairs around one of the prettiest covered arenas in Palm Beach County, at Mary Anne McPhail's White Fences Equestrian Estate in Loxahatchee.
Presented by internationally recognized classical trainer Bettina Drummond and the Association for the Promotion of the Art of Horsemanship in America (APAHA), the workshop featured rides by invited dressage teachers and trainers.
APAHA supports educational programs and provides opportunities for professional riding teachers and trainers to learn on trained horses. Its goal is to preserve horsemanship as an art form for future generations.
Bettina Drummond, one of the group's founding members, spent 17 years in training with Master Oliveira, beginning at age 7, earned the coveted spurs awarded to instructors at age 17 and was recognized as a master trainer at age 21. She was influenced and coached by some of Europe's finest trainers. Based in Washington, Conn., Drummond travels across the United States and France, conducting a limited number of clinics each year. This workshop, the first in Florida, featured Col. Patrick Teisserenc, the écuyer-en-chef of the French National Riding School in Saumur, France.
On Saturday, Teisserenc presented his approach to teaching riders from his unique background linking sport horse training with haute école.
Drummond co-instructed riding teachers and trainers on young horses on Sunday, providing them with improved perspectives on training evolution.
Fifteen lucky participants rode in the clinic, and there was ample time for further enlightenment during the lectures, lunch breaks and Q&A sessions. The mood was one of rapt attention and quiet excitement. Each horse-and-rider combination achieved different goals.
Unlike some instructors, Teisserenc and Drummond taught with quiet authority, calmness and kindness. Teisserenc reminded one pupil: "Take your time, don't rush. If it's not right this time, that's OK, try again. You have the right to make a mistake."
He was pleased with the workshop. "I think this is a good experience for both riders and horses," he said. "You can see how they improve. They asked good questions, which showed they understood what we were doing. Also, this is a wonderful arena, and the weather is beautiful. It's winter back in France right now."
Those taking part enjoyed it as well.
"He had some very encouraging words," said Lisa Hyslop El-Ramey, a top U.S. dressage rider and national level dressage judge, who rode Devon. "This experience definitely helps me teach others."
Caroline Jordan was there with Errol. "Teisserenc has a soft way about him," she said. "Some instructors are rough, demanding quick changes and immediate responses. He wanted less of everything, stressed having relaxation with the horse, and that's huge. It gives the horse the freedom to think and slow down, so the horse learns more easily. I liked his style."
Hilary Clayton rode Donzi on Sunday. "This workshop is a wonderful idea," she said. "It brings people together and allows them to look at different training methods. There's always so much more to learn. I enjoy the journey."
Maryal Barnett, a USEF "S" dressage judge, Canadian Equestrian Federation senior dressage judge, and 2014 recipient of the USDF Lifetime Achievement award, also came to watch.
"Many of my students ride with Bettina," she said. "The APAHA is a wonderful program. Bettina makes these high-level horses available to people who'd never be able to afford them. The horses are so correctly trained that they help the students, who are trainers themselves, understand how the movements should feel, so they can then teach them. This whole endeavor is a labor of love."
Sharon Knies owns Windhorse International and is also an APAHA director.
"My farm is 15 minutes from Bettina's in Connecticut, and we've been friends for a long time," she said. "Bettina's goal is to give back to people in the same way she was given opportunities as a young rider. She wants to give trainers of adult amateur riders, people who aren't going on to the Olympics or international competitions, an opportunity to ride and train with masters, so they can apply and pass on these basics and techniques."
Many people don't have access to this type of horse and instruction, Knies explained.
"The response has been gratifying. I believe we've also opened the auditors' eyes as to different ways they can approach training horses," she said. "Bettina wants to develop trainers who understand the Portuguese style of dressage, a very light type of riding. Bettina is absolutely brilliant with horses. I've seen her perform magic."
Watching the workshop was an exceptional educational experience, and people came from all over: Minnesota, Oregon, California, New Mexico, Michigan, New York, New Jersey, Wisconsin, Ohio, Indiana, Maryland, Virginia and Connecticut, as well as Canada, France and the United Kingdom.
Francie Dougherty came from Maryland to audit the clinic and support one of her friends, who was riding. "They're not saying anything I haven't heard before," she said. "But seeing how the horse responds to each rider after the correction is very helpful. I ride at home, so I'm the one on the horse doing these things. Sitting here and watching instead is very helpful. You can absolutely see the difference it makes in how the horse moves."
Barbara Baboyian is a snowbird, splitting her time between South Florida and Maryland. "I like the way they teach you to work more off the seat than the hand," she said. "Watching all of this reminds me what I need to work on when I ride, especially looking where I'm going, not down at the horse. I'm very grateful to Bettina for organizing this event."
Which brings us to Bettina Drummond herself, a fascinating and captivating woman, and the subject of another week's column.
Future two-day-seat workshops with Bettina Drummond and Jason Wright at Windhorse International in Bethlehem, Conn., will be June 16-18, Sept. 8-10 and Nov. 18-19. A two-day APAHA workshop will be conducted Oct. 14-15. To learn more, visit www.windhorseinternational.com.
For more information, visit www.apaha.us or contact Drummond at pruynstud@earthlink.net.